Argentina minister says country without means to rescue submarine
Defense Minister Oscar Aguad said at a press conference that the country lacks "modern technology" capable of "verifying the seabed" to extract the ARA San Juan, which was found 907 meters (2,975 feet) deep in waters off the Valdes Peninsula in Argentine Patagonia, roughly 600 kilometers (373 miles) from the port city of Comodoro Rivadavia.
Earlier in the morning, the navy said a "positive identification" had been made by a remote-operated submersible from the American company Ocean Infinity.
Ocean Infinity, a US company specializing in deep water search and recovery, began looking for the ARA San Juan in September, using autonomous underwater vehicles operated by a team on board its ship Seabed Constructor, the firm said.
KSTU Scanner
0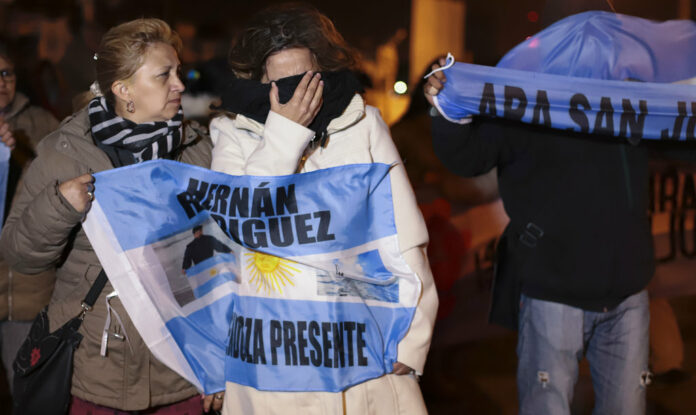 The ARA San Juan disappeared November 15 last year off Argentina's coast, about midway on its journey from Ushuaia in the country's south to Mar del Plata.
KSTU Scanner
0
Argentina gave up hope of finding survivors after an intense search aided by 18 countries, but a few navy units have continued providing logistical support to Ocean Infinity.
Three Argentine navy officers and four family members of the crew of the ARA San Juan were invited on board as observers for the search mission, Ocean Infinity said.
KSTU Scanner
0
(CNN) — A missing Argentine naval submarine has been found, a year and a day after it vanished in the South Atlantic with 44 crew members on board, authorities said Saturday.
KSTU Scanner
0
The ARA San Juan was an old diesel submarine, built in Germany in the mid-1980s but was refitted with new engines and batteries around five years before its disappearance, Peter Layton, a visiting fellow at the Griffith Asia Institute at Griffith University in Australia, told CNN last year.
KSTU Scanner
0
Hours after announcing the discovery of a submarine lost deep in the Atlantic a year ago with 44 crew members aboard, Argentina's government said Saturday that it is unable to recover the vessel, drawing anger from missing sailors' relatives who demanded that it be raised.
Without adequate technological capabilities, however, Argentina would likely need to seek assistance from foreign countries or pay Ocean Infinity or another company, potentially complicating its recent commitment to austerity.