Trump says 'not much headway' in talks as partial government shutdown drags on
"We did not make much progress at the meeting," Mulvaney told ⁦@jaketapper⁩. Dems continue to insist to reopen government before talks over border security, which Mulvaney contended was an opening line that they didn't want to seek agreement
MORE: "It's very hard to see how progress will be made unless they open up the government, says Chuck Schumer after shutdown meeting via @tictoc
LATEST: VP Pence says White House meeting today with congressional leadership staff to continue government shutdown talks was productive discussion, and discussions continue tomorrow.
NBCPolitics Scanner
0
Talks aimed at ending a partial US government shutdown which entered its third week on Saturday made little progress but were to continue on Sunday, President Donald Trump said
In the United States, leading Democrats have emerged from a meeting with President Trump aimed at ending the partial government shutdown, saying hed threatened to keep it going for months or even years.
"While President Trump threatens to keep the government shut down for 'years', Democrats are taking immediate further action to re-open government, so that we can meet the needs of the American people, protect our borders and respect our workers," Pelosi said.
HonoluluStar-Advertiser Scanner
0
With the government shutdown entering its third week, negotiations between Republicans and Democrats continue as President Donald Trump demands funding for a border wall.
Congressional leadership staff, Vice President Mike Pence, senior presidential adviser Jared Kushner, Department of Homeland Security Secretary Kirstjen Nielsen, acting Chief of Staff Mick Mulvaney and aides met Saturday in the vice president's ceremonial office to work towards an agreement to reopen the government and fund border security at the behest of the president.
In calling on Trump to reopen government while negotiations on border security continue, Democrats have emphasized families unable to pay bills due to absent paychecks.
HonoluluStar-Advertiser Scanner
0
Day 15 of partial Government shutdown. @VP hosts 11AM talks between Adnin and Congressional Leadership staffers. But agreement near impossible as @POTUS insists on border wall funding and @SpeakerPelosi is deadset against it.
Talks to end partial U.S. government shutdown end after two and a-half hours. Vice-president Mike Pence describes talks as productive. Negotiations to resume Sunday. Background story:
Jim Young/Reuters President Donald Trump speaks with reporters following a meeting with congressional leadership on the ongoing partial government shutdown in the Rose Garden of the White House in Washington, Jan. 4, 2019.
Key parts of the US government shut down on December 22 after Trump refused to back down on his request for more than $5bn in funding for a wall along the US-Mexico border, which the Democrats oppose.
Negotiations have been at an impasse over President Donald Trump's demands for $5.6bn to fund a wall at the US-Mexico border.
Senior Trump administration officials met Democratic congressional staffers, but failed to break a deadlock over a proposed border wall and end a two-week-old partial US government shutdown.
'Keep it shut for months or even years' On Friday, Trump met congressional leaders from both parties as the shutdown hit the two-week mark amid an impasse over his demand for billions of dollars for a border wall with Mexico.
Pence leads talks with congressional staffers on ending government shutdown now in its 15th day:
During an unplanned press conference in the Rose Garden of the White House after a closed-door meeting with Democratic and Republican leadership Friday, President Trump said he is prepared to keep the government shut down for "a very long period of time, months or even years" in order to get border wall funding.
Government Shutdown Day 15: It's Saturday and both House & Senate are not in session. Talks are continuing on the staff level with Vice President hosting a meeting this morning at his office with congressional leadership staff to discuss a path forward to end the gov't shutdown.
CraigCaplan Scanner
0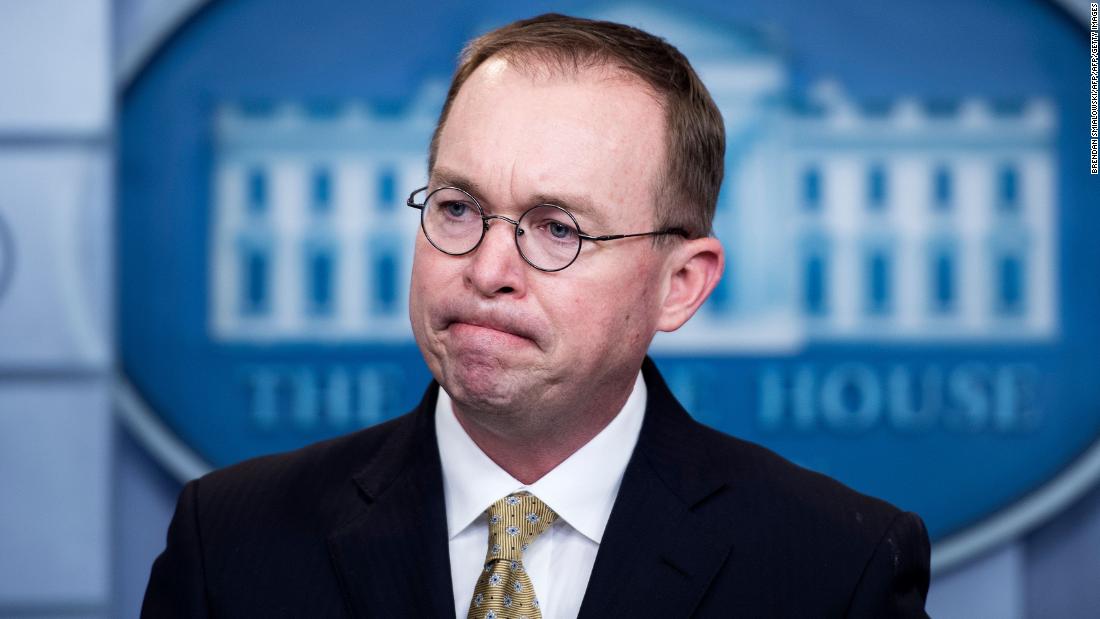 Progress in talks to reopen the government remains at a standstill after Saturdays meeting with Trump administration officials and congressional staff, says Mick Mulvaney, acting White House chief of staff
.@realDonaldTrump tells @SpeakerPelosi and @SenSchumer shutdown could go on for months even years in contentious meeting as government heads into another week. Staff talks Saturday am with @VP at White House
mitchellreports Scanner
0
"He [Pence] hasn't come out and given any information, we're not expecting to hear any new information from him, so right now, there's a meeting, talks are going on, but the key people in this - President Donald Trump and Nancy Pelosi, the Democratic speaker of the House - are not holding talks.
President Trump also tweeted that ending the shutdown "would be so easy to do" if Democrats would approve "REAL Border Security" that includes the wall and claims there is support from both sides.
WASHINGTON >> White House officials and congressional aides emerged from talks aimed at ending a partial government shutdown over President Donald Trump's demands for border wall funding without a breakthrough today, though they planned to return to the table the following day.
HonoluluStar-Advertiser Scanner
0