US President Donald Trump echoes condemnation of explosive packages
Several other frequent targets of the president's political attacks were sent devices similar to the one found at CNN in recent days, according to law enforcement, including former President Barack Obama, former Secretary of State Hillary Clinton, billionaire liberal donor and activist George Soros and Rep. Maxine Waters (D-Calif.)
Senate Minority Leader Chuck Schumer and House Minority Leader Nancy Pelosi on Wednesday apparently rejected President Trump's call for bipartisan unity as federal authorities investigate who sent suspected bombs to several Democratic politicians, saying in a joint statement that the president has long approved of "political violence."
"President Trump's words ring hollow until he reverses his statements that condone acts of violence," Schumer and Pelosi said.
Former FBI Assistant Director Chris Swecker told Fox News that the mailed makeshift bombs could have been the work of someone "trying to get the Democratic vote out," Mediaite reported.
WATCH: CNN NEW YORK STUDIO EVACUATED AS BOMB ALARM SOUNDS ON-AIR In the latest incident, a law enforcement source told Fox News that U.S. Capitol Police are investigating a suspicious package addressed to Democratic California Rep. Maxine Waters, whom Trump has repeatedly mocked and derided.
Just two hours after the suspected explosive device was found at CNN, the Trump 2020 campaign sent out a fundraising email bashing the network and the rest of the media.
And Infowars, the conspiracy outlet that has suggested the Sandy Hook shooting never happened, said the bombs could have been hoaxes planted by anti-fascists and that Republicans are "aware of false flag."
It didn't take long after apparent mail bombs were sent to two former U.S. presidents and a building full of journalists for the MAGA-worshipping sect of the internet to scream "false flag."
"I don't like 'em either," Trump of reporters Monday night in Houston as his fans yelled "CNN sucks," a recurring chant at the president's rallies.
President Trump said what he should have said, Sen. Flake tells @AliVelshi. Weve got to tone it down and be more civil, and I hope he follows through. Well see at the next rally. His next rally is tonight.
Online, right-wing conspiracy theorists frothed at the mouth at the idea that the mail bombs could be a "false flag" staged for political purposes.
The day's events began when packages containing suspected explosive devices were intercepted en route to some of the most prominent political figures in the country on Wednesday – including former President Barack Obama and Clinton – putting law enforcement on high alert and prompting evacuations and sweeps of several facilities.
In their statement, they pointed to remarks by the president at a rally in Montana last week, when he praised a Republican congressman who body slammed a reporter as a "tough cookie," and his frequent criticisms of CNN and other media organizations he has dubbed hopelessly biased.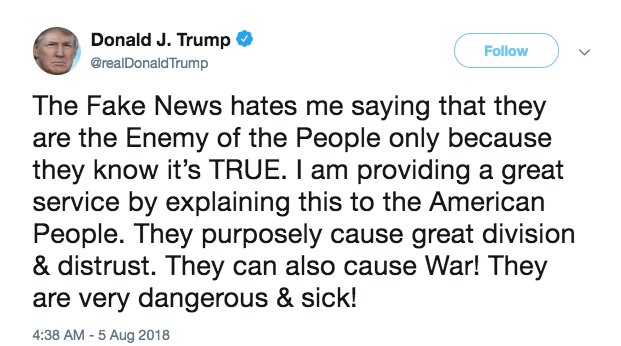 NYC Mayor Bill de Blasio called out President Trump after explosives were sent to CNN and Democratic leaders: Don't encourage hatred, don't encourage attacks on media ... this atmosphere of hatred is contributing to the choices people are making to turn to violence.
CNN president Jeff Zucker ripped President Donald Trump and press secretary Sarah Huckabee Sanders on Wednesday after a suspected explosive device was found at the network's New York office, saying White House officials failed to understand "the seriousness of their continued attacks on the media."
On Wednesday, Trump a statement from Vice President Mike Pence that included CNN in condemning the suspicious packages, though the president did not mention the network in afternoon comments at the White House.