NBC will not re-air President Trump's 'insensitive' immigration ad that ran on 'Sunday Night Football'
NEW NBC statement regarding the Trump immigration ad: "After further review we recognize the insensitive nature of the ad and have decided to cease airing it across our properties as soon as possible." – NBCUniversal Spokesperson.
Since NBC has no problem playing this ad, maybe they should just hire David Duke for a new season of The Apprentice produced by Donald Trump and Mark Burnett
rolandscahill Scanner
0
NBC didn't appear to have the same hesitations, and people around the country took to social media to voice their frustrations that the network would accept money to air the advertisement despite its message.
That racist Trump ad WAS running on Fox News, but not anymore: Upon further review, FOX News pulled the ad yesterday and it will not appear on either FOX News Channel or FOX Business Network, ad sales president Marianne Gambelli says.
Trump claims he didnt know his campaigns immigration ad now will not air on Fox, NBC and CNN. I dont know about it, youre telling me something I dont know ... We have a lot of ads. He added: A lot of things are offensive ... Your questions are offensive."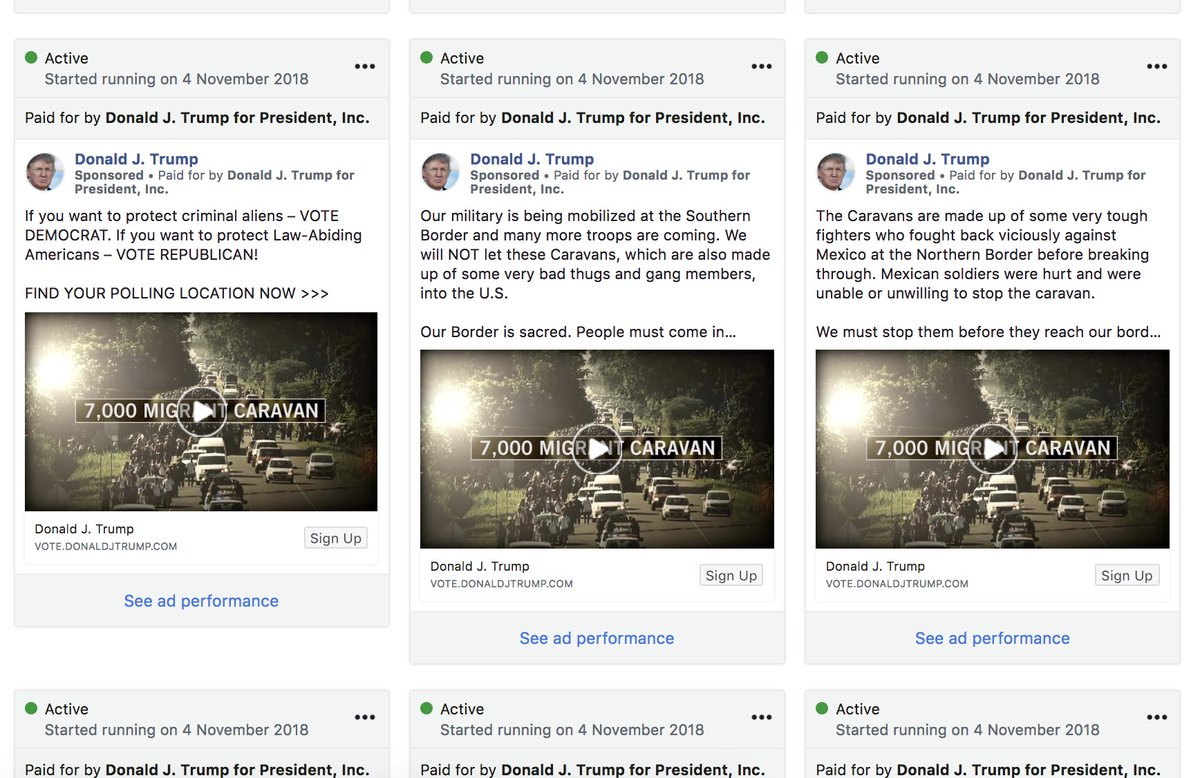 The Trump ad that CNN said it wouldnt air because it was racist, and that NBC pulled this morning, is still running on Facebook right now.
donie Scanner
0
Facebook also took action on Monday, blocking the ad from getting promoted through the company's paid distribution network, though it allowed the ad to remain on Trump's verified Facebook page, where it has been viewed more than one million times.
NBC ran the Trump caravan ad that CNN refused to run because it was made abundantly clear in its editorial coverage that this ad is racist, per CNNs PR.
Dear @NBC – please explain why you aired that racist and fictional Donald Trump caravan ad on Sunday night. Even your competitors have called it racist. You are now facing a boycott, and so are all the rest of your advertisers. Youll lose billions. Was it worth it? @NBCNewsPR
BREAKING NEWS: Even Fox News Has Now Thrown Trumps Racist Closing Argument Ad in the Trash (How racist does your closing argument for the midterms have to be for even *Fox News* to toss it? This is FNC *conceding* Trumps argument to voters is racist.)
SethAbramson Scanner
0
On Monday morning, an NBC Universal spokesperson said the company recognizes "the insensitive nature of the ad and have decided to cease airing it across our properties as soon as possible," according to a tweet from NBC News media reporter Dylan Byers.
Outrageous: @NBCUniversal took money from the Trump campaign to air their flatly false, abjectly racist ad during SNF. RT & demand NBC pull the ad & immediately explain their decision.
mattmfm Scanner
0
Some have pointed to an NBC statement from 2015 in which the network cut ties with Trump over his controversial remarks on immigration.
CNN had earlier declined to run the ad, deeming it racist.
NBC and Fox News said on Monday morning that they would no longer air an immigration ad from President Donald Trump that has been widely derided as racially divisive.
Donald Trump Jr., the president's son, had criticized the network earlier for turning the ad down, saying CNN would "only run fake news and won't talk about real threats."
Fox News, Fox Business and NBC said Monday they will stop airing a campaign ad for President Trump that was widely condemned as racist after NBC ran it during an NFL "Sunday Night Football" game.
NBC on Sunday aired a controversial political ad paid for by President Donald Trump's campaign during the prime-time commercial breaks for Sunday Night Football.
*whispers* @FoxNews pulled it, too
NatashaBertrand Scanner
0
The ad aired 18 times across multiple networks including Fox News and Fox Business Network, according to advertising tracking firm iSpotTV, which noted it also aired on MSNBC's "Morning Joe" on Monday.
The ad was part of Team Trump's campaign to demonize immigrants as the pivotal midterms approach to fire up the president's "America First," nativist base.
"Upon further review, Fox News pulled the ad yesterday and it will not appear on either Fox News Channel or Fox Business Network," said ad sales president Marianne Gambelli in a statement to reporters issued shortly after NBC made a similar announcement.