Herb Kelleher, co-founder of Southwest Airlines, dies at 87
They call them Herb stories, wacky encounters with zany Herb Kelleher, the co-founder of Southwest Airlines, who died Thursday at age 87.
Parker said the other thing that struck him about Kelleher was that he eschewed typical CEO speak when discussing Southwest's success.
Rather than brag about Southwest's plentiful profits and strong stock market performance, he always focused on the airline's people.
Competitors like Texas International, Braniff and Continental waged four years of litigation before Southwest Airlines could make its first flight.
We'd sit up and talk to two, three, and four o'clock in the morning when I was quite young, about how you should behave, the goals that you should have, the ethics you should follow, how business worked, how politics can join with business."
"She had enormously wide interests in politics and business, so it was very educational in that respect, just talking with her.
In 1967, one of Mr. Kelleher's clients, Rollin W. King, approached him with what seemed an outlandish idea: starting an airline that could fly passengers cheaply within Texas.
The times he had to be tracked down by other Southwest executives after too many shots of Wild Turkey, his well-documented drink of choice.
Planes were profitable only when they were flying, Mr. Kelleher reasoned.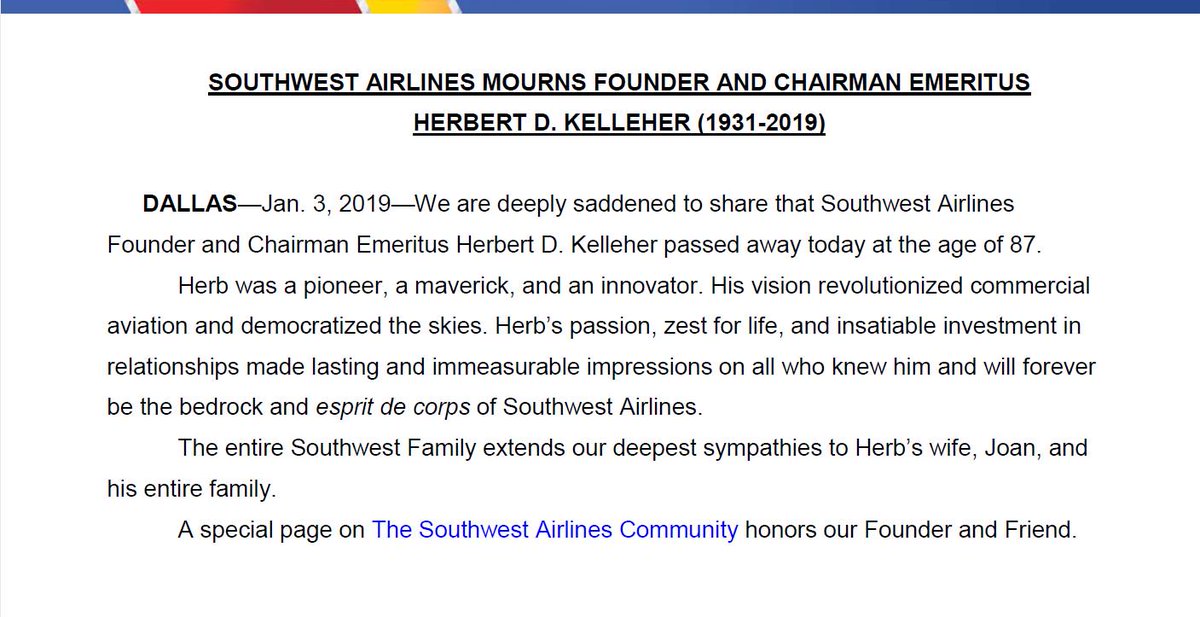 STATEMENT from @SouthwestAir on the death of its founder Herb Kelleher.
JasonWhitely Scanner
0
Or the time he wore a bag over his head in a commercial years ago after a rival suggested travelers should be embarrassed to fly no-frills Southwest.
Herb was a pioneer, a maverick, and an innovator,' Southwest Airlines said on the death of its co-founder