Mueller seeks no prison time for former national security adviser Michael Flynn, citing his 'substantial assistance'
Former national security adviser Michael Flynn provided "substantial assistance" in the special counsel's Russia investigation and should receive little to no prison time, federal prosecutors said in court papers filed Tuesday.
The special counsel said some of the information Flynn gave is sensitive, and related to ongoing investigations, so it asked that part of an addendum to the sentencing memo be sealed.
BREAKING: A Flynn sentencing memo will be submitted by Mueller tomorrow, and memos on Manafort and Cohen will be submitted by Mueller on Friday. These memos should expose details on how much they've cooperated, and could reveal crimes and storylines that haven't been made public.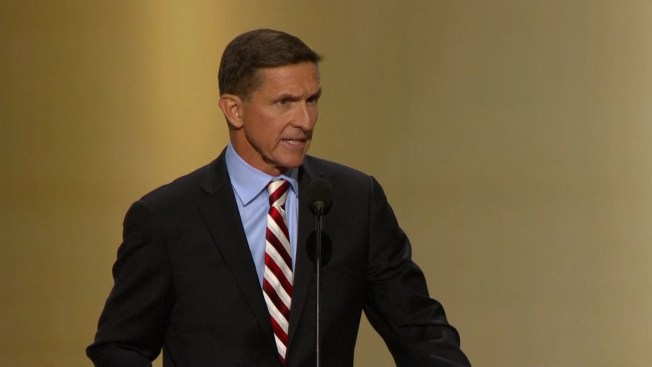 The court papers offered few new details on the Russia probe but the prosecutors, citing Flynn's extensive cooperation in "several ongoing investigations," said a sentence that includes no prison time is "appropriate and warranted."
Right now, everyone withholding relevant information from the Special Counsel is weighing the value of ... 1) Flynn's "no jail time" sentencing memo. Vs. 2) A @realDonaldTrump tweet about "guts!" Mueller's phone must be ringing off the hook.
BrettPransky Scanner
0
Flynn pleaded guilty in December 2017 to a charge of lying to the FBI about his conversations with Russian ambassador Sergey Kislyak in the weeks before President Donald Trump took office.
As a former prosecutor, here is my view of the Flynn memo: -Mueller is signaling to other targets that if they cooperate, they will get leniency; -There are several ongoing investigations; -Mueller believes his job is secure & felt no need to disclose what he has uncovered.
**MUELLER WEEK BEGINS TODAY** Tuesday: Flynn memo Friday: Cohen memo Friday: Manafort memo All week: unhinged Trump tweets
SethAbramson Scanner
0
Flynn met with the special counsel 19 times as part of his agreement to cooperate with the government in its investigation into Russian meddling in the 2016 presidential election.
Mueller sentencing memo suggests origin of Michael Flynn case. After wiretapped conversation with Kislyak, Obama administration leaked that Flynn might have violated Logan Act. FBI headed to White House.
ByronYork Scanner
0
In the year since Flynn began cooperating with Mueller, there have been several other developments in the special counsel investigation.
Mueller news this week— Tuesday: Prosecutors file sentencing memo on Flynn that details his cooperation & could shed more light on campaign activity. By Friday: Prosecutors detail why Mueller scrapped Manafort's plea agreement & lay out the lies he allegedly told.
rebeccaballhaus Scanner
0
Donald Trumps night so far: - Mueller making Michael Flynn sentencing memo public tomorrow - Mueller making Paul Manafort sentencing memo public on Friday - Trumps crimes will be exposed - No wonder hes melting down - More big stuff to come tonight - Its still only 10:30pm
1. Flynn Memo is out.... He participated in 19 interviews with the Special Counsels office and other justice department attorneys. Mueller is recommending no prison time for Flynn given his participation.
yashar Scanner
0
Reminder: Mueller is scheduled to file a detailed memo today in support of the sentencing of Michael Flynn. That memo would include information about any bad acts Flynn committed for which he was not charged, and details about his cooperation with the special counsel.
🔥PENCE🔥 Guess who else is FREAKING OUT about Mueller's impending sentencing memo on Misha🇷🇺Flynn? Paul Manafort's handpicked @VP, Mike Pence, who **knew** all about Flynn's ties with #Russia🇷🇺 and spoke nearly daily with Manafort throughout the transition. #MuellerTime
Flynn, who was forced out after just three weeks on the job, is so far the only member of the Trump administration to plead guilty to a charge brought by Mueller as part of his probe into Russian election interference and potential ties to the Trump campaign.
At the end of the filing, the special counsel praised Flynn's early cooperation in the investigation.
Flynn met with special counsel Robert Mueller's team 19 times after he pleaded guilty to lying to federal investigators, according to a sentencing memo filed by Mueller's office.
key takeaways from Mueller's Flynn sentencing memo: —"assistance to the government was substantial" —so substantial that Flynn may not get prison time —"several ongoing investigations" —Flynn gave info to Mueller in 19 different interviews
With reporting by Paula Reid and Clare Hymes WASHINGTON — Special counsel Robert Mueller filed a sentencing memo Tuesday night suggesting that Michael Flynn has given the government "substantial assistance," and it recommends that Flynn serve no time for making a false statement to the FBI.