UN environment chief Erik Solheim resigns over travel expense audit report
Tanzanian picked to head Unep as executive director Erik Solheim resigns
The_EastAfrican Scanner
0
The U.N. Environment Programme aims to set the global environmental agenda though leadership and partnerships.
Practise what you preach is difficult. The UN's environment chief, Erik Solheim, has resigned following severe criticism of his global travels and internal rule-breaking which led some nations to withhold their funding.
kumarmanish9 Scanner
0
UN environment chief Erik Solheim resigns after audit questioning his nearly $500,000 travel expenses triggers an outcry
UN environment chief resigns after frequent flying revelations
Unep chief Erik Solheim resigns via @BD_Africa
BD_Africa Scanner
0
U.N. Secretary-General Antonio Guterres had accepted Solheim's resignation, which would be effective from Thursday, U.N. spokesman Stephane Dujarric told reporters.
Solheim, a former Norwegian environment minister, said in a statement that he had decided to resign as executive director of the Nairobi-based U.N. Environment Programme after receiving the final audit report on Saturday.
Deputy Executive Director of Joyce Msuya, from Tanzania, will be appointed as acting executive director while the secretary-general launches a recruitment process, in consultation with member states, to find a successor to Solheim.
BusinessStandard Scanner
0
U.N. environment chief Erik Solheim resigns over $500K travel expense report.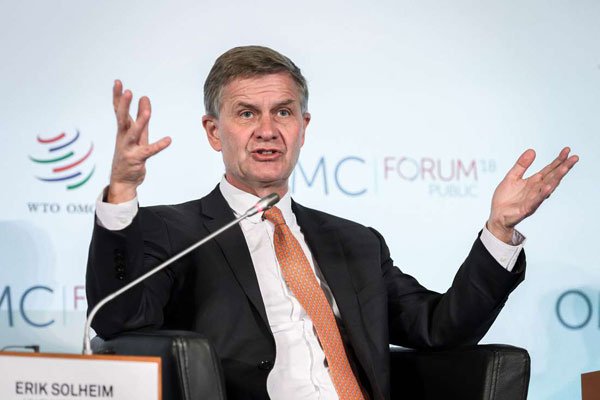 UNEP EXECUTIVE Director Erik Solheim announces his resignation with effect from Nov. 22 after audit reveals frequent travelling.
NationBreaking Scanner
0
The audit also found that Solheim had spent 79 per cent of his time away from the agency's headquarters in Nairobi and incurred USD 488,519 in travel expenses over a 22-month period.
BusinessStandard Scanner
0
A prominent U.N. official resigns after an audit finds scant regard for rules on how public funds should be used
UNITED NATIONS — U.N. environment chief Erik Solheim said on Tuesday he had resigned after receiving a final audit of his official travel.
Erik Solheim, the UNs environment chief, has resigned following an internal audit that found he spent nearly $500,000 on flights and hotels in 22 months, the Guardian reports
"The Secretary-General is grateful for Mr Solheim's service and recognises that he has been a leading voice in drawing the world's attention to critical environmental challenges, including plastics pollution, climate action, the rights of environment defenders, biodiversity, and environmental security," Dujarric said.
BusinessStandard Scanner
0
When asked about Solheim's travel expenses, Dujarric said: "The Secretary-General, I think, is pleased to see that UNEP (the U.N. Environment Programme) is committed to implementing the recommendations that are found in the OIOS (Office of Internal Oversight Services) report on the travel office."