Storm Leslie: Portugal hit by hurricane-force winds
These storm surges can cause more damage from flooding than the winds.
Storm surge +1.2m-1.5m Winds 154-177km/h Roofs and trees could be damaged.
Storm surge +1.8m-2.4m Winds 178-208km/h Houses suffer damage, severe flooding Storm surge +2.7m-3.7m Hurricane Sandy (2012) caused $71bn damage in the Caribbean and New York Winds 209-251km/h Some roofs destroyed and major structural damage to houses.
Storm surge +4m-5.5m Hurricane Ike (2008) hit Caribbean islands and Louisiana and was blamed for at least 195 deaths Winds 252km/h+ Serious damage to buildings, severe flooding further inland.
Storm surge +5.5m Hurricane Irma (2017) caused devastation in Caribbean islands, leaving thousands homeless "For everyone thinking they can ride this storm out, I have news for you: that will be one of the biggest mistakes you can make in your life."
Portugal has been battered by one of its strongest ever storms as the remnants of Hurricane Leslie left hundreds of thousands of homes without power.Spain was also expected to be hit by the severe weather, dubbed a "zombie" storm because it first formed on 23 September and has meandered through the Atlantic Ocean for weeks.Winds of 110mph were recorded as the hurricane, which weakened slightly into a post-tropical cyclone, swept into northern and central Portugal overnight, with officials warning people not to venture outdoors.At least 300,000 homes were reported to be without power, while several flights to and from Lisbon were cancelled.There have been no reports of deaths or injuries as yet.
Leslie - which was downgraded to a tropical storm before it made landfall - is unusual since hurricanes that regularly batter the American side of the Atlantic rarely bring their destructive force across to Europe.Only Hurricane Vince has made landfall on the Iberian peninsula over the last 176 years, hitting southern Spain in 2005, according to weather records.
(LISBON, Portugal) — Hurricane Leslie churned across the Atlantic Ocean on Saturday heading toward Portugal and Spain, with forecasters saying the storm will bring heavy rain, high winds and dangerous surf to western parts of the Iberian Peninsula.
Forecasters said sections of Portugal will see near hurricane-force winds, while parts of western Spain are expected to be hit with tropical storm-force winds.
Leslie's maximum sustained winds were 75 mph (120 kph) and those hurricane-force winds extend outward for 95 kilometers (60 miles).
Portugal's weather service issued red warnings — its highest level— for high winds or dangerous coastal conditions for 13 of its 18 mainland districts, including Lisbon, where it said the storm's effects will start to be felt around 6 p.m.
Leslie is still expected to generate ocean swells that will affect Madeira, the Azores and the Canary Islands throughout the weekend, in addition to the Atlantic coasts of Spain, Portugal and Morocco.
Hurricane Leslie could turn out to be the most powerful storm to hit Portugal since 1842
Storm Leslie: Portugal hit by hurricane-force winds
#Leslie is heading toward Portugal and threatening #hurricane force winds this evening.
Um, Hurricane Leslie is currently heading toward Spain and Portugal, via the island of Madeira where there are no known tropical storms in the historical record anywhere within 100 miles. #hotnewworld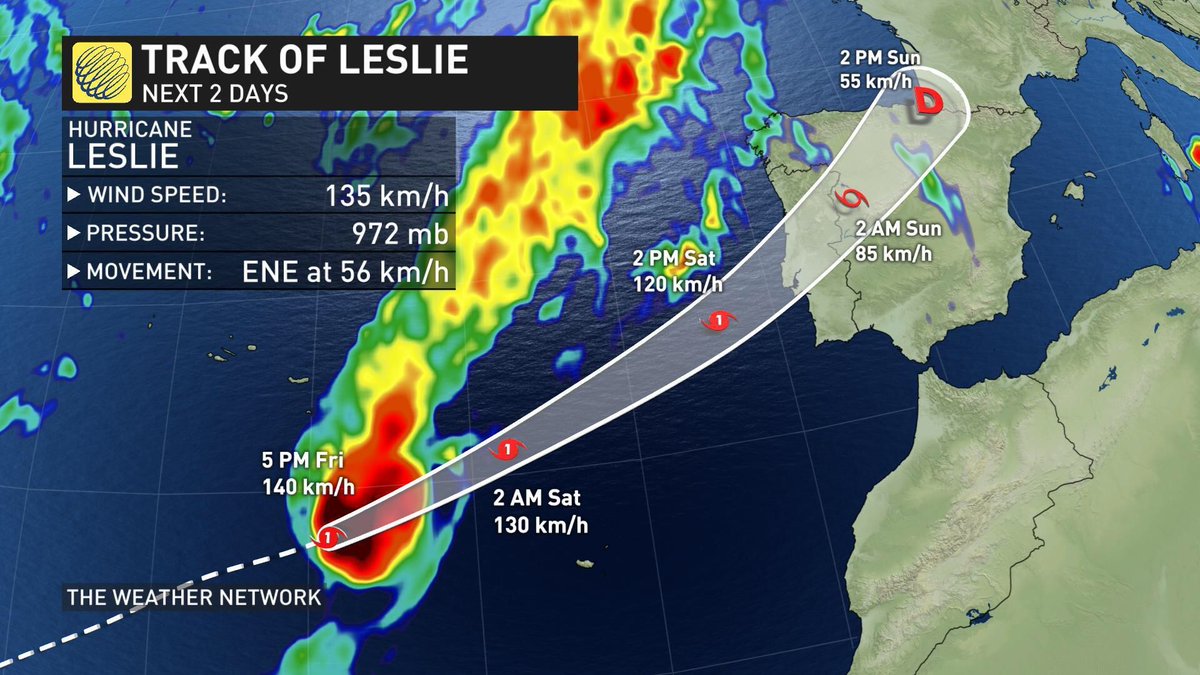 The New #Climate Normal: Europe will see a historic hurricane of its own today: #Leslie is set on a course for landfall, with Portugal as its target "Not only is this a rare trajectory, [this is] the first tropical system on record ever to do so"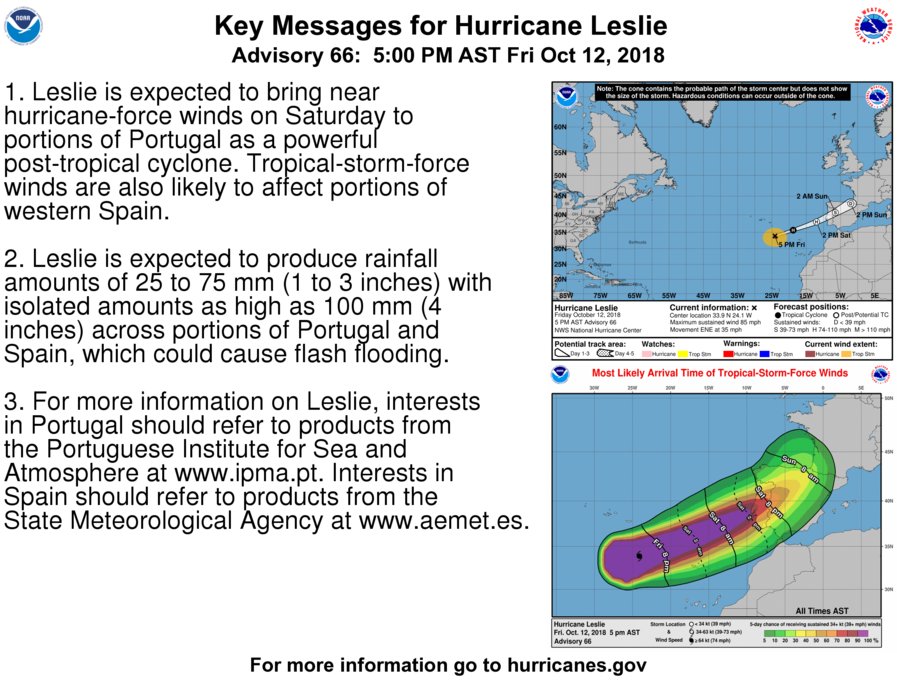 Here are the 5 PM Oct. 12 Key Messages for Hurricane #Leslie, concerning potential impacts in #Portugal and #Spain after Leslie becomes post-tropical: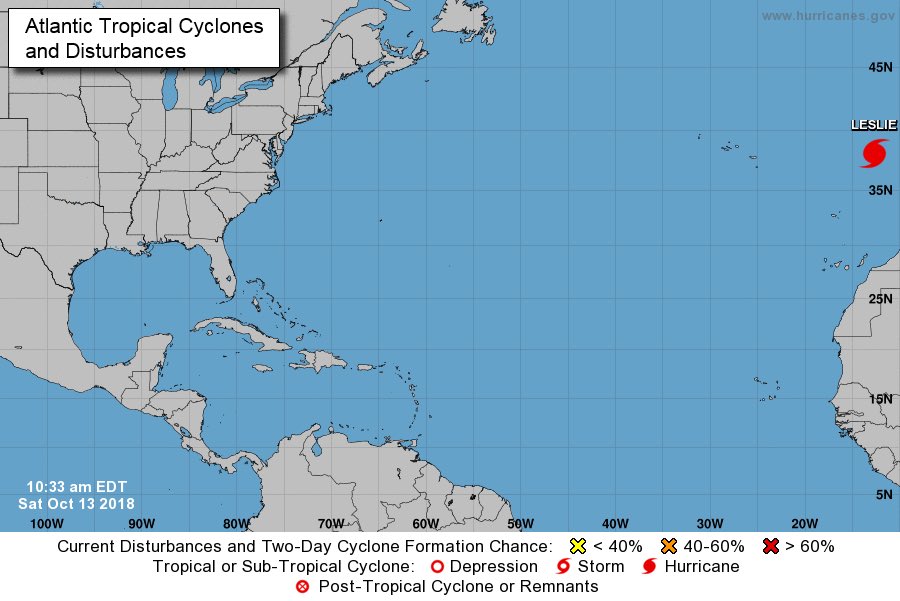 #Leslie is going into uncharted territory as a #hurricane- closest in modern times to Spain and Portugal on record. What a strange set of maps- about to off the main NHC fromt page one- even more anomalous than Vince of 2005
This thing is getting serious: Hurricane #Leslie could make Landfall as a Category 1 Hurricane in Portugal! This has never happened before. With Wind more than 200 km/h the Storm will crash into the Iberian Peninsula. Forecast Modell high resolution DWD ICON. @wxcharts
After meandering around the Atlantic as a named storm for 20 days, Hurricane #Leslie is now forecast by @NHC_Atlantic to hit Portugal and Spain this weekend! Maximum sustained winds are near 85 mph (140 km/h) with higher gusts.(@eumetsat Meteosat imagery)