Powerful earthquakes buckle Alaska roads, trigger tsunami warning
BREAKING: A 6.7 magnitude earthquake has rocked buildings in Anchorage, the U.S. Geological Survey says.
Back-to-back earthquakes measuring 7.0 and 5.7 rocked buildings and shattered roads Friday morning in Anchorage, sending people running into the streets and briefly triggering a warning to residents in Kodiak to flee to higher ground for fear of a tsunami.The tsunami warning was lifted without incident a short time later.
Anchorage earthquake knocked out all television stations says @brianstelter, making it challenging to get information out to residents. Social media and cell towers only option currently.
profcarroll Scanner
0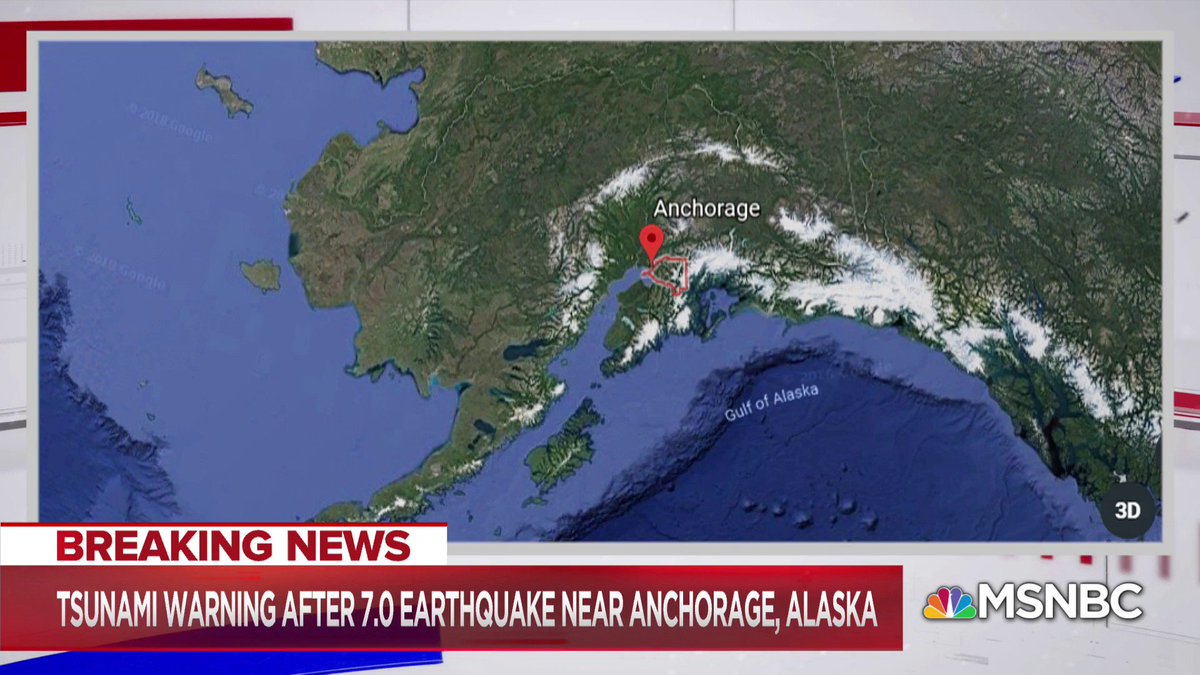 Tsunami warning issued after 7.0 earthquake near Anchorage, Alaska. Live now on @MSNBC.
Police in Kodiak, a city of 6,100 people on Kodiak Island, 250 miles (400 kilometers) south of Anchorage), warned residents to evacuate to higher ground immediately because a wave could hit within about 10 minutes.Michael Burgy, a senior technician with the National Tsunami Warning Center in Palmer, Alaska, said the warning was automatically generated based on the quake's size and proximity to shore.
It also threw a full-grown man out of his bathtub.All flights were halted at the airport after the quake knocked out telephones and forced the evacuation of the control tower, and the 800-mile Alaska oil pipeline was shut down while crews were sent to inspect it for damage.Anchorage's school system canceled classes and asked parents to pick up their children while it examined buildings for gas leaks or other damage.Jonathan Lettow was waiting with his 5-year-old daughter and other children for the school bus near their home in Wasilla when the quake struck.
A 7.0 magnitude earthquake just occurred near Anchorage. Please note there is NO Tsunami danger with this earthquake. Please stay tuned for any updates. #AKwx #Anchorage #Alaskaearthquake
NWSAnchorage Scanner
0
There were no immediate reports of any deaths or serious injuries.The U.S. Geological Survey said the first and more powerful quake was centered about 7 miles (12 kilometers) north of Anchorage, Alaska's largest city, with a population of about 300,000.
The quake was centred about seven miles (11km) north of Anchorage, the largest city in the state, according to the US Geological Survey (USGS).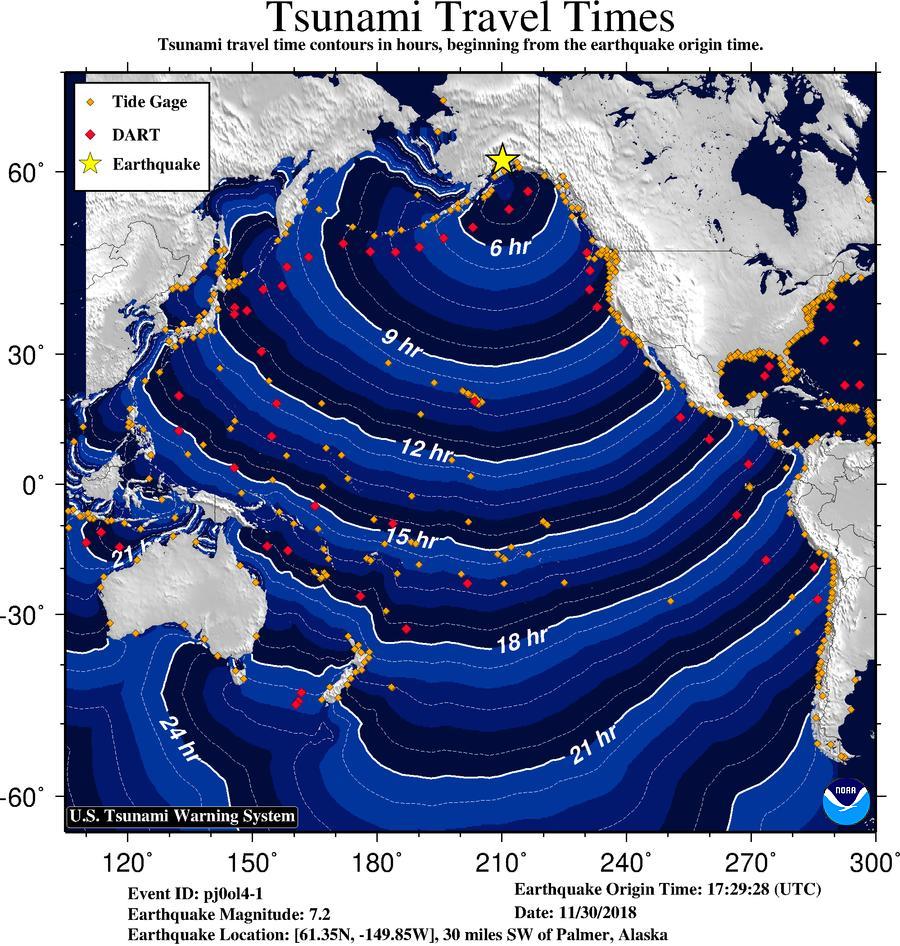 Tsunami Warning for coastal areas of Cook Inlet and southern Kenai Peninsula in Alaska after powerful prelim. magnitude 7.2 earthquake and aftershocks hit near Anchorage.
Media playback is unsupported on your device Media captionA road buckled and buildings shook when the earthquake hit near Anchorage A major 7.0 magnitude earthquake has struck Alaska, causing people to run from buildings and briefly prompting a tsunami alert for coastal areas.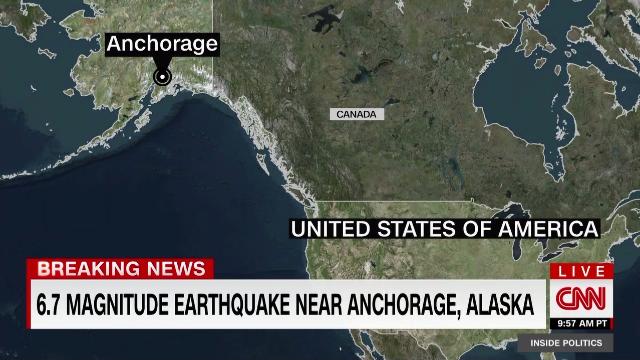 A tsunami warning is in effect for coastal areas of Alaska after a magnitude 7.0 earthquake strikes near Anchorage. Follow live updates:
A 7.0-magnitude earthquake struck near Anchorage, Alaska. A tsunami warning has been issued for surrounding coastal areas.
The President has been briefed on the earthquake near Anchorage, Alaska, and is monitoring damage reports. We are praying for the safety of all Alaskans!
PressSec Scanner
0
"Anchorage is the regional hub for most of the goods that come to the state of Alaska - 85% of the goods - whether it's your bread, your milk, your lettuce or your building supplies."
Anchorage, AK, was rocked by a 7.0 magnitude earthquake earlier today. Roads are cracked open and impassable, structures are damaged, and families are without electricity. Will you join me in praying for all those affected?
Franklin_Graham Scanner
0
Officials warn residents to find high ground as aftershocks rock Anchorage The USGS has reported at least four aftershocks following a 7.0-magnitude earthquake in Alaska. The largest, 5.8, was located in the city of Anchorage. Follow live updates here:
A 7.0 earthquake that rocked Anchorage, Alaska caused a roadway near the Ted Stevens Anchorage International Airport to buckle and break apart.
Southern Alaska has a high risk of earthquakes because the Earth's plates slide past each other under the region.Alaska has been hit by a number of powerful quakes over 7.0 magnitude in recent decades, including a 7.9 that hit last January southeast of Kodiak Island.
So far, officials have registered 40 aftershocks: 10 with magnitudes above 4.0 and three with magnitudes above 5.0, the Alaska Earthquake Center reported.
Image copyright CBS News Image caption KTVA's newsroom in Anchorage was seriously damaged in the quake Police and fire teams are co-ordinating with Alaska State Troopers and National Guard, according to police chief Justin Doll.