Peyton Manning congratulates Drew Brees for passing yards record in hilarious video
The New Orleans Saints quarterback become the league's all-time leading passer Monday night, surpassing first Brett Favre (71,838) and then Peyton Manning (71,940) to claim the top spot for most passing yards in the NFL's 99-year history.
He finished with 363 yards and three TDs as New Orleans (4-1) crushed the Washington Redskins 43-19 — the score was closer than the game — while moving into sole possession of first place in the NFC South.
Brees finished the night with 72,103 yards (nearly 41 miles) and 499 career TD passes, leaving him one shy of joining Manning, Favre and Tom Brady in the 500 club.
He began the night needing 201 yards to take possession of a record that's also belonged to Hall of Famers Johnny Unitas, Fran Tarkenton and Dan Marino, among others.
And I gotta tell you it's been the greatest 1,000 days of my life.
And thanks to you, that's over now," Manning deadpanned in the video, which was played on the video boards at the Superdome after Brees broke the record.
Brees surpassed Peyton Manning's previous record of 71,940 yards on a 62-yard touchdown pass to Tre'Quan Smith late in the second quarter against the Redskins.
The game was briefly interrupted so Brees could celebrate with his teammates, family and coach Sean Payton.
In a hilarious video, Manning congratulated Brees while he was preparing dinner for his family.
"Drew, for 1,000 days I've held the record for all-time passing yards in the NFL and I've got to tell you, it's been the greatest 1,000 days of my life and thanks to you that's over now," Manning said jokingly.
"Drew, congratulations on this record," Manning said.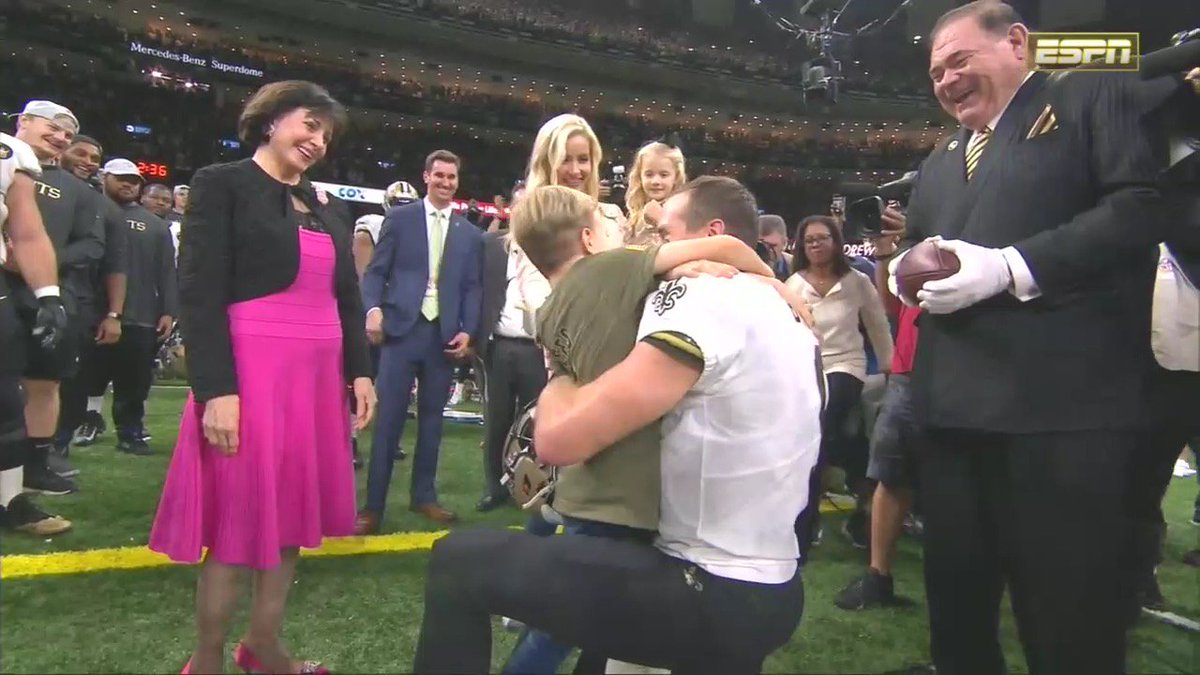 Such an awesome moment. After passing Peyton Manning for the most all-time passing yards, Drew Brees gets a group hug from his kids.
Peyton Manning's message to Drew Brees 💀 (via @Saints)
When Saints host Redskins tonight, Drew Brees needs 201 passing yards to break Peyton Manning's all-time yards record of 71,940. Since joining Saints in 2006, Brees has started 98 homes and thrown for at least 201 yards in 90. Plus, Saints want him to break this record at home.
Thanks to you thats over now and youve ruined that for me -Peyton Manning congratulating Drew Brees on breaking the record 😂😂😂 🎥 @saints
Congratulations to Drew Brees on an almost incomprehensible 71,968 yards passing in the National Football League, passing Peyton Mannings record. Good man, Great QB. And it appears hes far from finished.
RealSkipBayless Scanner
0
NFL, Saints will stop tonight's game if/when Drew Brees breaks NFL passing yardage record – unless it affects the game (like in a hurry-up situation). The ball will be presented to Hall of Fame president David Baker. Soon after, a video tribute from Peyton Manning will be played.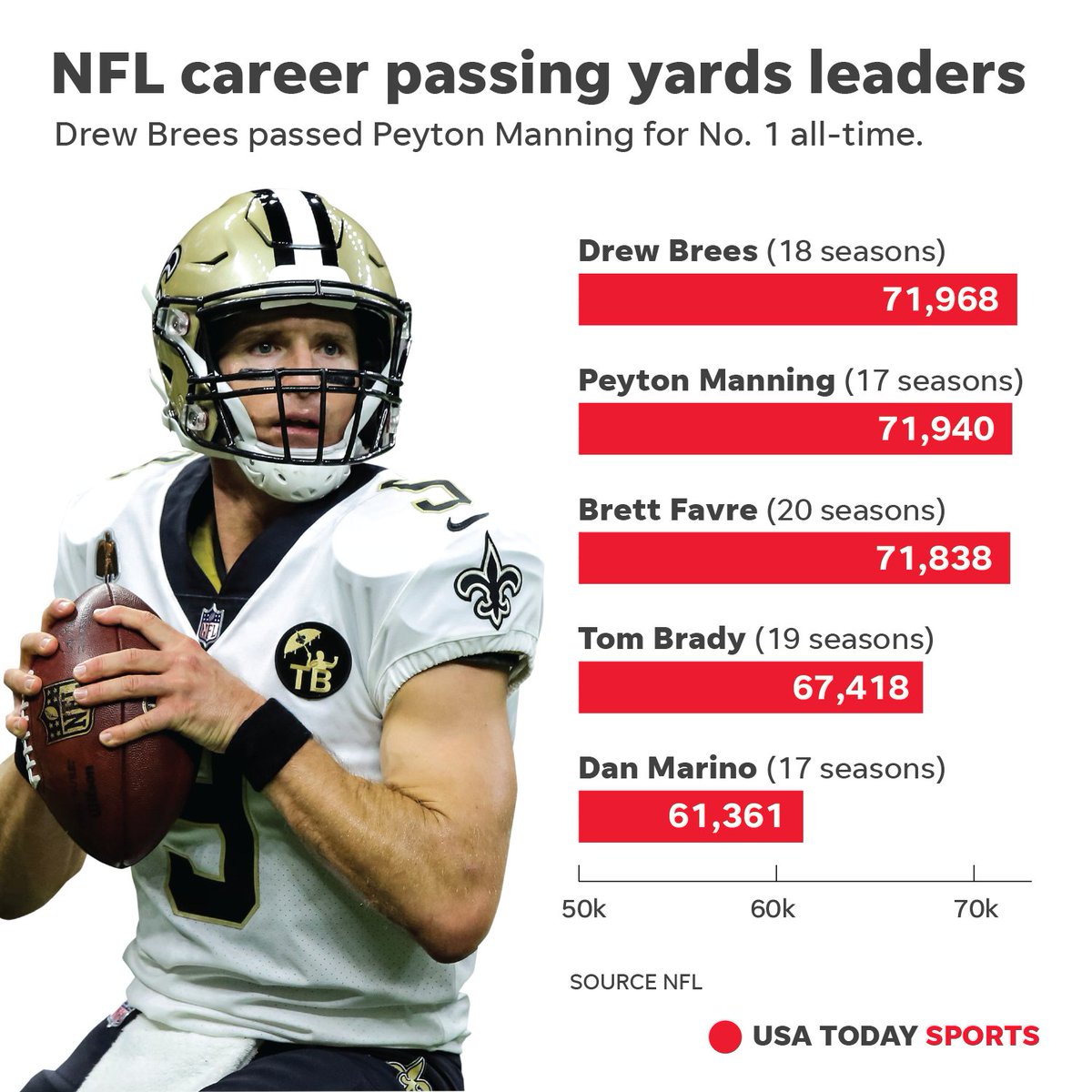 History! Drew Brees is now No. 1 on the NFLs all-time passing yards list.
How Drew Brees looking at Peyton Manning's passing records
🎤 "And new..." 🥇 An updated look at the Top 5 leading passers in NFL history: • Drew Brees - 72,103 yards • Peyton Manning - 71,940 yards • Brett Favre - 71,838 yards • Tom Brady - 67,418 yards • Dan Marino - 61,361 yards @drewbrees @saints #MNF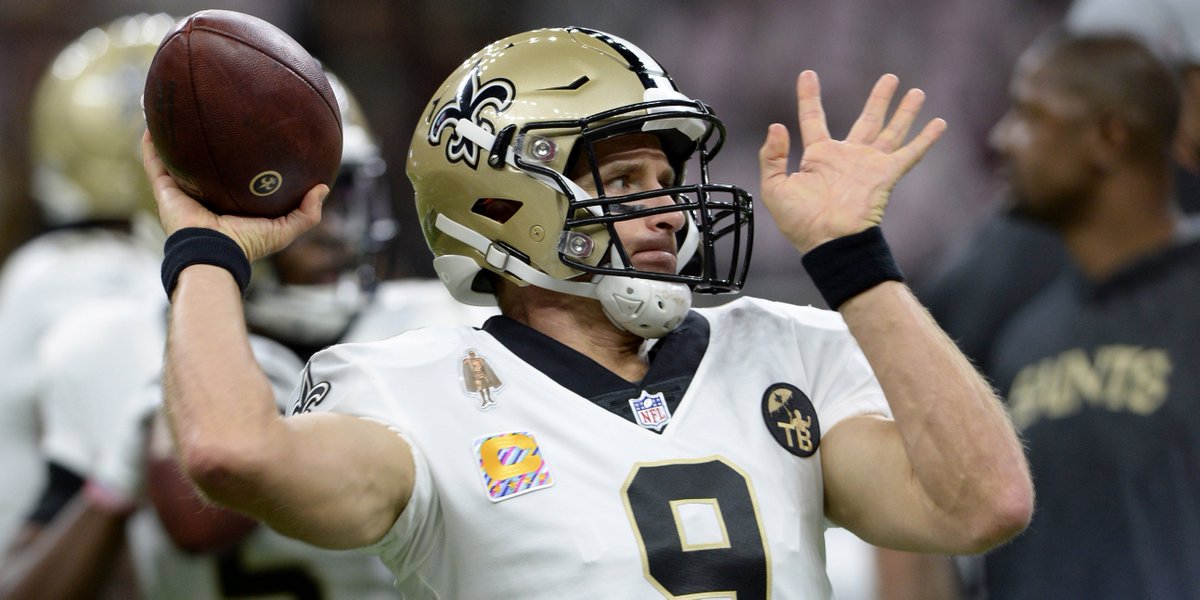 BREAKING: Drew Brees surpasses Peyton Manning to become NFLs all-time passing leader