Stacey Abrams files lawsuit in Georgia governor race
(Photo by Jessica McGowan/Getty Images) Democrat Stacey Abrams refuses to concede the Georgia governor's race as ballots are still being counted after her Republican opponent, Brian Kemp, won by a slim margin amid allegations of voter suppression.
While Republican Brian Kemp has declared himself the winner of the election, his Democratic challenger Stacey Abrams has vowed not to concede until every vote is counted - even if it means filing suit.
11Alive Scanner
0
The campaign has also hosted provisional ballot phone banks and volunteers called voters and urged them to go to their county boards of elections and make sure their vote was counted.
RELATED: Stacey Abrams' campaign: 'We do not accept' Kemp declaring victory in Georgia governor race RELATED: Brian Kemp campaign calls Abrams' battle for ballots a 'disgrace to democracy' Currently, Kemp holds a lead over Abrams with 50.28% (1,975,806 votes) to her 48.78% (1,916,931 votes).
11Alive Scanner
0
Allegations by Abrams supporters of voter suppression, long voting lines and other balloting problems are hard to ignore given Kemp's "aggressively partisan conduct as secretary of state," said Michael Kang, who teaches election law at Northwestern University's law school.
"There are not enough remaining ballots for Stacey Abrams to win the election, force a run-off, or trigger a recount so her legal team filed a shocking lawsuit to undermine Georgia law and count illegal votes," said Ryan Mahoney, the Kemp campaign communications director "These sore losers will stop at nothing to gain power.
Abrams' campaign is doing just that, announcing Sunday plans to file a federal class action lawsuit to push back the date of certification from this coming Wednesday, Nov. 14, to whenever each and every ballot has been logged.
11Alive Scanner
0
The Kemp campaign contends far fewer votes remain, less than 18,000, and that Abrams mathematically can't force a runoff.
(ATLANTA) — Stacey Abrams' Democratic campaign filed a federal lawsuit Sunday asking a judge to delay vote certifications in Georgia unsettled governor's race by one day and to make officials count any votes that were wrongly rejected.
RELATED: Brian Kemp resigns as Secretary of State after declaring victory in Governor's race RELATED: Abrams: Kemp 'abused' power by proclaiming himself winner in governor race In a Sunday evening press call with Abrams team, representatives said she is holding out because they claim there is no way to know how many ballots still haven't been counted because counties are not accurately recording every ballot that comes in.
11Alive Scanner
0
READ MORE: Stacey Abrams supporters still enthusiastic as vote counting continues Abrams says thousands of provisional and absentee ballots could draw her into either recount or runoff territory.
Abrams campaign leaders said she needs to get the margin down to about 22,000 votes to force a runoff, and they sent a fundraising email to supporters Sunday saying at least 30,823 votes remain to be counted.
RELATED: Georgia's post-election drama finale at hand RELATED: President Trump jumps into Georgia governor controversy Abrams' team said even if the lawsuit drags on past the set Dec. 4  runoff date, they plan to keep going until every vote is counted.
11Alive Scanner
0
READ MORE: Georgia voters detail poll problems at press conference as Stacey Abrams pushes for provisional ballots to be counted "Voter suppression looks a lot of different ways," Lauren Wroh-Gargo, Abrams campaign manager, said at a press conference in Atlanta.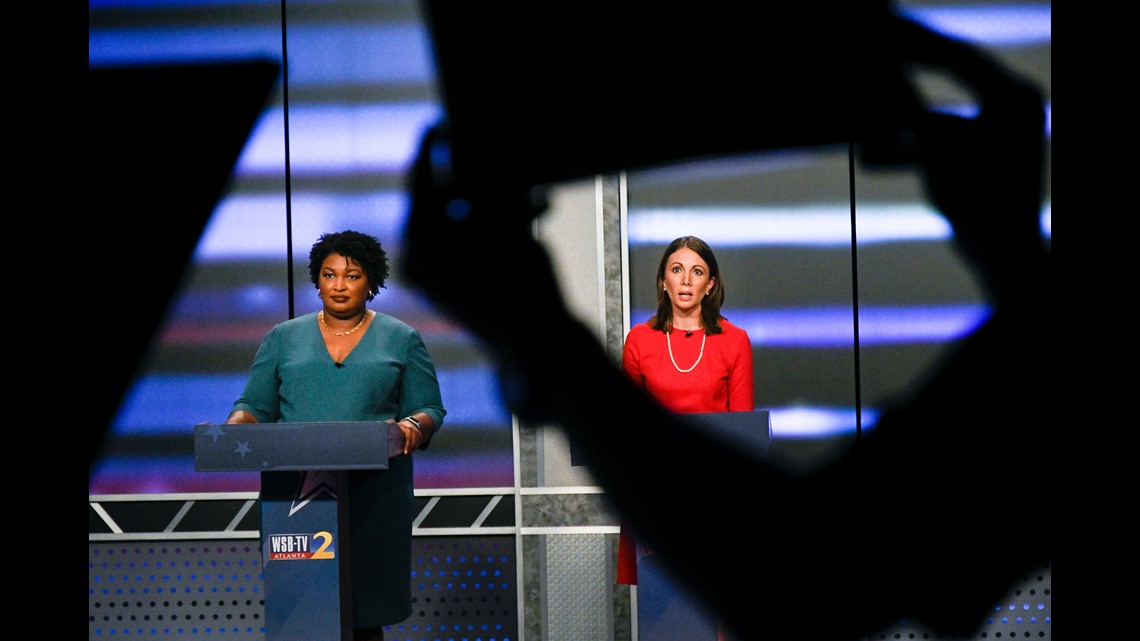 For its  part, the Abrams campaign is asking voters to share their stories of issues they had while voting, noting complaints during registration, early voting, and on Election Day.