France arrests Central African war crimes suspect
The court says that Patrice-Edouard Ngaissona was arrested by French authorities on Wednesday.
"Many in the Central African Republic claimed Nagaissona was 'untouchable,' given his senior post at the Confederation of African Football, but even high level figures implicated in grave crimes can be arrested to face justice," said Lewis Mudge, senior researcher in the Africa Division of Human Rights Watch.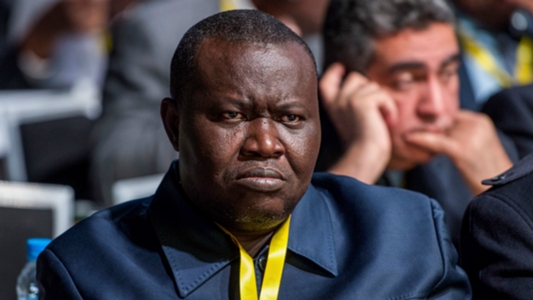 Background The ICC's Pre-Trial Chamber issued an arrest warrant for Patrice-Edouard Ngaïssona on 7 December 2018, as part of an ongoing investigation into the situation in CAR opened on 24 September 2014.
CAR: Anti-balaka coordinator's ICC arrest deals major blow against impunity for to the news that French authorities have acted on an International Criminal Court (ICC) arrest warrant for Patrice-Edouard Ngaïssona, a former coordinator of the Central African Republic's (CAR) anti-balaka armed group, Samira Daoud, Amnesty International West and Central Africa Deputy Director said: "This is a major step forward in the fight against impunity in the Central African Republic.
The court said in a statement that Ngaissona was the most senior leader and "National General Coordinator" of the anti-Balaka militia when crimes such as murder and torture took place in the Central African Republic's west for about a year starting around December 2013.
THE HAGUE, Netherlands (AP) — A senior leader of a Central African Republic militia has been arrested in France on a warrant issued by the International Criminal Court for crimes against humanity and war crimes including murder and torture.
It gave no further details of his arrest or what he was doing in France.
Amnesty International, which named Ngaissona and 19 others as possible war crimes suspects in 2014, called the arrest a "major step forward in the fight against impunity in the Central African Republic."
The court said a panel of judges that reviewed evidence and approved the arrest warrant "found reasonable grounds to believe that Mr. Ngaissona is liable" for involvement in crimes that include murder, enforced disappearances, using child soldiers and attacking humanitarian aid workers.
Another Anti-Balaka leader, Alfred Yekatom, was sent to the ICC last month.
Statement of #ICC Prosecutor, #FatouBensouda, on the arrest of the second suspect in the situation of the #CAR, Mr Patrice-Edouard #Ngaïssona: "Our quest for justice in the CAR continues"
IntlCrimCourt Scanner
0
Today's arrest sends a hopeful message that all those responsible for past and ongoing crimes under international law in CAR will be brought to justice – either at the ICC, in national courts or the country's hybrid Special Criminal Tribunal.