Hong Kong seizes $8 million in ivory, pangolin scales
It was the largest-ever seizure of pangolin scales in Hong Kong, representing the product of some 14,000 animals, and one of the largest of ivory in a decade, the officials said.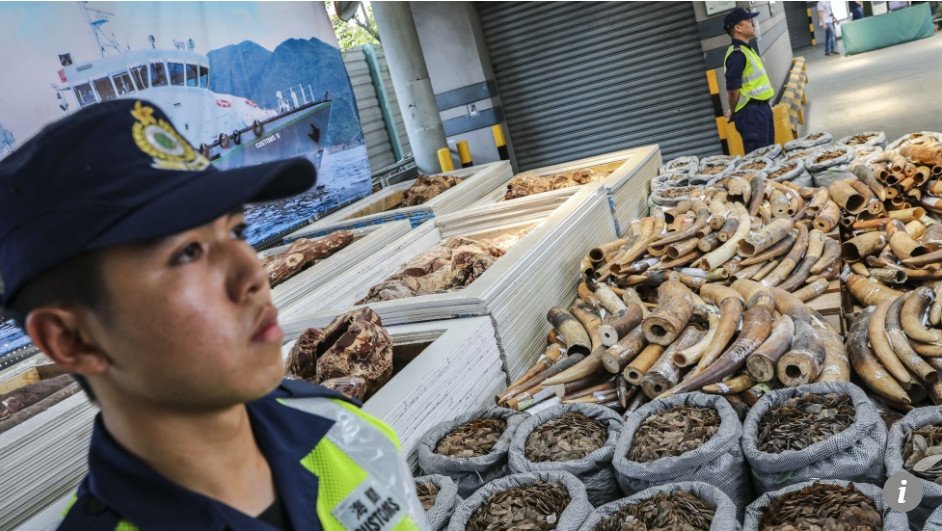 #BREAKING: Hong Kong Customs seize 8.2 tonnes of #pangolin scales in its biggest seizure & 1,000 #ivory tusks weighing 2 tonnes in container from Nigeria after receiving intelligence from mainland China via @SCMPNews #WildlifeTrafficking #WildlifeCrime
CITES Scanner
0
HONG KONG — Hong Kong customs officers have intercepted a record 8.3 tons of pangolin scales and hundreds of elephant tusks worth more than $8 million combined, underscoring the threat to endangered species from demand in Asia.
A thousand elephant tusks were in the same shipment, officials said.
Hong Kong customs said it was the largest single amount of pangolin scales ever recorded in a bust.
clickondetroit.com Scanner
0
Hong Kong officials estimated that the intercepted scales had come from nearly 14,000 pangolins.
Last year, following the outlawing of ivory sales in mainland China, Hong Kong's legislature enacted a complete ban on the local ivory trade to take effect by 2021, while raising penalties for offenders.
Under Hong Kong law, the importation and sales of endangered species and their products can be punished by up to 10 years in prison and a fine of $1.3 million.
Hong Kong has long been considered a hub for illicit wildlife trade due to its busy port and status of a gateway into mainland china.
clickondetroit.com Scanner
0
Beneath frozen meat on a cargo ship, Hong Kong customs officials found nine tons of pangolin scales, the largest seizure of its kind the city has ever made
Hong Kong's customs department announced that in a joint raid with their mainland counterparts, police seized 8,300 kilograms (18,300 pounds) of suspected pangolin scales and 2,100 kilograms (4,600 pounds) of suspected ivory tusks from a 40-foot container ship that was supposed to be transporting frozen beef from Nigeria.
clickondetroit.com Scanner
0
And unlike the mainland, it is still legal to buy certain types of ivory in Hong Kong.
clickondetroit.com Scanner
0
China and Hong Kong have sought to crack down on the illegal trade, although the semiautonomous port and financial center remains a major transit point for endangered species products and other contraband.
(CNN) - Authorities in Hong Kong seized $8 million worth of smuggled endangered species parts in one of the biggest busts the city has ever recorded.
clickondetroit.com Scanner
0
They were found hidden under slabs of frozen meat on a cargo ship that had stopped in Hong Kong on its way to Vietnam from Nigeria, said officials, who estimated the shipment's value at nearly $8 million.