One Killed and Six Injured as Car Slams Into Pedestrians in Manhattan
At least two of the injured victims were in critical condition; two others had injuries that were serious but not life-threatening, the police said.
But in so doing, they said, the man had hit the gas rather than the brakes, and the minivan mounted a curb, smashing two fruit carts and striking several victims.
"There were people on the floor who were crying and bleeding," she told the New York Daily News.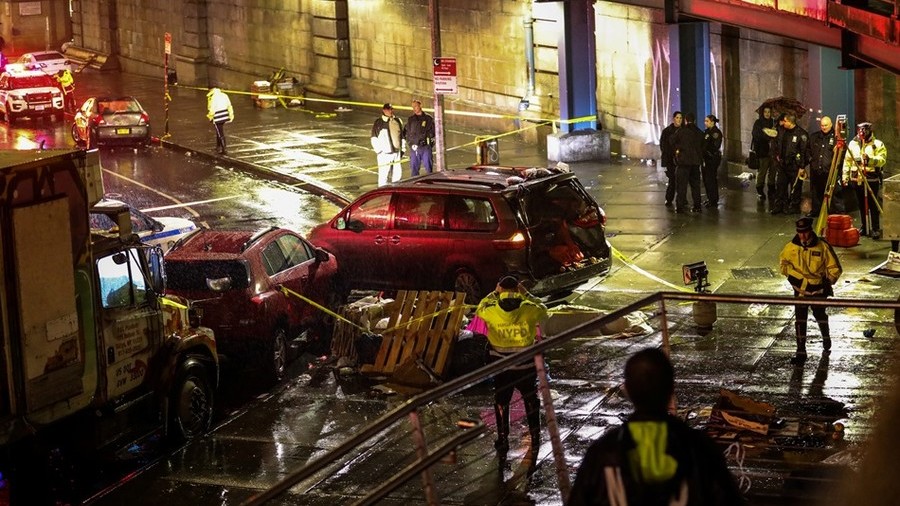 In May 2017, a car sped the wrong way up a one-way street and slammed into dozens of pedestrians, killing a woman and injuring 12 people in Times Square.
A driver trying to park a minivan in Manhattan's bustling Chinatown careened over a curb and onto a sidewalk Monday night, killing a 56-year-old man and injuring six others, the authorities said.
Police and fire officials responded to the corner of Canal and Forsyth Streets about 6:47 p.m., where they said that minutes earlier, a 70-year-old man had tried to park a minivan.
"It smashed into the wall, and it pinned one man against the wall," said Jin Lin, who was walking on the street when she saw the driver reverse down the street and crash into the people.
The unidentified driver was taken into custody and charges were pending after the crash in Chinatown at about 6:55 p.m., The New York Post reported.