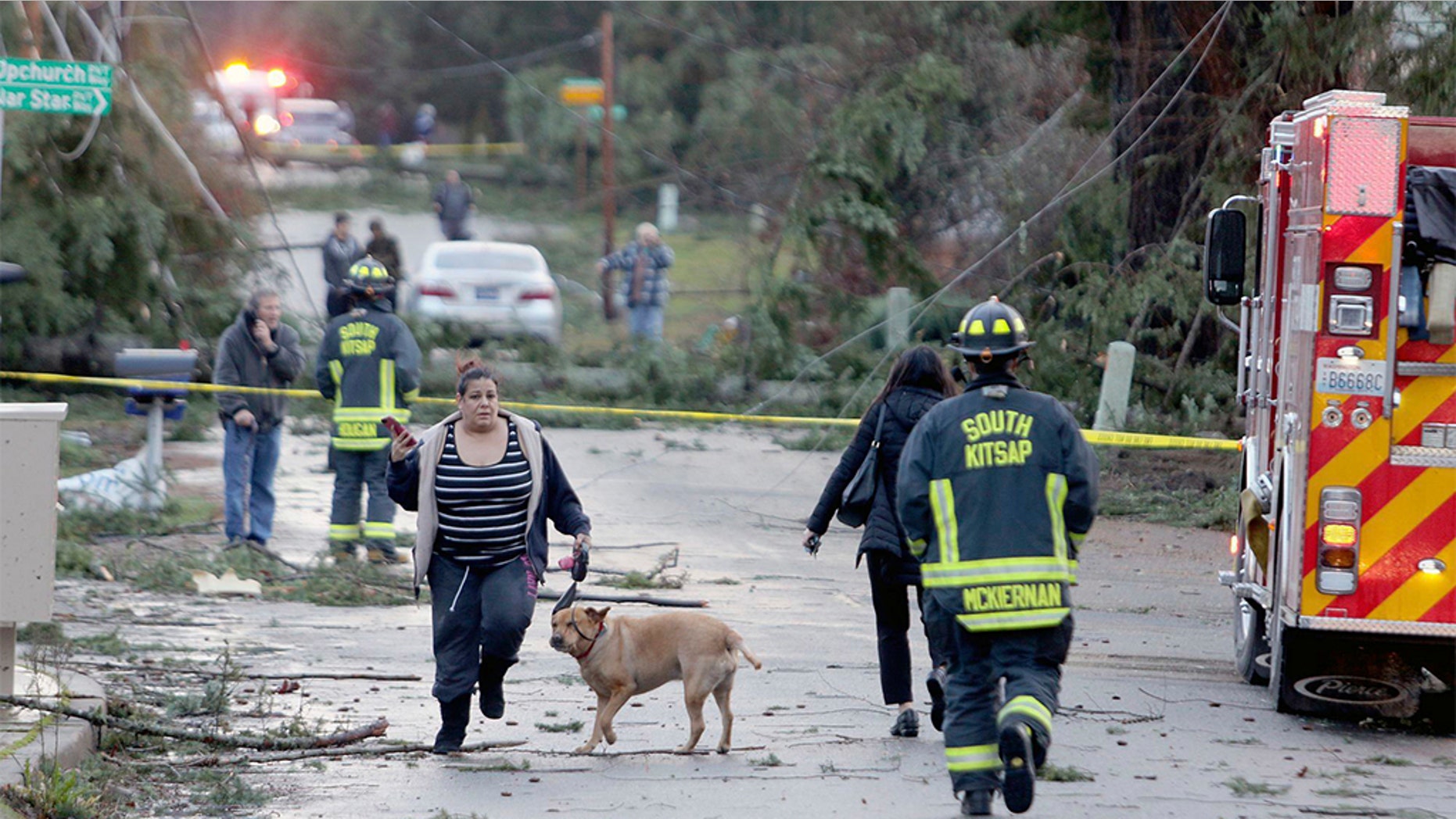 Rare tornado touches down outside Seattle, causing "catastrophic damage"
Reports of damages are still coming in, but the South Kitsap school district said "Everyone OK," roughly an hour after the tornado via twitter.
The Kitsap County sheriff's office, for its part, announced on twitter the "catastrophic damage" was "contained" to the area surrounding the area Wal-Mart.
In addition to the damages to the handful of homes, more than 20 residences were dealing with natural gas leaks, the local outlet also reported.
BREAKING: A tornado has touched down near Port Orchard, Wash., causing major damage to homes and businesses. The Pacific Northwest has been hit with powerful winds in recent days but tornadoes this time of year are extremely rare. Heres @DavidBegnaud
CBSEveningNews Scanner
0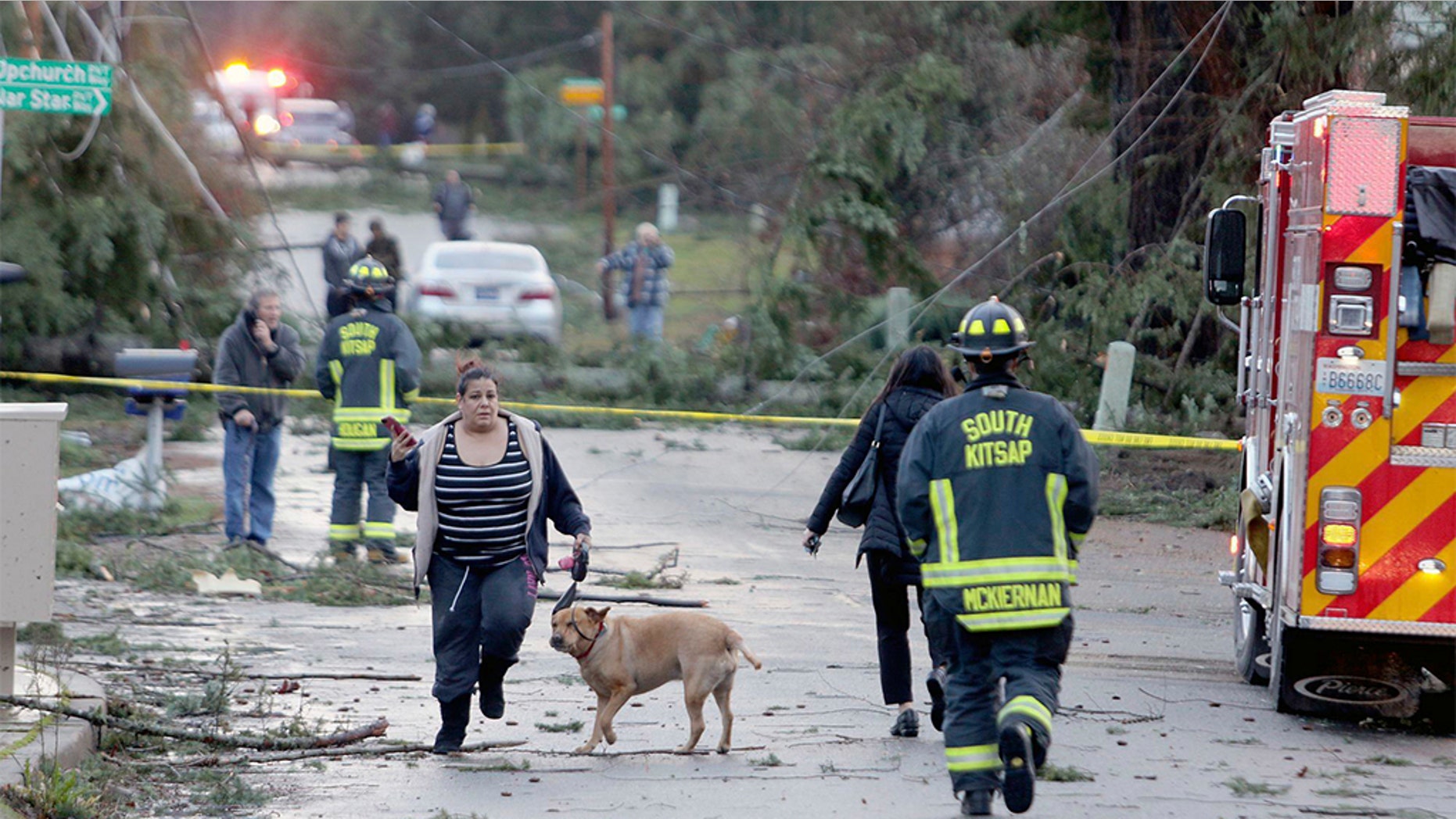 A rare Northwest tornado tore off roofs, uprooted huge trees, three debris and tossed around power lines as if they were match sticks in Port Orchard, Washington at 2 p.m. Tuesday afternoon.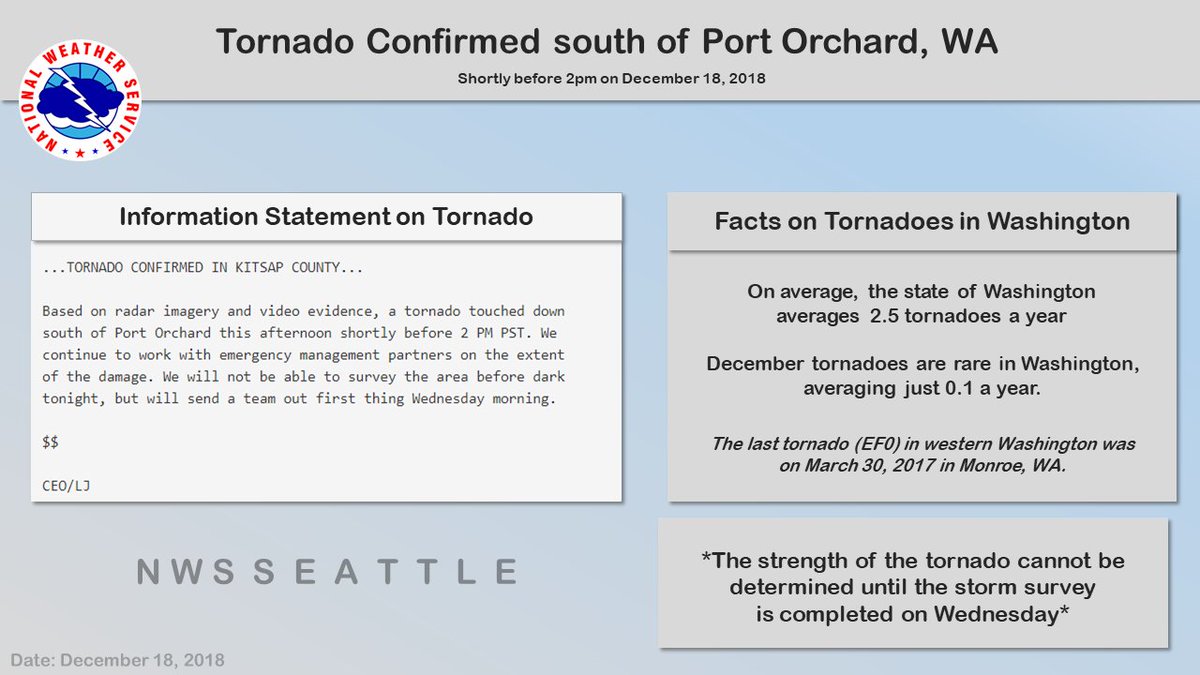 National Weather Service in Seattle can confirm that a tornado touched down near Port Orchard just before 2pm on December 18. An extensive, official damage survey will be conducted by the NWS Wednesday morning. Until then, the strength of the tornado cant be determined. #WAwx
NWSSeattle Scanner
0
BREAKING: A tornado touched down west of Seattle this afternoon, causing extensive damage
GlobalBC Scanner
0
NWS said it will send a team Wednesday to the area and said it's too early to "speculate on the strength of the tornado."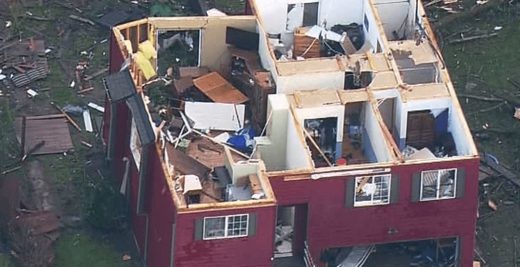 K5 News reported that most of the damage took place in Port Orchard neighborhoods and south of the Walmart on the 3400 block of Bethel Road Southeast, according to the Kitsap County Sheriff's Office.
Prior to the 1991 tornado in Kitsap County, Tornado Project records a tornado 19 years earlier, on April 5, 1972.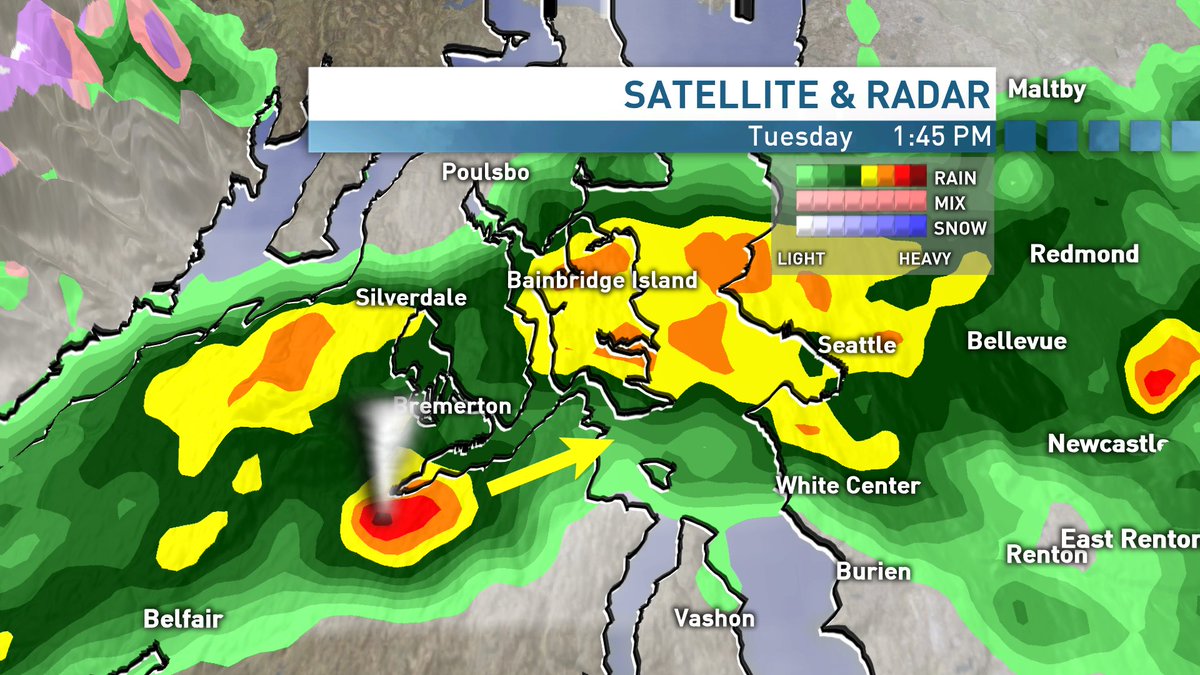 Radar of the possible tornado touchdown in Washington ~2pm just west of #Seattle. Hearing early reports of some significant damage. @NWSSeattle on the situation & we will have the latest tonight on @CBCVancouver. Very rare for the Pacific Northwest!
JWagstaffe Scanner
0
The last tornado in Kitsap County destroyed 18 homes.
A damaging tornado has struck Port Orchard, WA, just a few miles southwest of Seattle. Here's what we know so far:
Sean_Breslin Scanner
0
WIDESPREAD DAMAGE: A possible tornado touched down outside Seattle late Tuesday -- a neighborhood that sustained serious damage as the storm system hits the west and merges with a second system. @WillCarr reports and @Ginger_Zee has the forecast.
A tornado ripped through a town outside Seattle Tuesday, December 18, and damaged the roofs of roughly five to seven homes, according to Kitsap County's Emergency Management Team.
CBS News weather producer David Parkinson said the last tornado warning in the U.S. was nine days ago, and the last severe warning was four days ago.
NWS said Washington state sees an average of 2.5 tornadoes a year — let alone any in December.
Possibly the only recorded tornado to touch down in Kitsap County since April 9, 1991, the destructive tornado on Tuesday seemed to catch residents off-guard in Port Orchard, located on the Kitsap Penninsula 1½ hours and 45 miles west of Seattle and across Puget Sound.
A tornado touched down near Port Orchard in Kitsap County about 45 miles west of Seattle, according to the National Weather Service in Seattle.
KPIXtv Scanner
0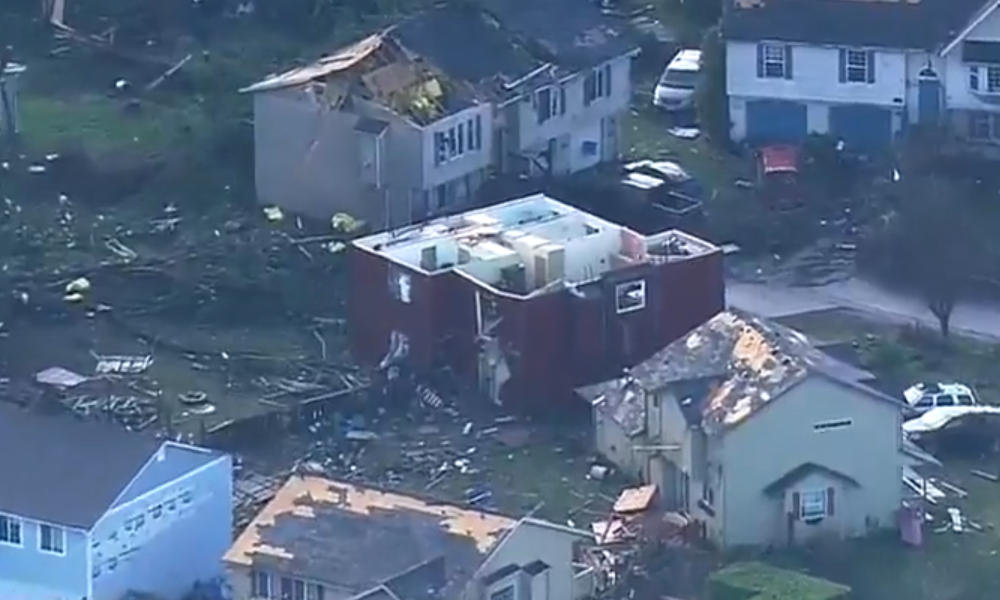 JUST IN: Rare tornado hits Port Orchard, a city about 14 miles (22 km) southwest of Seattle
Tornado hit near Seattle in December, with substantial damage...
capitalweather Scanner
0
A rare, powerful tornado tore through Port Orchard, Washington on Tuesday afternoon, damaging homes and vehicles in its path. No injuries have been reported at this time #WAwx
weathernetwork Scanner
0
Radar loop of area that caused tornado-like damage around Port Orchard this afternoon about 16 mi SW of Seattle #WAwx
RobMayeda Scanner
0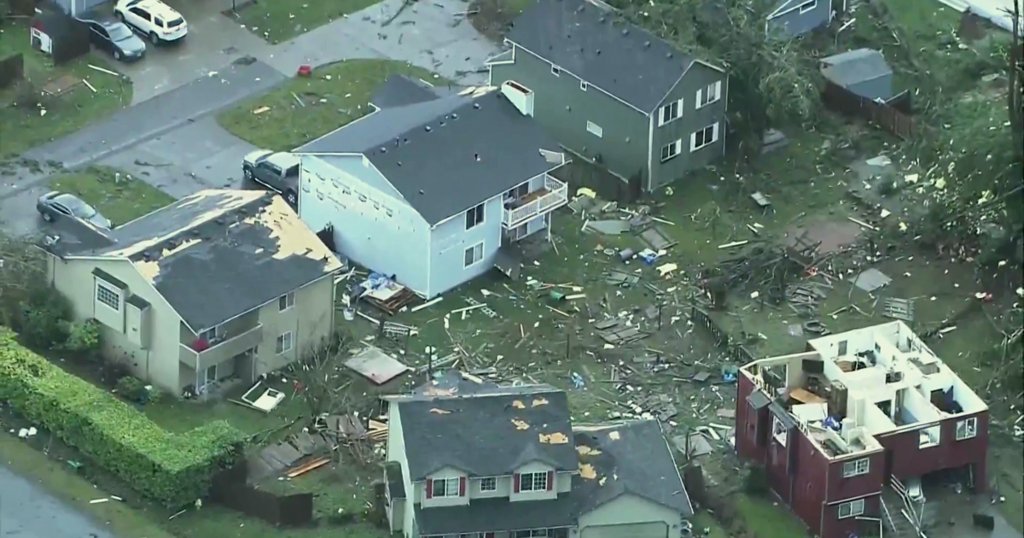 Rare tornado touches down near Seattle, causing catastrophic damage