'Rare' Shark Nursery Found 2,500 Feet Beneath The Surface In Ireland's Deep Ocean [Video]
Hailed as the biggest discovery of this kind ever made in Irish waters, the enormous shark nursery contains thousands of uncased shark eggs, which seem to belong to the Blackmouth catshark species (Galeus melastomus).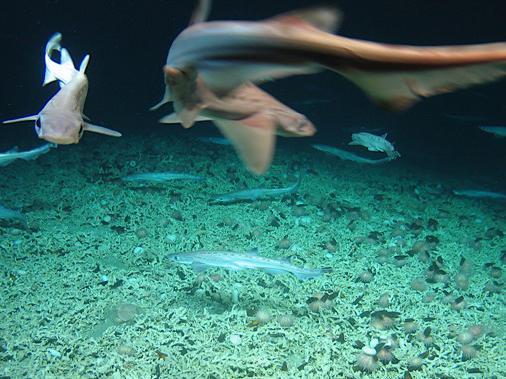 Rare 'shark nursery' discovered hidden in deep waters west of Ireland
Rare shark nursery observed off the west coast |
rtenews Scanner
0
A drone has found a rare shark nursery 2,500 feet beneath the surface
A rare shark nursery has been found off the Irish coast by marine scientists exploring the country's coral reefs.Scientists working on the Irish government's INFOMAR programme used a remotely operated vehicle to dive to depths of 750m, where the nursery was discovered.According to the chief scientist, it is the largest ever found in Irish waters.David O'Sullivan, of INFOMAR and chief scientist on the SeaRover survey, said: "We are delighted to report the discovery of a rare shark nursery on a scale not previously documented in Irish waters.
Uncovered during a three-week exploration of the deep-water coral reef systems in Ireland, the shark nursery was found nestled within a large reef — with the eggs laid on dead coral skeletons.
Such high concentrations are rare, say experts.A large school of Blackmouth catshark, which are abundant in the northeast Atlantic, were spotted in the Irish waters, and it is thought the eggs are of this species.
According to the Marine Institute (MI), which participated in the discovery together with the Geological Survey of Ireland, coral reefs can provide refuge for newly born sharks.
"The nursery was found 200 miles off the coast in one of six offshore Special Areas of Conservation (SAC) designated under the EU Habitats Directive.They host a diverse range of marine animals, like starfish, crustaceans, sponges and sea fans.
The finding was announced last week at the INFOMAR Seabed Mapping Seminar in Kinsale, Ireland, and is the crowning achievement of the SeaRover (Sensitive Ecosystem Analysis and ROV Exploration of Reef habitat) survey — undertaken in July with the help of MI's remotely operated vehicle (ROV) Holland 1.