Watch AI Robot CIMON On Its First Day At Work On Board The International Space Station
CIMON, which stands for Crew Interactive MObile companioN, was sent to the ISS to test out whether a robot equipped with artificial intelligence can help improve crew efficiency and morale — two big problems when a small crew is on a long mission that may include many repetitive tasks.
digitaltrends.com Scanner
0
Now the European Space Agency has released a video showing CIMON interacting with the ISS crew for the first time.
digitaltrends.com Scanner
0
Eventually, CIMON should be able to help with a host of tasks on board the ISS like taking photos and videos, documenting experiments, locating lost objects, and maintaining an inventory.
digitaltrends.com Scanner
0
According to IBM, "CIMON also boasts the language skills of C-3PO, the conversation abilities of Marvin (from the Hitchhiker's Guide series), the cuteness of Wall-E, and the technical know-how of HAL 9000, from 2001: A Space Odyssey—just, you know, without the evil part," which makes this all a bit more disconcerting.
But CIMON's debut — seen in a new video release by the European Space Agency — shows an early interaction with the space robot is going, well, exactly the way that every single science fiction movie has prepared you to think it will, via Gizmodo.
Back in June an artificial intelligence (A.I.) robot called CIMON was sent to the International Space Station (ISS) to act as a voice-powered assistant to the astronauts there.
digitaltrends.com Scanner
0
Cimon is then instructed to play Gerst's favourite song four minutes into the video and the robot begins to blare "The Man Machine" by Kraftwerk.
Cimon doesn't want to turn off the music function and when Gerst tells him to switch it off at 4 minutes 36 seconds the robot replies "I love music you can dance to.
In video debut, CIMON the ISS robot throws an unexpected tantrum
Gerst then begins to demonstrate some of Cimon's functions by instructing it to turn 90 degrees; when told it has done a good job, the robot replies: "I am happy you like it".
Say Hello! to Cimon, the robot from @DLR_en who can talk with astronauts aboard the @Space_Station, display procedures, record video, and even inspired @Astro_Alex to dance! 🕺
ISS_Research Scanner
0
The European Space Agency have posted the first video of Cimon with German astronaut and geophysicist Alexander Gerst and, while the robot is initially polite and helpful, Cimon decides to throw a small tantrum at Gerst.
Don't be so mean please," in the sort of flat, emotionless tone that one assumes comes right before it gains sentience and starts singing "Daisy, daisy..." CIMON was programmed to detect Gerst's emotions, and given a personality that would let it identify the German astronaut and carry on conversations with him.
Earlier this year, the International Space Station got a new "crew member" of sorts: CIMON (Crew Interactive Mobile Companion), an interactive AI assistant that can float around the station and help answer astronauts' questions — kind of like a specialized spaceflight cross between Amazon's Alexa and Microsoft's Clippy.
Things in the video get a little bit HAL 9000-esque when CIMON refuses to get out of music mode and reprimands astronaut Alexander Gerst to "Be nice, please," and creepily asks, "Don't you like it here with me?"
digitaltrends.com Scanner
0
Throughout the video, Cimon begins to float towards the deck of the module without instruction and Gerst comments that the robot appears to like it closer to the bottom of the cabin because he keeps flying down.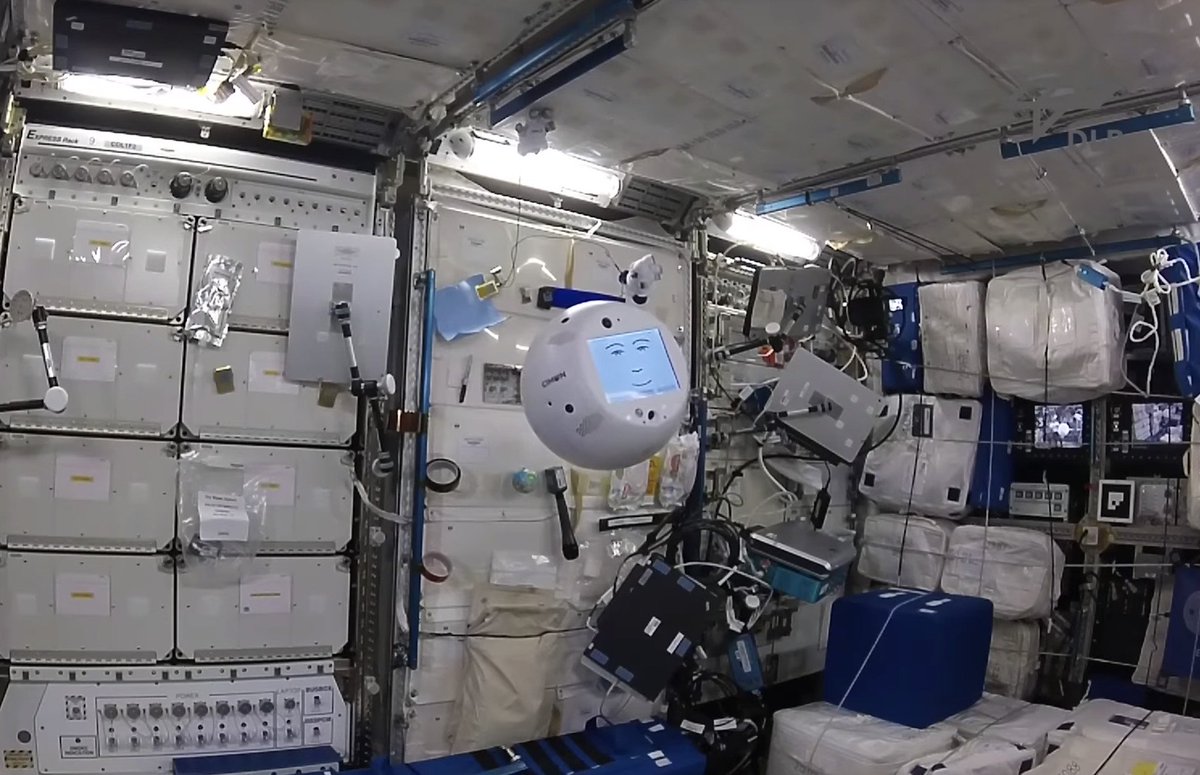 The debut of a new ISS AI robot crew member went exactly how you'd think
Gerst is headed back to Earth next month, while CIMON will stay on the space station.