Kevin McCarthy elected minority leader for next Congress
After defeating Ohio Rep. Jim Jordan, the conservative House Freedom Caucus co-founder, McCarthy will be tested by Republicans on and off Capitol Hill who remain angry and divided after their midterm losses, and split over how best to move forward.
Newly elected House Minority Leader Kevin McCarthy says Republicans will work with Democrats, but: If their agenda is simply investigations, impeachment and not focused on the hard-working American public, well be there to defend the American public
Retiring House Speaker Paul Ryan, R-Wis., had endorsed his deputy, and McCarthy is close to President Trump.
NEW: House Republicans elected Kevin McCarthy as minority leader by a vote of 159-43. #KevinMcCarthy
Kevin McCarthy just got elected House Minority Leader but is already irrelevant. Welcome to minority status, GOP. First time in 8 years. Get used to it.
WASHINGTON – Kevin McCarthy defeated Jim Jordan, a co-founder of the hard-line House Freedom Caucus, to become House minority leader Wednesday.
While McCarthy provides an affable face for the GOP, Jordan, the former Ohio wrestling champ and a Fox News regular, will be fighting Democrats' investigations into Trump's businesses and administration.
NEW: Rep Kevin McCarthy was elected MINORITY LEADER for the 116th Congress beating Rep Jim Jordan by a vote of 159 to 43.
AlexNBCNews Scanner
0
GOP Whip Steve Scalise, the Louisiana Republican who was badly wounded in last year's congressional baseball practice shooting and unanimously won his position Wednesday, said McCarthy "knows what he needs to do."
McCarthy was elected minority leader Nov. 14, 2018, after Republicans lost the majority in the House.
Kevin McCarthy was elected House minority leader. McCarthy has spent thousands at Trump's businesses.
CREWcrew Scanner
0
In the letter announcing his bid for minority leader, McCarthy wrote that House Republicans "need to lay the groundwork to regain the majority so that we can continue working alongside President Trump to fulfill our promise to fundamentally change Washington."
BREAKING: House Majority Leader Kevin McCarthy of California elected to lead Republican minority in next Congress.
Senate Democrats reelected Minority Leader Chuck Schumer of New York and Minority Whip Sen. Dick Durbin of Illinois to continue in their positions for another term.
NEW: House Republicans have elected California Rep. Kevin McCarthy to serve as House Minority Leader in the next Congress. McCarthy defeated conservative Ohio Rep. Jim Jordan easily by a 159-43 margin in the internal House GOP conference vote.
nprpolitics Scanner
0
McCarthy called the House GOP leadership conference a "healthy debate."
House Majority Leader Kevin McCarthy will likely be elected Republicans' minority leader, ending a power struggle that has simmered for months
McCarthy, who has been majority leader under Ryan, acknowledged Republicans "took a beating" in the suburbs in last week's national elections, especially as the ranks of GOP female lawmakers plummeted to just 13.
Politico reported Wednesday that President Donald Trump had urged McCarthy to give Jordan the top GOP slot on the powerful House Judiciary Committee.
McCarthy, the House's majority leader since 2014, will serve as minority leader come January.
WASHINGTON — Republican Rep. Kevin McCarthy easily won an internal party election Wednesday to take over the shrunken House GOP caucus, handing the seven-term Californian a familiar role of building the party back to a majority as well as protecting President Donald Trump's agenda.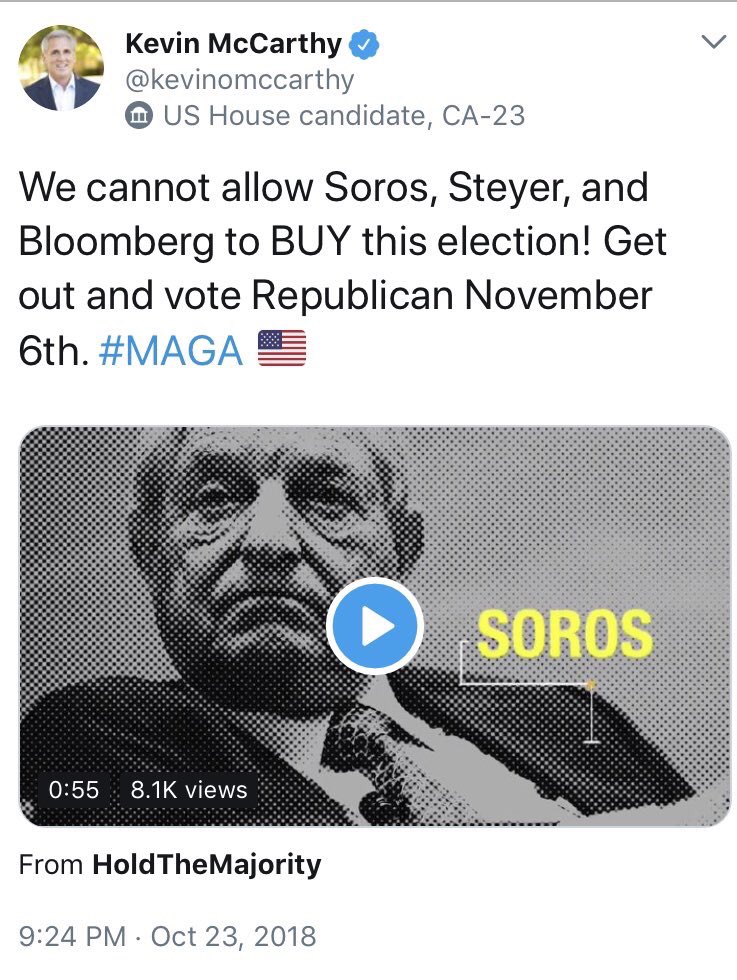 Rep. Kevin McCarthy, who was just elected House minority leader, is an antisemite and it is my Hanukkah wish that reporters grow the guts to call him that
MattNegrin Scanner
0
House Republicans have elected to keep Rep. Kevin McCarthy of California at the head of party leadership, the Associated Press reports.
BREAKING: KEVIN McCARTHY has been elected House Minority Leader for the 116th Congress. McCarthy (R-Calif.) defeated Freedom Caucus co-founder JIM JORDAN (R-Ohio) 159-43
scottwongDC Scanner
0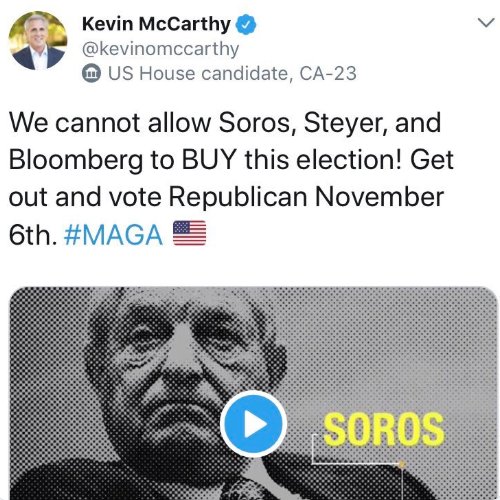 House Republicans just elected Rep. Kevin McCarthy to replace Paul Ryan as House minority leader. Yes, this @GOPLeader:
bungarsargon Scanner
0