TSA closes Bush Airport security checkpoint due to government shutdown-linked 'staffing issues'
BREAKING Due to shutdown, TSA security checkpoint at Terminal B to be closed at Houston Bush Airport, making it the first airport to do so
airlivenet Scanner
0
In a tweet, airport officials said passengers who are flying out of Terminal B are being routed to terminals C or E until further notice.
MINNEAPOLIS — We've seen how the partial government shutdown has impacted the TSA nationwide.
Despite those shortages, a department spokesman tweeted Sunday that "security standards remain uncompromised at our nation's airports."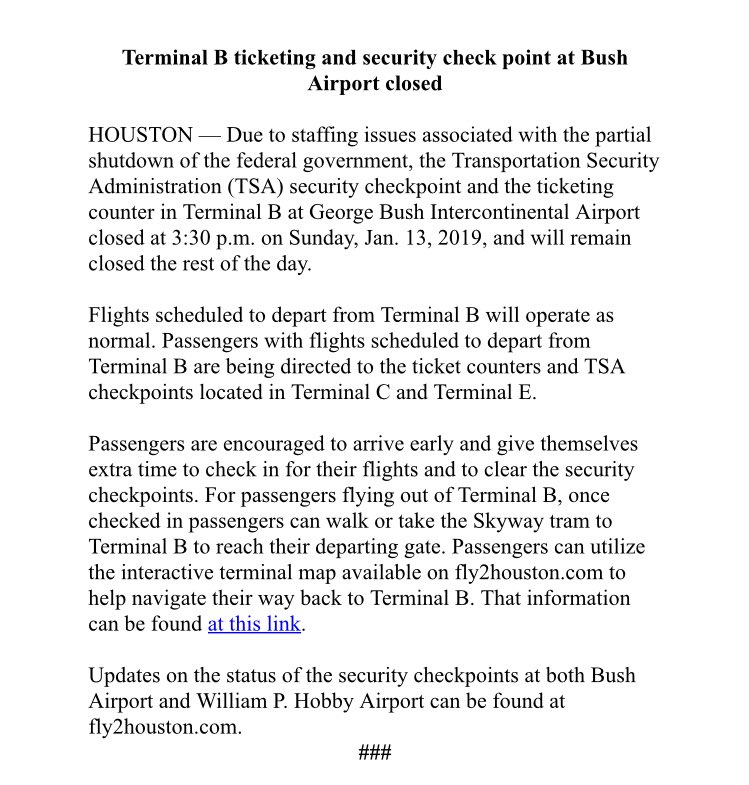 Houston Bush International Airport closed Terminal B security checkpoint early today because of @TSA staffing issues
davidshepardson Scanner
0
Dallas/Fort Worth experienced a 2 percent jump in no-shows earlier this month, while Miami International Airport closed one of its concourses on Friday after workers called in sick at twice the normal rate, according to Reuters.
BREAKING!!! If you think the #GovernmentShutdown isn't hitting Houston, a warning: Bush airport has closed TSA checkpoint in Terminal B because it's short on staff.
MelanieLawson13 Scanner
0
The Transportation Security Administration has closed down a terminal at Bush Intercontinental Airport in Houston as the government shutdown moves into its 25th day with no end in sight and no paychecks for 800,000 government workers, including TSA...
HOUSTON - The ticketing and security checkpoint at George Bush Intercontinental Airport's Terminal B remained closed Monday because of a shortage of TSA workers, who are not being paid during the government shutdown.
Passengers with flights scheduled to depart from Terminal B are being directed to the ticket counters and TSA checkpoints located in Terminal C and Terminal E. "Passengers are encouraged to arrive early and give themselves extra time to check in for their flights and to clear the security checkpoints.
It wasn't immediately clear when the terminal would reopen at Houston's airport, which is ranked among the top 20 in the world for its number of take-offs and landings, according to a 2018 report by the Airports Council International, a trade group.
Given the concerns, Hoadley said it's still safe to fly.
Just In: TSA checkpoint closed in Houston due to staffing issues The security checkpoint and ticketing counter in Terminal B at George Bush Intercontinental Airport closed at 4:30p Sunday due to "staffing issues associated with the partial shutdown of the federal government"
gelles Scanner
0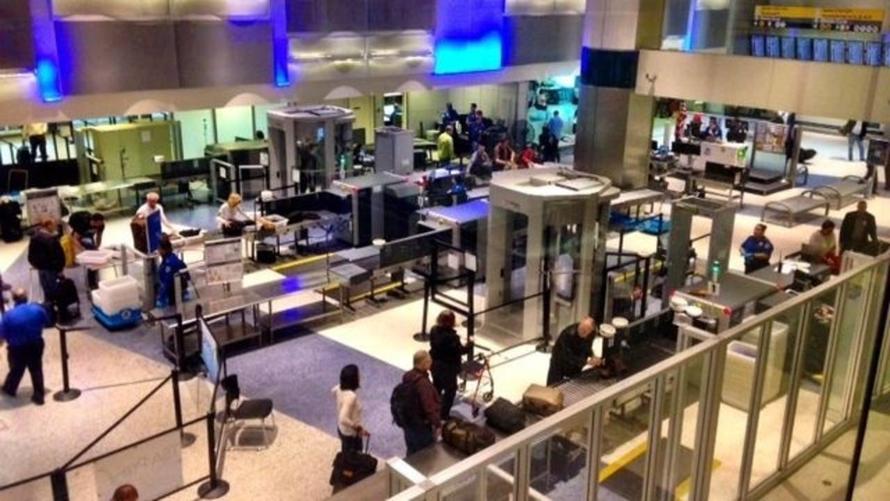 The airport tweeted that the closing of Terminal B's security checkpoint and ticketing counter is attributed to "staffing issues" related to the shutdown, which entered its 23rd day on Monday.
Those passengers can then take the tram to Terminal B after clearing security.
Neil Hoadley is an Airway Transportation System Specialist and works in Rochester, Minn.