Pope Francis vows Catholic Church will 'never again' cover up clergy sex abuse
More: Illinois Catholic church allegedly failed to investigate 500 priest sex abuse allegations More: 45 states looking to pursue Catholic church for documents on abuse by priests, Pennsylvania attorney general says More: Catholic Church: Jesuits name priests with 'established accusations' of child sex abuse   Read or Share this story: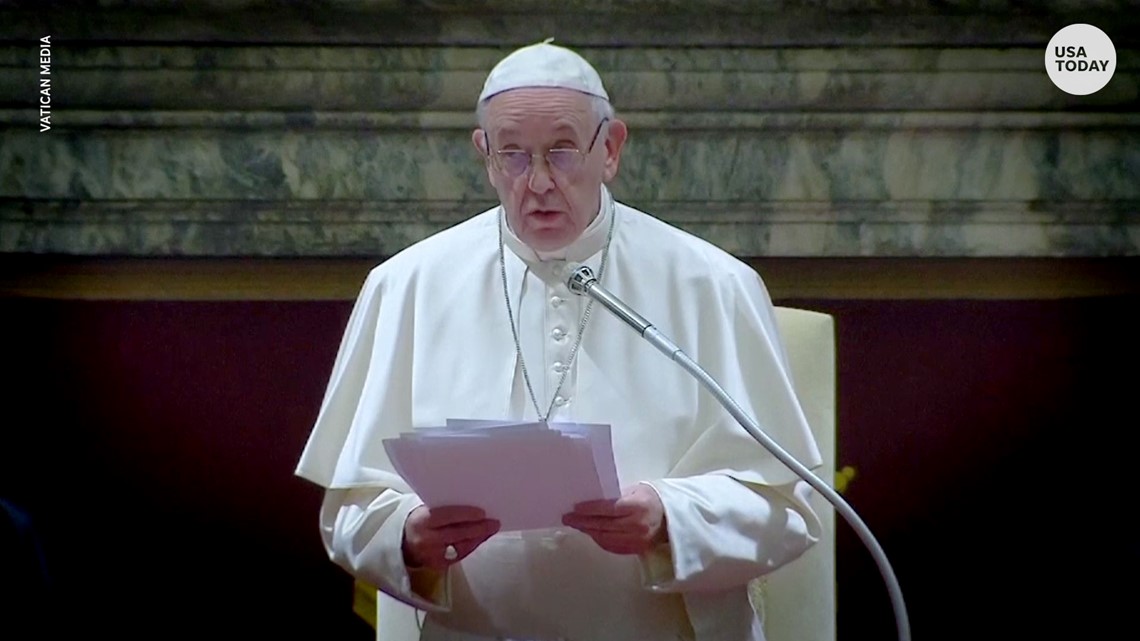 The tone is far different from Chile in January, where Francis accused victims of slander when they named Bishop Juan Barros as having covered up sex abuse by Rev. Fernando Karadima, according to The Guardian.
For example, earlier this week, Illinois Attorney General Lisa Madigan said that the state's Catholic Church failed to thoroughly investigate 500 clergy accused of abuse, even while having released the names of 185 officials decided were "credibly" charged.
Pope Francis said that "never again" would the Catholic Church cover up clergy sex abuse, the Associated Press reported.
Francis had accepted resignations from three Chilean bishops back in June.
[Pope Francis accepts Cardinal Wuerl's retirement, while offering him a soft landing] In his remarks Friday, Francis pointed out that many defenders of the church have blamed journalists who cover clergy's crimes, including accusing reporters of focusing unfairly on Catholic abusers and not on those in other denominations and professions.
In the U.S., two developments drew new attention the problem this summer: a major Pennsylvania grand jury report, which documented allegations of crimes by more than 300 priests involving about 1,000 children and inspired similar criminal and civil investigations in more than a dozen states; and the removal of ex-cardinal Theodore McCarrick, a longtime leader in the church who was publicly accused this year of sexual misconduct toward minors and adults.
Francis' remarks capped a dreadful year for the Catholic Church, one that began with his own botched handling of a sprawling sex abuse scandal in Chile and ended with the U.S. hierarchy in a free-fall of credibility as state prosecutors have begun uncovering decades of cover-up.
[Vatican tells U.S. bishops not to vote on proposals to tackle sexual abuse] That February meeting, Francis promised in his Christmas speech, will make progress on the issue.
Pope Francis used one of his major annual Christmas speeches to offer some of his strongest words about this year's heightened sexual abuse crisis in the Catholic church, telling guilty priests the church will not protect them and they should turn themselves in.
(Photo: Alessandro Di Meo, AP) VATICAN CITY – Pope Francis vowed Friday that the Catholic Church will "never again" cover up clergy sex abuse and demanded that priests who have raped and molested children turn themselves in.
[Illinois attorney general accuses Catholic church of lowballing scope of sexual abuse allegations] The Vatican removed a Los Angeles bishop this week for credible abuse of a minor; the cleric was first accused in 2005.
Francis has summoned church leaders from around the globe for a February abuse prevention summit, in an indication that he has come to realize that the problem is far greater and far more global than he had understood at the start of his papacy five years ago.
"Let it be clear that before these abominations the church will spare no effort to do all that is necessary to bring to justice whosoever has committed such crimes," Francis said in his annual Christmas speech.