Trump meets with freed American pastor Andrew Brunson in Oval Office
Sitting in the Oval Office with Brunson, Trump congratulated the pastor repeatedly and thanked Turkish President Recep Tayyip Erdogan for facilitating the release.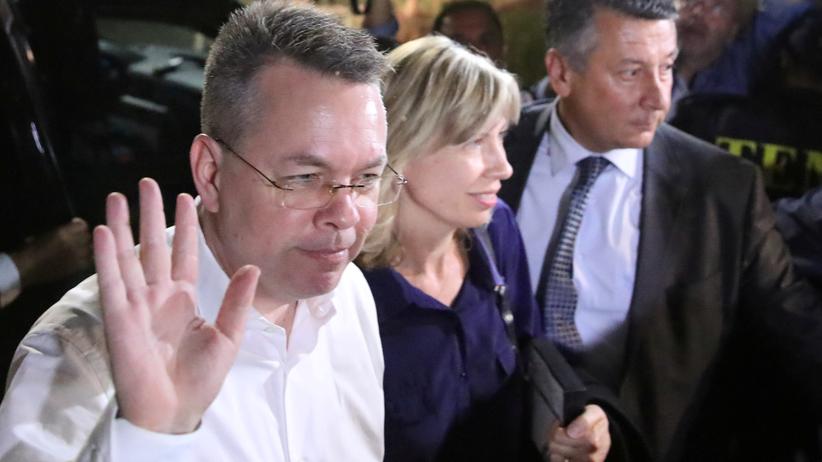 Trump praised Vice President Mike Pence and U.S. Secretary of State Mike Pompeo, who he said brought Brunson's case up frequently.
"Right now the whole world is fan of yours," Trump said, referring to numerous faith leaders, members of Congress and his administration who advocated for Brunson's release.
Kneeling before Trump, Brunson asked God to give the president "supernatural wisdom to lead the country."
(WASHINGTON) — President Donald Trump said he looked forward to Saturday's Oval Office meeting with Andrew Brunson, the American pastor whose release after nearly two years of detention in Turkey was a diplomatic triumph for Trump.
Trump also thanked Turkey's president, Recep Tayyip Erdogan, who had resisted the demands of Trump and other high-level U.S. officials for Brunson's release.
Trump said the U.S. greatly appreciated Brunson's release and said the move "will lead to good, perhaps great, relations" between the U.S. and fellow NATO ally Turkey.
"I'm really proud to report that earlier today we secured the release of pastor Andrew Brunson from Turkey," Trump said.
But Brunson's release doesn't resolve disagreements over U.S. support for Kurdish fighters in Syria, as well as a plan by Turkey to buy Russian missiles.
White House sources said at the time that Trump had struck a deal with Turkey for his release, including easing sanctions with the country, but in a Twitter post Saturday Trump denied that was the case.
"There was NO DEAL made with Turkey for the release and return of Pastor Andrew Brunson," Trump tweeted.
"The United States will impose large sanctions on Turkey for their long time detainment of Pastor Andrew Brunson, a great Christian, family man and wonderful human being," Trump tweeted in July.
U.S. officials said they believe the move releasing Brunson will help strengthen the strained U.S.-Turkey relationship, as Turkey is calling on the United States to help them confront Saudi Arabia.
Lord God, I ask that you pour out your holy spirit on President Trump Andrew Brunson, freed after two years of detention in Turkey, prays for President Trump as they meet in the White House
Pastor Andrew Brunson is coming home! Thanks to the strong leadership of @POTUS Trump and the steadfast prayers of millions of Americans, this innocent man of faith will soon be home!
.@SenThomTillis: "I've got to thank President Trump. He was the, I think, MVP in helping us get Pastor Brunson released."
Thank you to President Trump for bringing home Pastor Andrew Brunson! Trump has freed Americans from China, Egypt, North Korea, & Turkey! #AndrewBrunson
WATCH: Pastor Andrew Brunson, freed from being detained in Turkey after almost two years, prays with President Trump
We are so grateful to President Trump, Members of Congress, and the diplomats who worked so hard to free Pastor Andrew. Were also thankful to all the @ACLJ members for your support & prayers for #PastorBrunson and his family. #JayLive
Donald Trump Celebrates Release of Pastor Andrew Brunson
US pastor Andrew Brunson has been freed by Turkish court. President Donald Trump and his administration defended Pastor Brunsons religious freedom and we now have an American coming home. Amen.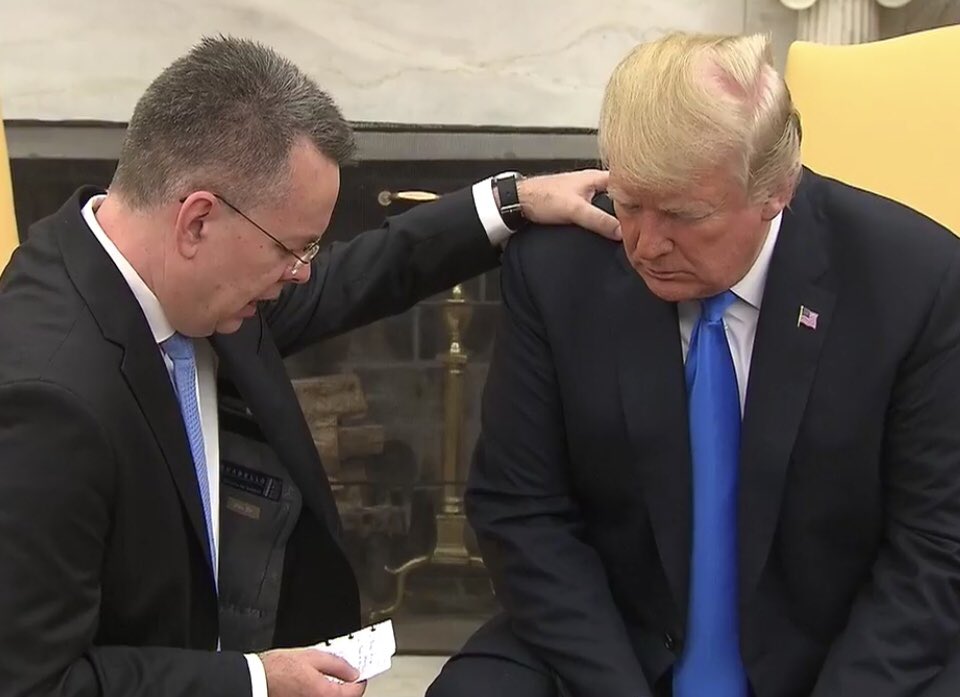 Pastor Andrew Brunson prays for President Trump in the Oval Office. "I ask that you give him strength.. I ask you protect him.. make him a great blessing to this country & fill him with your wisdom and strength."