CNN's New York offices evacuated due to bomb threat
.@realDonaldTrump tweets "FAKE NEWS - THE ENEMY OF THE PEOPLE!" and 30 minutes later @CNN gets a bomb threat and evacuated. The danger isn't a caravan on our border, it's a craven man in our White House.
ColMorrisDavis Scanner
0
Staff evacuated the building and Don Lemon's "CNN Tonight" was taken off the air, with the network temporarily went to taped programming.
This message from the President of the United States was followed by a bomb threat to the New York offices of CNN. This man must be impeached before he inspires more violence and further damage to our democracy.
RBReich Scanner
0
CNN U.S. is back live, @donlemon reporting as NYPD investigates bomb threat at CNN New York offices
donie Scanner
0
The CNN New York offices were last evacuated in October when they found a package with a possible explosives, addressed to former CIA Director John Brennan.
TheAtlantaJournal-Constitution News
0
Originally posted Friday, December 7, 2018 by RODNEY HO/rho@ajc.com on his AJC Radio TV Talk blog A phoned-in bomb threat led to CNN evacuating its New York offices Thursday night for a couple of hours.
TheAtlantaJournal-Constitution News
0
Police conducted a "comprehensive sweep-and-search" of the Time Warner building at 25 Columbus Circle, after receiving a threat made to a building housing CNN's offices in Manhattan.
According to CNN, the caller said five bombs were placed in the CNN offices.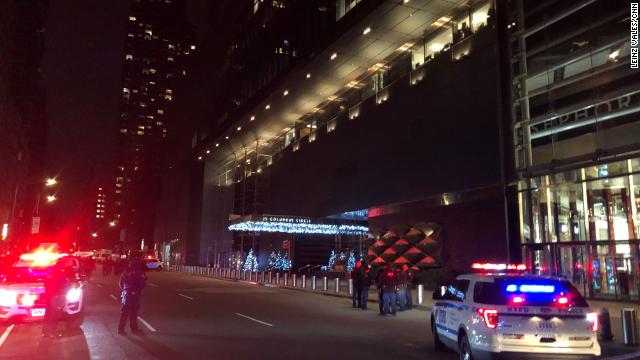 CNNs New York offices and studios have been evacuated due to a phoned bomb threat, the company says. In the meantime, the network has gone to taped programming.
"The threat has not been substantiated at this time; we're on scene performing a comprehensive sweep-and-search of the facility."
Tonight, Trump tweets that "fake news - enemy of the people." Minutes later CNN in NYC Is evacuated because of a bomb threat. Dude should be charged with inciting violence. Enough already.
The NYPD is investigating a bomb threat near CNN NYCs office at Columbus Circle. Due to the threat, the office has been evacuated. Right now CNN is airing taped programming due to the disruption.
CNN's Don Lemon tweeted that they were evacuated during his live show.
CNN was evacuated again due to a bomb threat, just weeks after it received two pipe bombs in the mail from a Trump supporter radicalized by this kind of authoritarian rhetoric—rhetoric used in history by dictators like Mao, Stalin, and Chavez.
We were evacuated in the middle of my live show. Bomb threat. We're running taped programming. NYPD is investigating. Stay tuned. #cnn #nypd
donlemon Scanner
0
"The NYPD has now given us the all clear, and employees have been permitted to return to the building," CNN president Jeff Zucker said in an internal memo to staff.
TheAtlantaJournal-Constitution News
0
"At 10:07pm a bomb threat was called into the Time Warner Center and the building was evacuated," the NYPD wrote on Twitter.
At around 10:20 p.m., CNN used taped programming for 30 minutes, then went live from the street.
TheAtlantaJournal-Constitution News
0
.@donlemon reports from outside CNNs New York offices after an evacuation was ordered due to a phoned bomb threat
CNNTonight Scanner
0
CNN offices and studios in New York were evacuated on Thursday night after a bomb threat was phoned in to the news network.
In October, package bombs were sent to over a dozen targets, including CNN.
NYPD says they received a 911 call about a bomb threat to CNN at 10:07 p.m. Trump tweeted about fake news one minute later.
ClaudiaKoerner Scanner
0
Yes, @realdonaldtrump is to blame for the bomb threat at CNN. Don't give him the benefit of the doubt. He doesn't deserve it. He deserves the blame.
Meanwhile @cnn being evacuated due to a bomb threat. Coincidence? You decide.