CenturyLink outage, 911 failures under investigation
"The CenturyLink service outage is therefore completely unacceptable, and its breadth and duration are particularly troubling."
Officials had estimated Thursday night that service would be restored by 1 a.m. Friday, but new issues cropped up and outages remain.
Several states sent emergency alerts to residents' cell phones warning of the outage.
New: Many 911 emergency services across the U.S, remain down after a day-long outage at telecoms giant CenturyLink.
zackwhittaker Scanner
0
A nationwide CenturyLink outage continues to affect 911 emergency calling service in parts of Western Washington.
.@KING5Seattle has an extensive list of phone numbers to call for 911 services during the outage that is impacting some areas of our state. We are currently monitoring situation.
GovInslee Scanner
0
CenturyLink has not said what caused the outage beyond an issue with a "network element," but said in its latest update — around 11am ET on Friday — that the company said that it was "seeing good progress, but our service restoration work is not complete."
911 emergency services in several states across the U.S. remain down after a massive outage at a CenturyLink data center.
UPDATE: Wireless 911 Issue Caused by Nationwide CenturyLink Outage Has Been Restored via @MassStatePolice
MassStatePolice Scanner
0
UPDATE: CenturyLink says it could be 24 to 48 hours before service is restored for customers affected by the outage. #CenturyLinkOutage
KOB4 Scanner
0
The outage knocked out 911 emergency call services in parts of western Washington state, Missouri, Idaho and Arizona.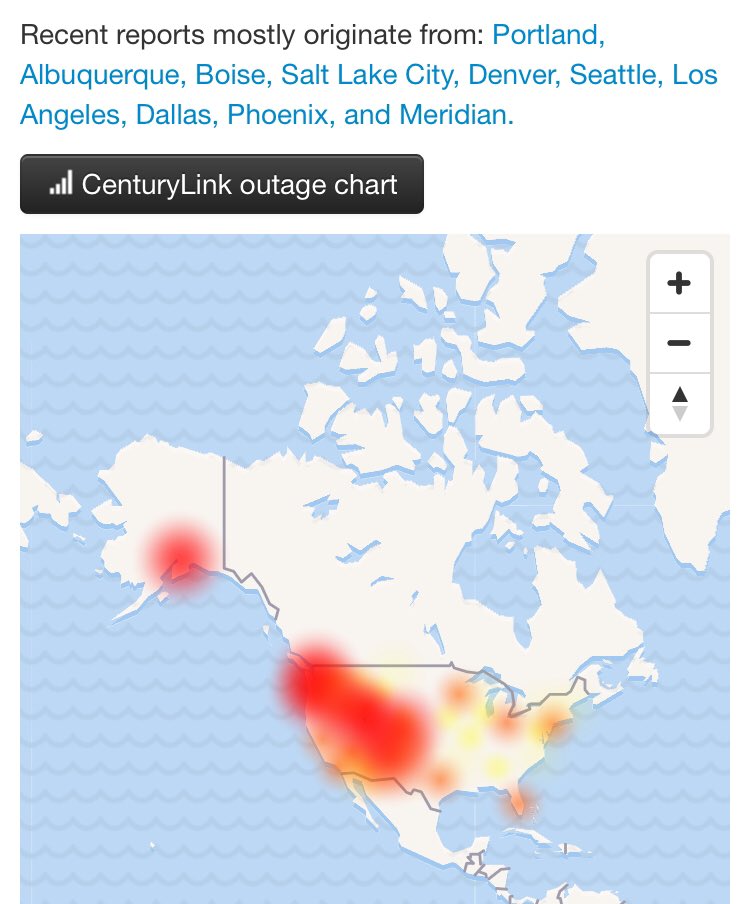 Current @CenturyLink outage map. A lot of areas in the West impacted, including 911 call centers in Western Washigton. @CenturyLink tweeted that it could be four hours before power is fully restored.
solomonout Scanner
0
This inquiry will include an examination of the effect that CenturyLink's outage appears to have had on other providers' 911 services," he said.
CenturyLink issued the following statement Thursday afternoon: "The CenturyLink network is still experiencing a disruption affecting customer services.
Pacific County officials reported receiving 911 calls again just after 4 a.m. while the Washington State Ferries reported their online payment service had been restored after being down for much of Thursday.
The outage also has knocked out internet service to CenturyLink customers across the Pacific Northwest and in many other areas across the country, including Denver, Portland, Los Angeles, Dallas, Salt Lake City, Albuquerque, Boise, Chicago, Phoenix, Cincinnati and other areas.
Communications outage disrupts 911 service in parts of the US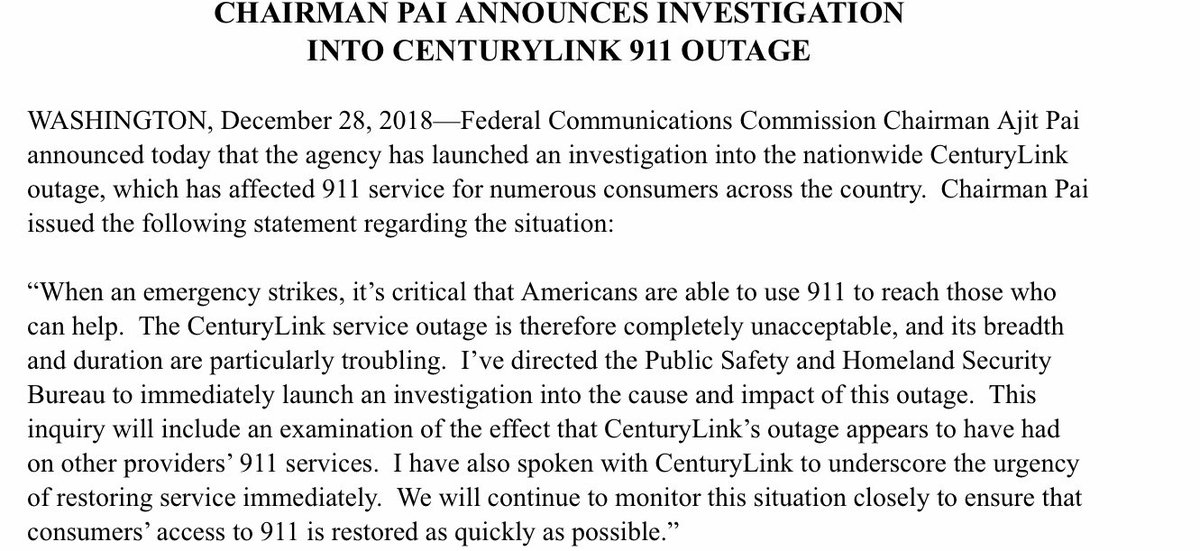 The nationwide @CenturyLink service outage and the delay in restoring critical 911 capabilities is unacceptable. I have spoken to CenturyLink to express my concerns and have directed the @FCC's public safety staff to launch an investigation. My statement below. #publicsafety
AjitPaiFCC Scanner
0