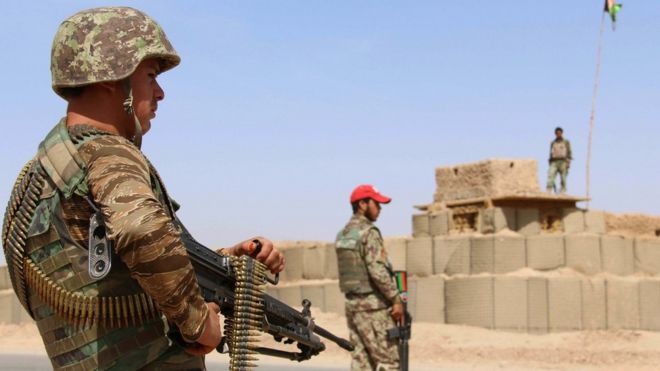 Senior Taliban commander killed in US drone strike in Afghanistan
#US airstrike takes out a top #Taliban commander: "Abdul Manan was the Taliban "shadow governor" for Helmand"
mazdaki Scanner
0
Image copyright EPA Image caption Security has been stepped up in the aftermath of the killing of Mullah Abdul Manan Akhund One of the Taliban's most senior commanders has been killed in a US airstrike in Afghanistan.
The commander, Mullah Abdul Manan, had orchestrated the insurgents' campaign to take over much of Helmand Province. He was also believed to be a key figure in developing the Taliban's special forces, the Red Unit.
A senior Taliban commander has been killed in Afghanistan by a US drone strike in what the terror group has described as a "big loss".
Abdul Manan, the Taliban "shadow governor" in the southern Helmand province, died of wounds sustained late on Saturday, said Omar Zwak, a spokesman for the official governor of the province.
The Taliban said his death was a "major loss" but it would not deter them in their efforts to take back control of Afghanistan.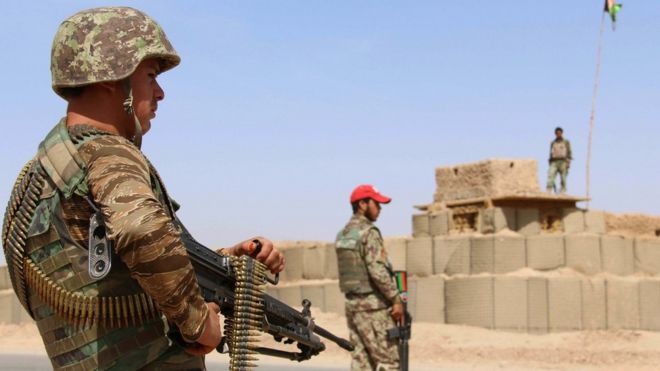 Confirming the strike, a US force spokesman said: "The Taliban should consider intensifying peace talks, not the fight.
Mullah Abdul Manan was killed with 32 others by an airstrike on Saturday as he met local commanders and fighters in Nawzad district in Helmand province, provincial governor Mohammad Yasin Khan said.He was the "shadow governor" of Helmand province - the largest supplier of Afghanistan's opium crop - for the insurgent group and headed up the Taliban's southern Afghanistan command.His death was confirmed by Taliban spokesman Zabiullah Mujahid who said it was a "big loss" for the group.The US military also confirmed his death, adding that Afghan forces had gone on the offensive with US support.They had used precision airstrikes to push the Taliban to accept engaging in peace talks, he added.Colonel Dave Butler, spokesman for US forces in Afghanistan, said: "They're going to have trouble intensifying the fight when their fighters and leaders are under constant assault.Pictures claiming to be of Manan's body were being circulated on social media.
His death is being seen by Afghan officials as a major success because Manan commanded Taliban fighters while they steadily increased control over Helmand in the years following the end of most international combat missions in 2014.
Afghan interior ministry spokesman Najib Danish, added: "His death will lower the morale of the enemy, and result in (the) improvement of security in Helmand and other southern provinces.
But Afghan interior ministry spokesman Najib Danish told the AFP news agency his death was a major blow to the Taliban and would "lower the moral" of its fighters in southern Afghanistan.
Taliban spokesman Zabihullah Mujahid confirmed that its shadow governor for Helmand, Mullah Abdul Manan Akhund, is dead. Afghan press reports that he was killed in airstrike along with 2 spokesmen and 2 bodyguards.
"Manan was on a blacklist unveiled in mid-October by the Riyadh-based Terrorist Financing Targeting Centre, which imposed financial sanctions on nine individuals, including six Taliban members.The commander's death comes as the Western-backed security forces and the Taliban are pushing to gain momentum, with efforts stepped up to find a peaceful settlement to end the 17-year war in Afghanistan.
Media playback is unsupported on your device Media captionThe BBC was given rare access to see life under the Taliban in 2017 BBC research earlier this year showed Taliban insurgents control more territory in the country than at any time since 2014.