Wife of Israeli prime minister goes on trial for fraud
Prosecutors have detailed in the indictment that from 2010 to 2013, Netanyahu ordered residence workers to order meals from restaurants at a cost of 360,000 shekels ($100,000 at current exchange rates), in violation of regulations forbidding the order of catering services while the residence has a cook in its employ.
To really understand Israel and the Middle East - subscribe to Haaretz The investigation of the residences case found that Netanyahu was aware of this ban and ordered employees to conceal the fact they had hired a cook "so that this wouldn't be exposed by the office's accountants, thereby receiving double funding at the treasury's expense to pay for restaurant meals at the residence."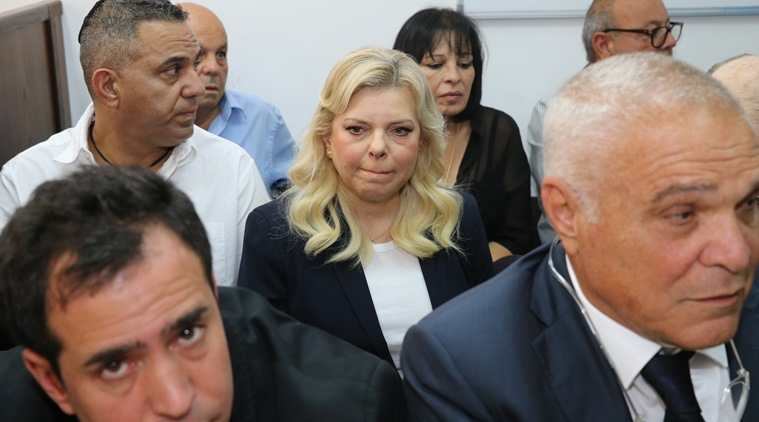 In anticipation of Sunday's session, Mrs. Sara Netanyahu's attorneys said the following: "For the first time in history a leader's spouse has been indicted over macaroni and take away food.
Macaroni and takeaway food, ordered by state's witness Meni Naftali, against the protests of Mrs. Sara Netanyahu.
The trial of the prime minister's wife, Sara Netanyahu, in the Prepared Food Affair started on Sunday with fireworks before Jerusalem Magistrate's Court President Avital Chen over whether additional judges needed to be added to the case.
Cohen said one judge was more than enough just as it had been enough for the Holyland trial of former prime minister Ehud Olmert.The prosecution retorted that the trial of Avigdor Liberman had had three magistrate's court judges and was for a similar level of severity in terms of the crimes.The sides also fought about whether the prosecution owed the defense documents with Cohen claiming that the prosecution was trying to cover-up instances in which police made clear comments showing they were biased and had it in for the Netanyahu family.Avni responded that some of the disagreements simply related to how files were organized and that on other issues there might be legal disputes which the court might need to rule on over protecting internal prosecution documents.The next hearing was set for November 13 with the first hearing of witnesses probably still off until the winter.It is unclear how much Sara's public trial will damage the prime minister politically in an atmosphere in which the Jerusalem Post has reported that he is also likely to face an indictment announcement in early 2019.
Originally, the trial was set for July, but it was delayed by health problems for one of Netanyahu's lawyers, Jacob Weinroth, who recently quit when Sara refused to cut a plea deal that he advised her to accept.Netanyahu's defense lawyers approached Mandelblit a number of times offering a plea deal in which she would return some of the funds and take public responsibility, as long as she would not be slapped with any kind of criminal record.Ultimately, despite media reports that a deal might be near, the Post's sources proved correct that no deal was reached, leading to an indictment.The indictment itself was also delayed a few months following Nir Hefetz, a former close adviser to the Netanyahu family, providing new evidence against Sara.
Seidoff's lawyer, Yehoshua Resnick, bemoaned to the court on Sunday that he had been swept up in efforts to go after the Netanyahu family and was not being treated as a normal defendant.Several other cases against Netanyahu were closed in September 2017, but one of them will also impact the indictment.The Sara Netanyahu cases jumped into the headlines in February 2015 as part of a State Comptroller report and "Bottlegate" and other now closed cases becoming household names.
Ruth Eglash Reporter covering Israel and the Palestinian territories October 7 at 7:55 AM JERUSALEM — A relaxed and smiling Sara Netanyahu, wife of Israeli Prime Minister Benjamin Netanyahu, appeared before a Jerusalem judge Sunday for the first hearing in a long-anticipated trial that is likely to shed light on what critics often describe as the couple's opulent lifestyle.
The prime minister is not directly named in the case, but a very public trial of his wife could have far-reaching implications for his political standing and could harm his image at a time when he is said to be considering an early election.
Seeking to play down the charges against her, Sara Netanyahu's legal team released a statement Sunday saying this was the "first time in history that an indictment has been filed against the wife of a world leader for ordering trays of food."
[ Once a residence caretaker for Netanyahu, now a political foe] In the hopes of avoiding a public trial, Attorney General Avichai Mandelblit did offer Netanyahu a plea deal if she agreed to repay all the money in question and admit wrongdoing.
As Sara Netanyahu faces the possibility of a drawn-out and potentially embarrassing trial, her husband has his own legal woes.
Sara Netanyahus fraud and breach of trust trial begins in Jerusalem
Sara Netanyahu, the wife of Israeli PM Benjamin Netanyahu, has gone on trial for allegedly using state funds to fraudulently pay for hundreds of meals, part of a list of legal troubles facing the family
Sara Netanyahu is charged with using almost $100,000 of state money
The wife of Israeli Prime Minister Benjamin Netanyahu, Sara, is being tried on charges of misusing state funds for buying private meals. Both Netanyahus deny any wrongdoing.
Sara Netanyahu fraud trial over alleged misuse of $100,000 in state funds to start Sunday
Sara Netanyahus trial for misuse of funds opens in Jerusalem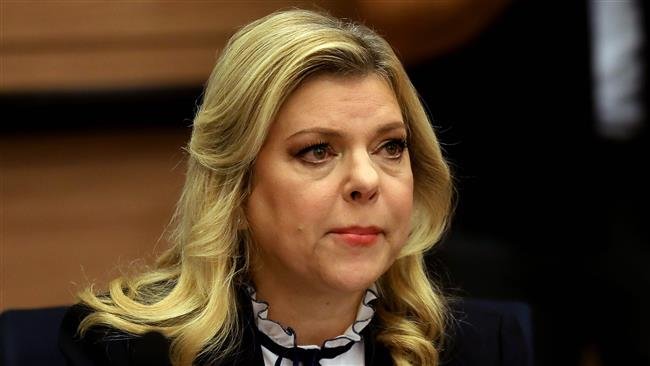 Sara Netanyahu, the third wife of the Israeli regime's Prime Minister Benjamin Netanyahu, to face trial for fraud. #Israel
Sara Netanyahu goes on trial for fraud #Israel #Jerusalem