Trump Supporter Violently Shoves BBC Cameraman At Rally In El Paso, Texas
A supporter of President Trump attacked a BBC camera operator during a presidential rally in El Paso on Monday night, the broadcaster said
A Trump supporter pushed a BBC cameraman at the El Paso rally, which was completely wrong and disgusting to do... that news is everywhere. ANTIFA attacks the press and covers cameras nearly every time they see them and theres rarely more than a tweet from the person attacked.
TimRunsHisMouth Scanner
0
BBC cameraman violently attacked during Trump rally
The BBC's Washington correspondent Gary O'Donoghue said his colleague Ron Skeans was "fine" despite the "incredibly violent attack".
Watch the moment a man wearing a MAGA hat attacks a BBC cameraman and hurls expletives at journalists during Trump rally in El Paso, Texas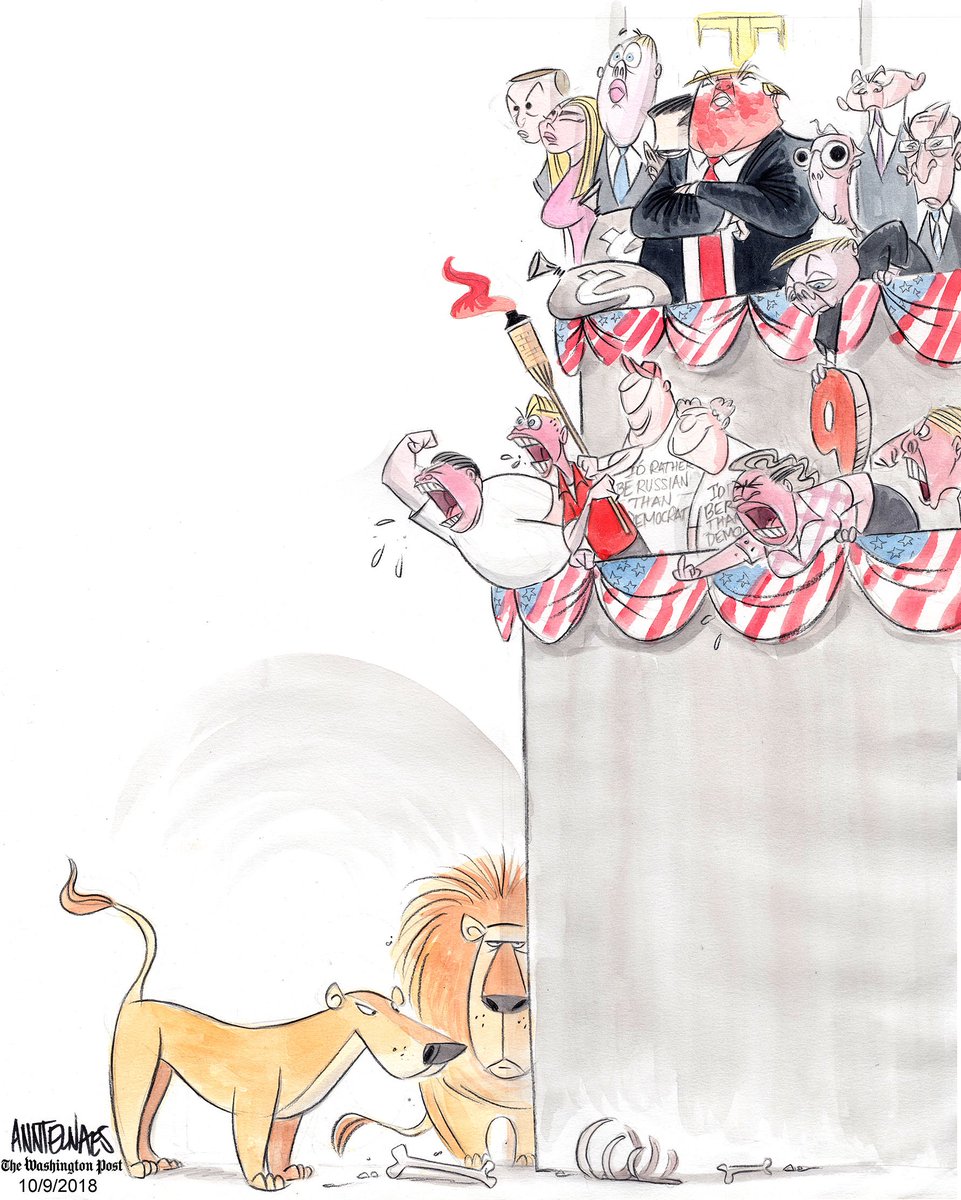 A BBC cameraman was attacked at the Trump #ElPasoRally last night. (cartoon from 2018)
AnnTelnaes Scanner
0
O'Donoghue said a Trump supporter got on to a media platform and pushed the camera into his colleague, before continuing to push Skeans.
"An individual involved in a physical altercation with a news cameraman was removed from last night's rally," said Michael Glassner, the chief operating officer for Trump for President Inc. "We appreciate the swift action from venue security and law enforcement officers."
A BBC cameraman was assaulted during Trump's rally in El Paso. Trump kept attacking the media anyway.
F*** the media! - this is the moment a BBC cameraman was attacked by an angry Trump supporter at a rally in El Paso
Media playback is unsupported on your device Media captionA Trump supporter shoves a BBC cameraman at the El Paso rally The BBC has requested the White House review security for media attending President Donald Trump's rallies after an attack on one of its cameramen.
A man in a red Make America Great Again cap violently shoved a BBC cameraman and shouted profanities during President Trump's rally in El Paso, Texas, on Monday night, in a startling moment that briefly interrupted the president's speech.
The BBC correspondent who covered Trumps rally said the Trump supporter who attacked the BBC cameraman had tried to smash the camera. The BBC condemned the attack: It is clearly unacceptable for any of our staff to be attacked for doing their job.
Weird. I didn't know assault was legal in El Paso. Trump Supporter Who Attacked BBC Cameraman at Rally Won't Be Charged: El Paso DA
AdamParkhomenko Scanner
0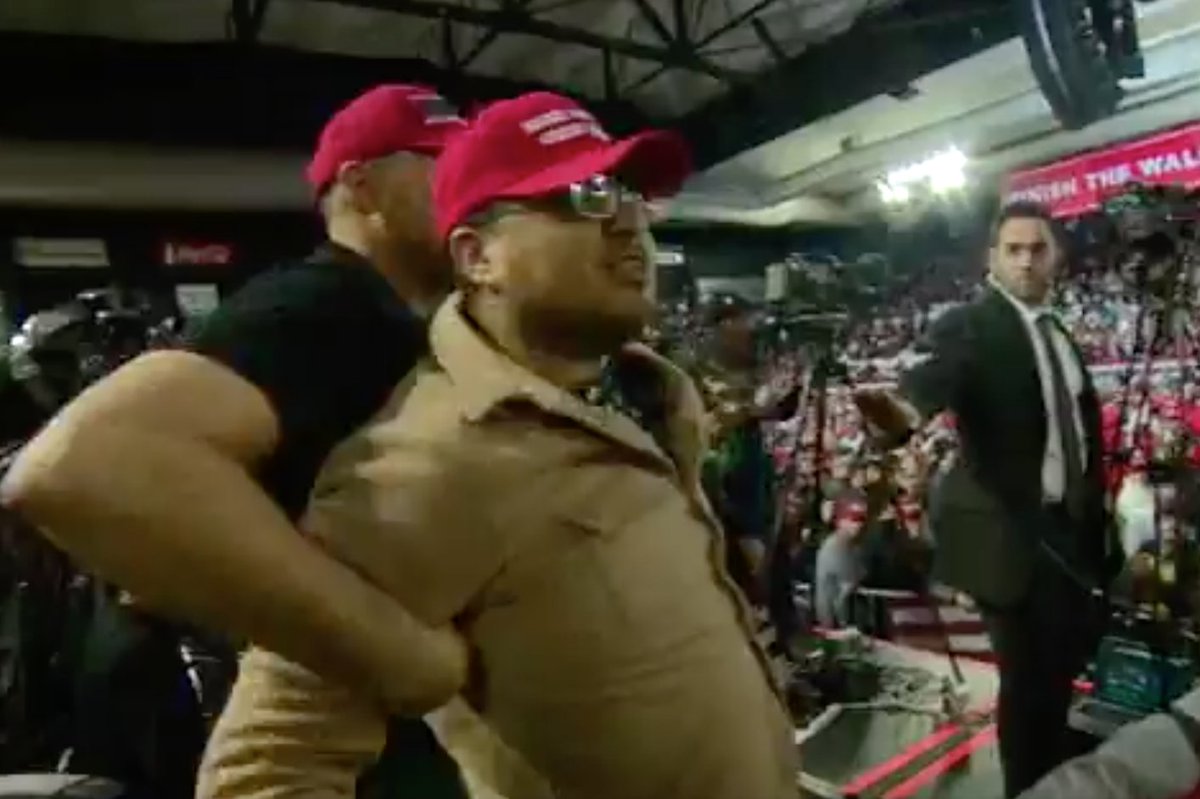 Trump thrashed the media — then one of his supporters attacked a cameraman
vicenews Scanner
0
The BBC's Ron Skeans was working in the area of a raised camera platform at Trump's campaign event when, he says, a "very hard shove" came out of nowhere.
Every time we see attacks like this it's a reminder that Trump will never leave office peacefully. It is the hallmark of authoritarians - they don't turn over power willingly.
"The crowd had been whipped up into a frenzy against the media by Trump and other speakers all night," BBC Washington producer Eleanor Montague said on Twitter.
Other BBC staff who were at the event said the Trump supporter went after a group of news teams, and the cameraman had seemingly taken the worst of it.
In a letter to White House Press Secretary Sarah Sanders, the BBC's Americas Bureaux Editor Paul Danahar asked for a review of security arrangements for members of the press attending the president's rallies.
A screaming Trump supporter in a MAGA hat attacked a BBC cameraman
Mr Danahar pointed out "that access into the media area last night was unsupervised and that no member of law enforcement or security stopped the attacker entering, intervened when he began his attack or followed up on the incident with our colleagues afterwards".
But days after that meeting, CNN's Jim Acosta posted a video from a camera position at a Trump event in Tampa, Fla., showed dozens of the president's supporters shouting insults and making hostile gestures at the news outlet's staff.