Imre Nagy statue removed predawn from Budapest square
Mr Orban's supporters say the aim is to return parts of the capital to their pre-World War Two appearance, before the decades of communist rule.
The removal from a Budapest square of a statue of Imre Nagy, a Communist prime minister who was executed in 1958, is part of a broader push by Viktor Orban to reshape Hungary's view of its past, an analyst says
The far-right leader is also reshaping Hungary's cultural and civil society, and its education system.
Image copyright Getty Images Image caption The Nagy statue looks towards the Hungarian parliament In 1989 Viktor Orban - then an anti-communist activist - addressed a rally celebrating the reburial and rehabilitation of Imre Nagy.
The Hungarian authorities have removed a much-loved statue of Imre Nagy, a reformist communist hero of the 1956 anti-Soviet uprising, from a square in central Budapest — Orbáns far-right nationalist government is revising the countrys history
Since ascending to the office of prime minister for a second time in 2010, Mr. Orban has sought to remake Hungarian society through what European Union leaders have described as sweeping anti-democratic changes: rewriting the national constitution, reshaping the judiciary and shifting the electoral system to favor Fidesz.
This year, Mr. Soros's Open Society Foundations, under increasing pressure, left Hungary.
He and other leading figures in the uprising were buried in Budapest under fake names, as the government sought to erase the memory of 1956, and he came to symbolize the Soviets' oppression of Hungary for generations.
The Nagy statue is being moved to Jaszai Mari Square, a northern location away from the parliament building.
A monument to the victims of a short-lived communist regime in 1919 will replace the Nagy statue.
Hongrie. Viktor Orban fait enlever la statue du héros national Imre Nagy à Budapest
OuestFrance Scanner
0
Mr. Nagy, who during the revolution broke with the Warsaw Pact and called on the West to recognize Hungary as a neutral state, was executed for treason in 1958.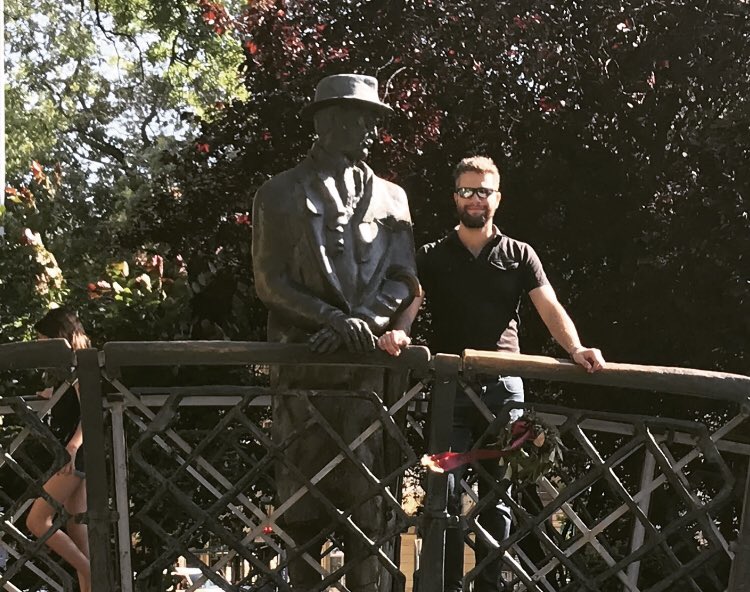 Me, this summer, in front of the Imre Nagy statue in Budapest. Nagy was Hungary's leader as it sought a more democratic path to socialism. In 1956, the Soviets invaded, deposed him and his reformist gov't, and executed him 2 years later. The statue was removed last night.
ichbinilya Scanner
0
Hungary removes statue of anti-Soviet hero Imre Nagy