Bre Payton, Conservative Writer and Fox News Commentator, Dies at 26 After Sudden Illness
Bre Payton, a conservative writer for the suspected white supremacist website The Federalist (a site that had a black crime news tag) dies at 26 after sudden illness #FoxNews
"Bre Payton, our beloved staff writer for The Federalist, passed away on Friday in San Diego, California, following a sudden illness," the online magazine wrote in a statement published on their website.
Payton made several appearances for Fox News, and also appeared on other major channels, including the BBC and CNN.
Payton was admitted into an intensive care unit, where she was sedated and intubated, the post states.After a CT scan and hours of testing, they (doctors) have determined she has the H1N1 flu and possibly meningitis, according to the Caring Bridge post.Early Friday, Paytons friend and recent congressional candidate Morgan Murtaugh tweeted that she was the one who found the young journalist unconscious.Murtaugh was the Republican candidate who unsuccessfully challenged incumbent Susan Davis in November to represent the 53rd Congressional District.Shortly before 11:30 a.m. Friday about four hours after her initial tweet Murtaugh tweeted the news of Paytons death.According to the Federalist, Payton was a featured commentator on Fox News, Fox Business and One America News Network, which is headquartered in San Diego.The evening before she was found ailing, Payton had tweeted that she was filling in as host on the OAN show Tipping Point.According to the Federalist, Payton was born and raised in California.
@Bre_payton was the first person to demonstrate to me that if we left the NYC Fox studio by 8:50, we could make the 9:05 train to DC—if we ran. She was fun and fiery and full of life, and will be so very missed by all.
robbysoave Scanner
0
I'm so incredibly saddened. So young - with such a bright future. I just can't. :( "Bre Payton, Conservative Writer for the Federalist, Dies at 26 after Sudden Illness"
KatrinaPierson Scanner
0
The Federalist writer and pundit Bre Payton dies after sudden illness
JackPosobiec Scanner
0
Honestly hadnt thought of the swine flu in a long time, much less that it could suddenly kill an otherwise-healthy 26 year old. Sad and disturbing.
mtracey Scanner
0
Image caption Payton appeared on the BBC to debate President Trump calling the press "the enemies of the people" The conservative US writer and commentator Bre Payton has died at the age of 26 after falling ill.
Politician and friend Morgan Murtaugh revealed on Twitter Friday that she found Payton unconscious and called for help.
Fox News host Shannon Bream also spoke out on Payton's death writing, "I cannot believe this."
Bre Payton, a Fox News commentator and writer for The Federalist, has died.
How Sad: 26-Year-Old Federalist Reporter and OANN Contributor Bre Payton Dies After Being Hospitalized with Swine Flu via @gatewaypundit
Bre Payton, a journalist with the news website the Federalist and a frequent Fox News guest, died Friday in San Diego following what the site said was a sudden illness.
Im told that people who saw Bre Payton just days ago said she seemed healthy on Wednesday. She was only 26 years old; a tragic reminder going into 2019 that life is a very precious thing
LevineJonathan Scanner
0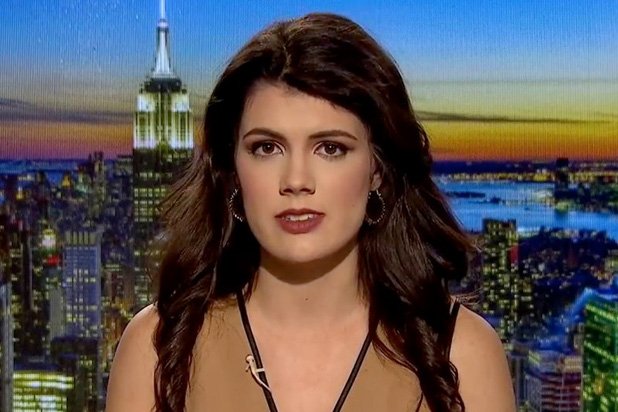 Bre Payton, Staff Writer for The Federalist, Dies at 26
She joined the Federalist staff that same year.In announcing her death, the Federalist said Payton brightened the lives of everyone around her.She was joyful, hard-working and compassionate, and she leaves behind friends and colleagues for whom she brought nothing but sweetness and light, the Federalist said.
Meghan McCain, the daughter of the late US Senator John McCain and a prominent political commentator, paid tribute.
The Federalist confirmed Payton's death on Friday revealing that the 26-year-old grew suddenly ill.
I'm very sad to hear of the passing of Bre Payton. We were often in the same rooms, but we only spoke for the first time a few weeks ago. From her friends I understand she was a delightful person and highly intelligent. She will be missed.
RaheemKassam Scanner
0
She died in hospital where she was found to be suffering from H1N1 flu and meningitis.