Browns fire coach Hue Jackson after two-plus seasons
The Browns have fired head coach Hue Jackson, as @AdamSchefter reported. The other coaches havent been told yet. Some saw Jackson a few minutes ago in the building. Crazy scene in Berea.
AlbertBreer Scanner
0
The Indians introduced Terry Francona as their manager on Oct. 8, 2012. Browns head coaches fired since then: Pat Shurmur, Rob Chudzinski, Mike Pettine, Hue Jackson Cavs head coaches fired since then: Byron Scott, Mike Brown, David Blatt, Tyronn Lue
ZackMeisel Scanner
0
Jackson was the Browns' ninth coach since the team returned to Cleveland in 1999, and the fourth coach since Haslam bought the team in 2012.
Hue Jackson fired by Browns, per reports. Last 6 Browns coaches have been fired after a loss to the Steelers.
gerrydulac Scanner
0
The Browns have fired coach Hue Jackson a day after the team lost to the Steelers, 33-18, and defensive coordinator Gregg Williams has been named interim coach, Offensive coordinator Todd Haley, who was hired in January after six seasons in Pittsburgh, has also been fired.
Final Game as Coach Hue JacksonWeek 8, 2018 Mike PettineWeek 17, 2015 Rob ChudzinskiWeek 17, 2013 Pat ShurmurWeek 17, 2012 Eric ManginiWeek 17, 2010 Romeo CrennelWeek 17, 2008 -- ESPN Stats Information The Browns are 2-5-1 this season, doubling the win total from Jackson's first two seasons with the team.
Hue Jackson is 11-44-1 (.205) as an NFL head coach: 8-8 in Oakland, 3-36-1 in Cleveland. Of the 219 coaches in NFL history who coached at least 40 games, Jackson ranks 218th in career winning percentage. Only Bert Bell, who couldnt be fired because he owned the team, was worse.
MichaelDavSmith Scanner
0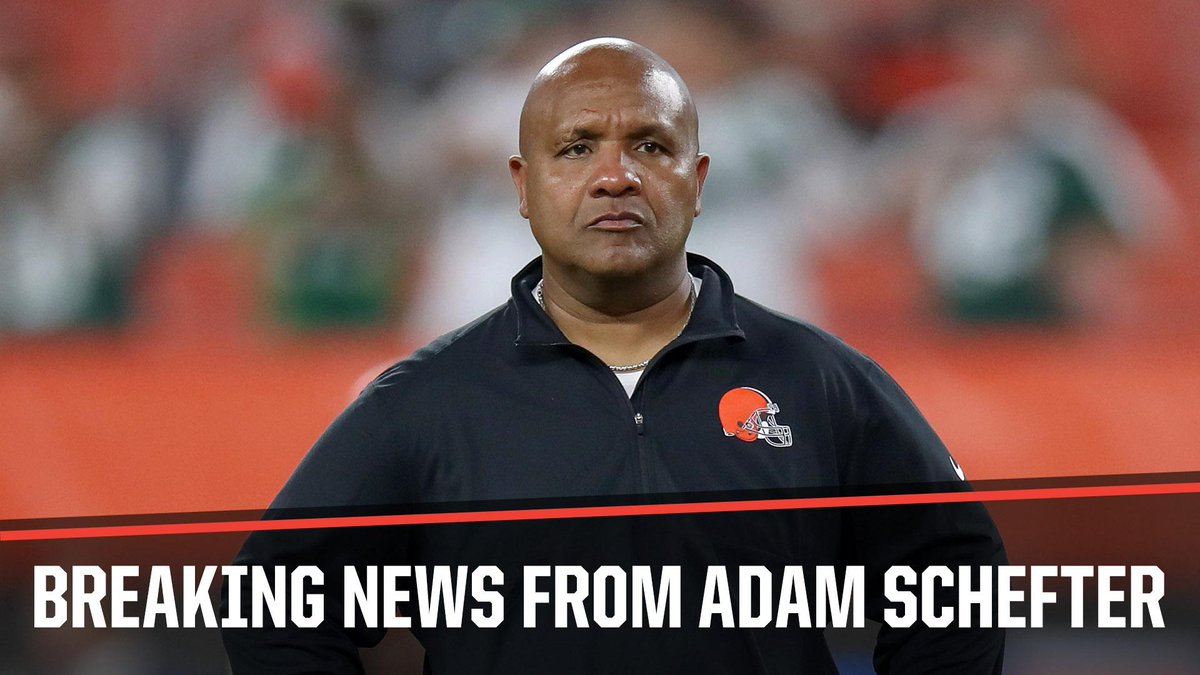 Breaking: The Cleveland Browns have fired head coach Hue Jackson. (via @AdamSchefter)
The Browns also announced that defensive coordinator Gregg Williams, who is in his second season with Cleveland, will be the interim coach.
Browns fired Hue Jackson, per source.
After the Cavs fired Ty Lue, Cleveland will watch Hue Jackson today thinking...
Reflog_18 Scanner
0
Hue Jackson went 1-15 and didnt get immediately fired and then went 0-16 and didnt get immediately fired. I consider this to be one of the greatest accomplishments in NFL history
rodger Scanner
0
Jackson's firing comes one day after the Cleveland Cavaliers fired coach Tyronn Lue, who led the team to an NBA title in 2016 but was struggling in his first season without star LeBron James.
Hue Jackson was hired January 13, 2016 Ty Lue was hired January 22, 2016 One was the first Cleveland head coach to win a title since 1964. The other has the lowest win percentage in NFL coaching history. Who got fired again?
SportsBoyTony Scanner
0
Tough blow for Hue Jackson to get fired in the middle of his most successful season.
FantasyPros Scanner
0
Jackson also has the worst winning percentage (0.088) of any Browns coach who was on the sidelines for more than one game.
Source: The #Browns have fired coach Hue Jackson. @AdamSchefter on it first.
It's been eight days since Jackson told reporters that he would get more involved in an offense that has been one of the league's worst through the first half of the season.
The Browns hired John Dorsey as general manager late last season, and Dorsey kept Jackson on as coach despite the team's winless season.
Rapoport has a different account, reporting that owner Jimmy Haslam was partial to keeping Jackson while general manager John Dorsey, who was hired in the offseason, was ready to move on, perhaps in part because there were concerns that rookie quarterback and first-overall pick Baker Mayfield could find himself in the middle of a Jackson-Haley power struggle.