Bangladesh scraps Rohingya repatriation plan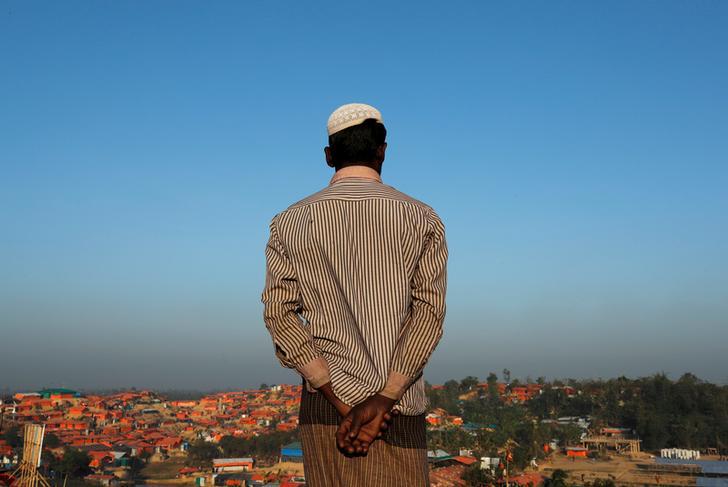 Forcing Rohingya back into Myanmar, where they were murdered & raped en masse by the military, without any guarantee that those crimes wont happen again? Bangladesh shouldnt even be considering this. This is madness.
astroehlein Scanner
0
2,200 Rohingya Muslim refugees, many of them unwilling, are the first designated to be returned to the place where Myanmars military hunted and killed them
The plan to repatriate 2,000 Rohingya refugees to their homeland this week was reached last week between the governments of Myanmar and Bangladesh.
As buses gathered on Thursday to carry returnees to transit camps, around 1,000 Rohingya demonstrated against the repatriations.
Mohiuddin Mohamad-Yusof, a Rohingya refugee and head of the World Rohingya Organization in New York, told UPI his family is in camps and that he's skeptical about their safety.
Negotiations for repatriation have been continuing for months, but plans last January to begin sending refugees back to Myanmar's Rakhine state were called off amid concerns among aid workers and Rohingya that their return would be met with violence.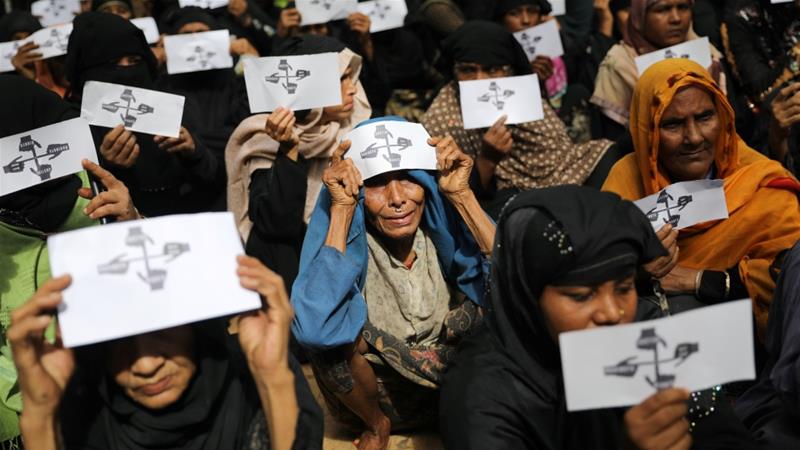 No one will be forced back to Myanmar. Rohingya Muslims who fled Myanmar, citing rape, murder and arson, will not be forcibly repatriated, says Bangladesh
Myanmar and Bangladesh expected to start repatriation of thousands of Rohingya this week, but UN says move is premature and Rohingya are shocked and terrified as deadline nears — "Our only option is suicide"
"We won't force them back," Bangladesh's Rohingya Relief and Repatriation Commissioner, Mohammad Abul Kalam told Sky News.Officials said they would continue to try to encourage refugees to return voluntarily.More than 700,000 Rohingya Muslims fled the brutal crackdown in Myanmar last year.They say soldiers and local Buddhists massacred families, burned hundreds of villages, and carried out gang rapes.UN-mandated investigators have accused the army of "genocidal intent" and ethnic cleansing.Myanmar denies almost all of the allegations, saying security forces were battling terrorists.Attacks by Rohingya insurgents calling themselves the Arakan Rohingya Salvation Army preceded the crackdown.
"We want justice for our families who were tortured," a refugee shouted into a megaphone.Citizenship, guaranteed rights and promises they'd be safe were some of the group's demands.
BREAKING: Bangladesh says plans to begin repatriation of Rohingya scrapped after officials unable to find anyone willing to go .
Forcibly repatriating Rohingya refugees to Myanmar under the current unsafe conditions would be a grave mistake. The Myanmar military has no respect for human rights, and such a move would put the Rohingya in familiar danger.
SenatorDurbin Scanner
0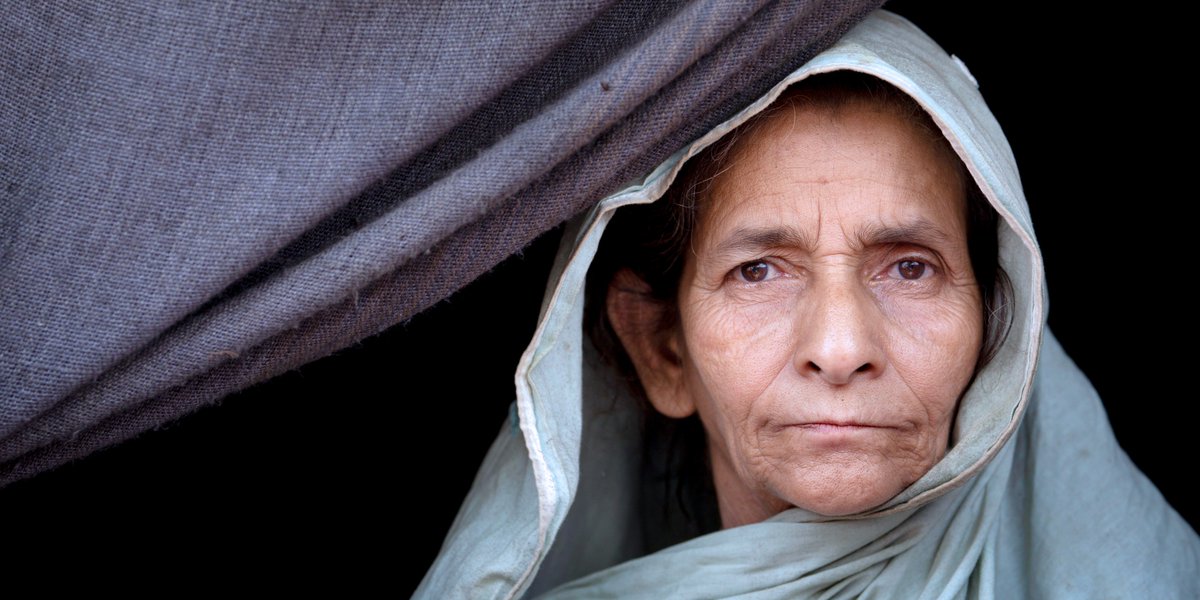 UN Human Rights Chief @mbachelet urges #Bangladesh to halt plans for the repatriation of #Rohingya refugees to #Myanmar: Doing so at this point "effectively means throwing them back into the cycle of human rights violations". Learn more:
UNHumanRights Scanner
0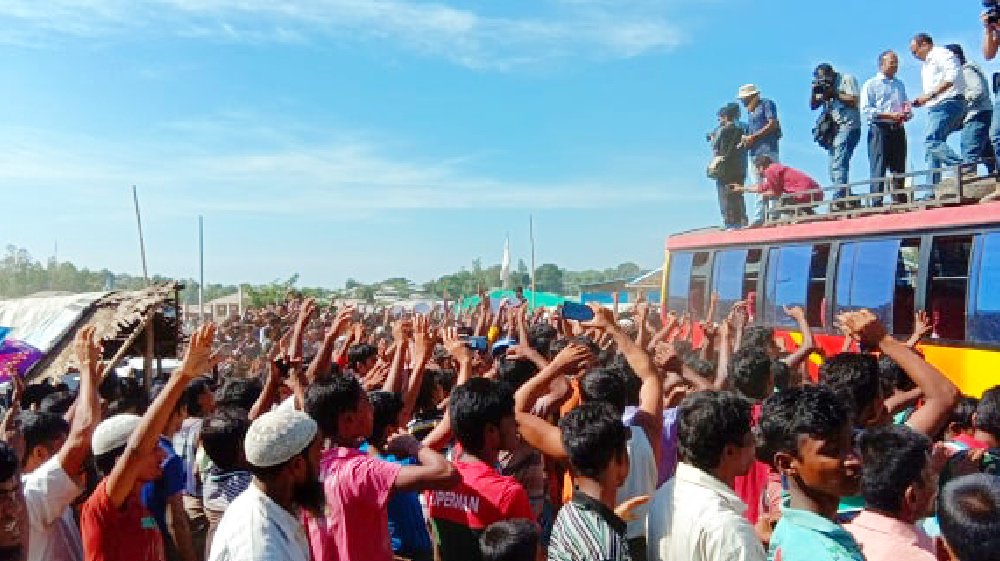 HAPPENING NOW: #Rohingya demonstrate In Unchiprang with a list of demands before they will consider repatriation. Including the restoration of full citizenship status and the scrapping of #Myanmars 1982 citizenship law #nonrefoulement
shafiur Scanner
0
Bangladesh may be eager to have the refugees return home, and Myanmar, after being denounced for the slaughter, rape and village fires that forced 700,000 Rohingya Muslims to flee across the border, could be looking to prove the country has turned a new leaf.
"Nothing the Myanmar government has said or done suggests that the Rohingya will be safe upon return," Human Rights Watch refugee rights director Bill Frelick said in a statement.
"A UN-brokered deal between Myanmar and Bangladesh says refugees can only be repatriated voluntarily.UN officials and human rights groups cautioned against beginning the process before the refugees' safety had been assured.
S.O.S. Catastrophe in the making: Bangladeshi armed forces gathering in Rohingya refugee camps, people placed unwillingly on repatriation lists, families in hiding. BANGLADESH MUST NOT SEND ROHINGYA BACK to Myanmar w/o even basic protections
SamanthaJPower Scanner
0
The announcement came after about 1,000 Rohingya demonstrated at a camp in Bangladesh against returning to Myanmar, from where hundreds of thousands fled army-led violence last year.
NEW YORK, Nov. 14 (UPI) -- Rohingya refugees are nervous about repatriation that was scheduled to take place on Thursday because of past violence and lack of guarantees from the Myanmar government.
Kill us before forcefully sending us back to Myanmar. Rohingya refugees are fleeing their camps in Bangladesh are fleeing to avoid repatriation
The mass exodus of Rohingya began after the Myanmar military responded to an initial attack from a group called the Arakan Rohingya Salvation Army on Aug. 25, 2017.
Despite assurances from Myanmar, human rights activists said Thursday the conditions were not yet safe for Rohingya refugees to go back.
.@amnesty calls for immediate suspension of repatriation of #Rohingya to #Rakhine State. Crimes against humanity are ongoing & 100s of 1000s of remaining Rohingya are in urgent need of protection. Repatriation under these conditions can't be deemed safe.
TiranaHassan Scanner
0
The first official day of repatriating thousands of Rohingya refugees to Myanmar has ended in failure after no-one agreed to return.Bangladesh was due to send back the first 130 of 2,260 Rohingya scheduled to return in November.Officials compiled a list of names of people that had been picked to return but conceded that so far everyone has refused.