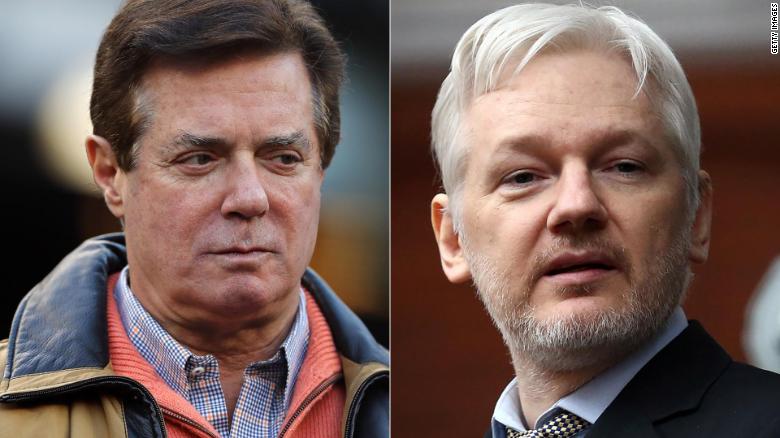 Ex-Trump campaign boss Paul Manafort strongly denies secret meeting WikiLeaks founder Julian Assange after bombshell Guardian report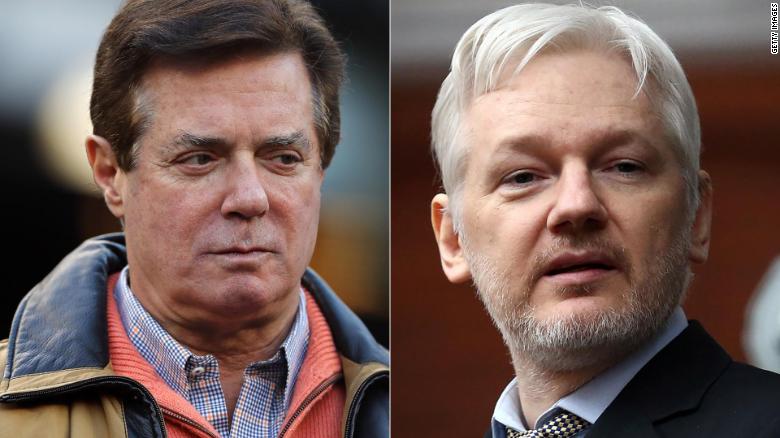 Jack Taylor/Getty Images Former Donald Trump campaign Chairman Paul Manafort met with WikiLeaks founder Julian Assange at the Ecuadorian Embassy in London three times, according to a report Tuesday from the Guardian.
Donald Trump's day so far: - Craps himself over Robert Mueller - Paul Manafort met with Julian Assange three times, including while he was running Trump campaign - Yes, collusion! - Mueller must have known about it all along - Everything is hitting the fan - It's still only 10am
WOW Donald Trump's former campaign manager Paul Manafort held secret talks with Julian Assange inside the Ecuadorian embassy in London IN THE SPRING OF 2016
JuddLegum Scanner
0
3/ Paul Manafort met with Julian Assange in the Ecuadorian embassy in London in 2013, 2015 and 2016. Proof of Collusion documents the Trump-Russia plots beginnings in 2013. The Guardian is reporting Russians began meeting with Assange in the embassy during that same time period.
SethAbramson Scanner
0
BREAKING: Paul Manafort met with Julian Assange inside Ecuadorian embassy in London around the time he joined the Trump campaign. Funny how Manafort failed to mention that. I bet Trump, his kids and Kushner were all aware of this. Can't wait to see what Mueller has. Tick tock.
On Monday, special counsel Robert Mueller, investigating Manafort as part of the larger probe into possible collusion between Trump's campaign and Russia, said Manafort lied to investigators, violating his recent plea deal.
Former Trump campaign chief Paul Manafort strongly denied a report Tuesday that he had secretly met with Julian Assange several times in the WikiLeaks founder's refuge in the Ecuadorian embassy in London in recent years.
WOW: Paul Manafort visited Julian Assange at the Ecuadorean Embassy in London in March 2016, just weeks before Manafort was named Trump's campaign chairman. Whoa.
christinawilkie Scanner
0
Tuesday's report that Manafort visited Assange multiple times, and that he's been acquainted with the WikiLeaks founder since 2012 or 2013, paints a picture of a Trump campaign manager with close ties to the organization that published highly damaging information about Trump's opponent.
On Monday night, Mueller's office told a federal judge in Washington, D.C. in a court filing that Manafort had violated a plea agreement and broken the law by lying to FBI agents and prosecutors during interviews conducted after he pleaded guilty to conspiracy related to his past work for politicians in Ukraine.
Bombshell report on Manafort, Assange - if confirmed - puts an end to Trumps 2 years of all-caps NO COLLUSION lie and new pressure on House Dems to take bolder action. The legitimacy of U.S. democracy might not hold out until 2020s election. My column
Then, CNN reported that special counsel Robert Mueller is investigating a meeting last year between Manafort and the president of Ecuador, and that Mueller was particularly interested in whether the two men talked about the document disclosure group WikiLeaks and Assange.
Jonathan Ernst/Reuters Former Trump campaign chairman Paul Manafort (right) secretly met with WikiLeaks founder Julian Assange on multiple occasions, according to The Guardian.
🔥WHOA🔥 Paul Manafort met *three times* w/Julian Assange, including a secret, unlogged meeting in Spring 2016, around the time that he became Trumps campaign chair & just months before WikiLeaks dumped Democratic emails stolen by #Russian🇷🇺intelligence.
The report comes as Manafort faces an accusation of lying to Special Prosecutor Robert Mueller, who's investigating Russian interference in the 2016 US presidential election.
The last meeting took place around March 2016, at about the time Manafort joined Trump's US presidential campaign, the news outlet said.
In the lead-up to the election, WikiLeaks published rafts of emails hacked from the Democratic National Committee, as well as from John Podesta, the manager of Hillary Clinton's presidential campaign.
"I have never met Julian Assange or anyone connected to him," said Manafort, who is in jail waiting sentencing after pleading guilty to a federal conspiracy charge in September.
On Tuesday, The Guardian newspaper, citing sources, reported that Manafort secretly visited Assange several times inside Ecuador's embassy in London between 2013 and 2016.