Senate narrowly votes to advance controversial judicial nominee Thomas Farr
A person who actively worked to disenfranchise and intimidate African American voters does not deserve to hold a lifetime appointment as a federal judge. The Senate must vote against Thomas Farrs confirmation tomorrow. #StopFarr
SenBooker Scanner
0
WASHINGTON — A controversial judicial nominee narrowly made it through a key procedural vote in the Senate on Wednesday following a dramatic extended voting period that resulted in Sen. Tim Scott, R-S.C., delivering the final affirmative vote to advance the nomination.
Thomas Farr, President Donald Trump's nominee to be a U.S. District Court judge for the Eastern District of North Carolina, has come under fire because because of his past work defending state laws that Democrats say have disenfranchised African-Americans from voting.
Thomas Farr, a controversial judicial nominee for the Eastern District of N.C., is teetering on the edge of defeat after Jeff Flake made good on his promise to oppose judicial nominees until he gets a full Senate vote on a bill to protect Mueller.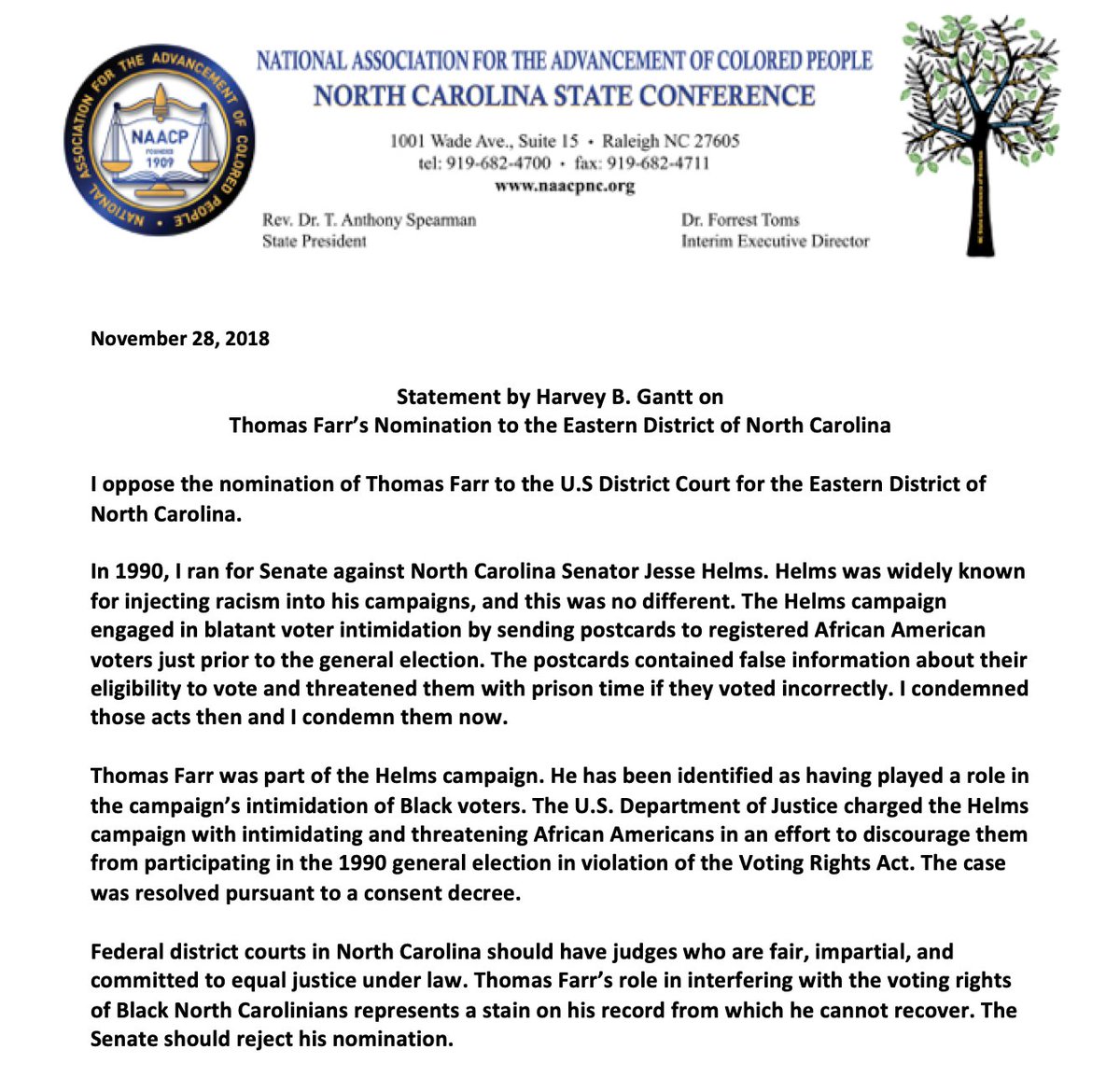 NEW statement from Harvey Gantt, who ran for Senate against Jesse Helms when Thomas Farr worked for the Helms campaign: Thomas Farr's role in interfering with the voting rights of Black North Carolinians represents a stain on his record from which he cannot recover. #StopFarr
vanitaguptaCR Scanner
0
In 2013, North Carolina's GOP-controlled Legislature hired Farr to defend a sweeping set of voting restrictions that a federal appeals court ultimately struck down for targeting black voters "with almost surgical precision."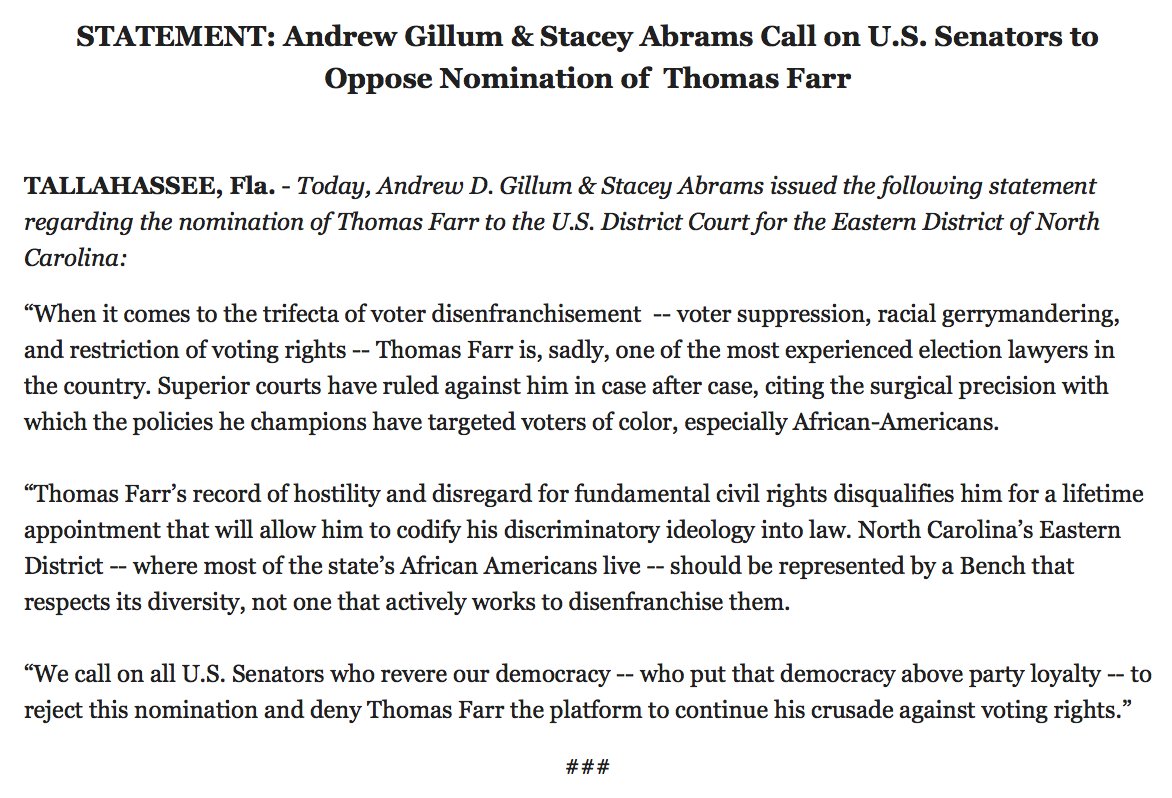 NEW: Andrew Gillum, Stacey Abrams release joint statement opposing nomination of Thomas Farr: When it comes to the trifecta of voter disenfranchisement...Thomas Farr is, sadly, one of the most experienced election lawyers in the country.
Left, right, or center, everyone should be disturbed that Thomas Farr has been involved—often directly—in repeated attempts to disenfranchise African-American voters.
SenSchumer Scanner
0
A newly released Justice Department memo from 1991, first reported by the Washington Post, said "Farr was the primary coordinator of the 1984 'ballot security' program" for Helms, which included "a postcard mailing to voters in predominantly black precincts which was designed to serve as a basis to challenge voters on Election Day."
Sen. Marco Rubio, R-Fla., sided with Scott and came out in opposition to Bounds, resulting in the nomination being pulled just moments before the final vote was set to take place.
Thomas Farr's hate-filled record speaks for itself – and yet, Republican leaders still want to put a man on the federal bench who has supported unapologetic racists and defended voter suppression laws. The Senate must reject his nomination today. #StopFarr
SenSherrodBrown Scanner
0
Republicans just voted to advance Thomas Farrs nomination for final Senate consideration. Farr, a notorious defender of voter suppression, doesnt deserve a lifetime appointment to the federal bench.
SenatorDurbin Scanner
0
In 1990, when Helms faced off against former Charlotte Mayor Harvey Gantt, the city's first black mayor, the North Carolina Republican Party sent 125,000 postcards to predominantly African American households falsely telling them it was a crime to vote if they moved within 30 days of the election, with a punishment of up to five years in jail.
The memo also confirmed Farr's involvement in Helms' 1990 disenfranchisement scheme, saying he convened a meeting with campaign officials before the election where they "reviewed the 1984 'ballot security' program with an eye toward the activities that should be undertaken in 1990."
WASHINGTON ― The Senate on Wednesday inched closer to confirming Thomas Farr to be a lifetime federal judge, despite strong opposition from civil rights groups and Democrats over his long career of trying to weaken black voters' rights.
Tomorrow the Senate will vote on perhaps the most objectionable federal judicial nominee yet. Thomas Farr built a career on voter suppression & defended a voter ID law that judges said targeted African Americans with almost surgical precision. He should not be a federal judge.
GKButterfield Scanner
0
Thomas Farrs nomination for a lifetime judicial appointment and record of defending voter suppression threatens Americans ability to exercise their right to vote. Im speaking out against his nomination on the Senate floor right now ->
SenKamalaHarris Scanner
0
🔜 In a matter of hours, the Senate will vote on whether Thomas Farr should become a federal judge. There are many parts of Mr. Farrs record that are objectionable, but here are 3 egregious examples of his record on voter suppression. Call your senator to #StopFarr: 212-224-3121
And his support of Farr in the procedural vote might not be his final say on the nominee.
It took Mike Pence coming into to break a tie, but the Senate just inched forward with confirming Thomas Farr -- dubbed by critics as the Vote Suppressor In Chief -- to be a lifetime federal judge.
jbendery Scanner
0
All Democrats opposed Farr's nomination as well as Sen. Jeff Flake, R-Ariz., who is voting against all judicial nominees until GOP leaders agree to hold a vote on his bill to put up guardrails against any threat of Trump firing special counsel Robert Mueller.
In a development late Tuesday, the Lawyers' Committee for Civil Rights Under Law cited new revelations in a 1991 memorandum from the U.S. Justice Department showing that Farr played a central role in voter suppression schemes targeting black voters as far back as 1984.
Last year, President Donald Trump nominated Thomas Farr, a Republican lawyer based in Raleigh, to be a federal judge for the Eastern District of North Carolina, which spans 44 counties from Raleigh to the Atlantic coast.
Farr also defended the state's racially discriminatory gerrymandering in federal court in 2015 (and lost), and he may have lied to the Senate about his role in disenfranchising tens of thousands of black voters when he worked for the late Sen. Jesse Helms (R-N.C.) in 1990.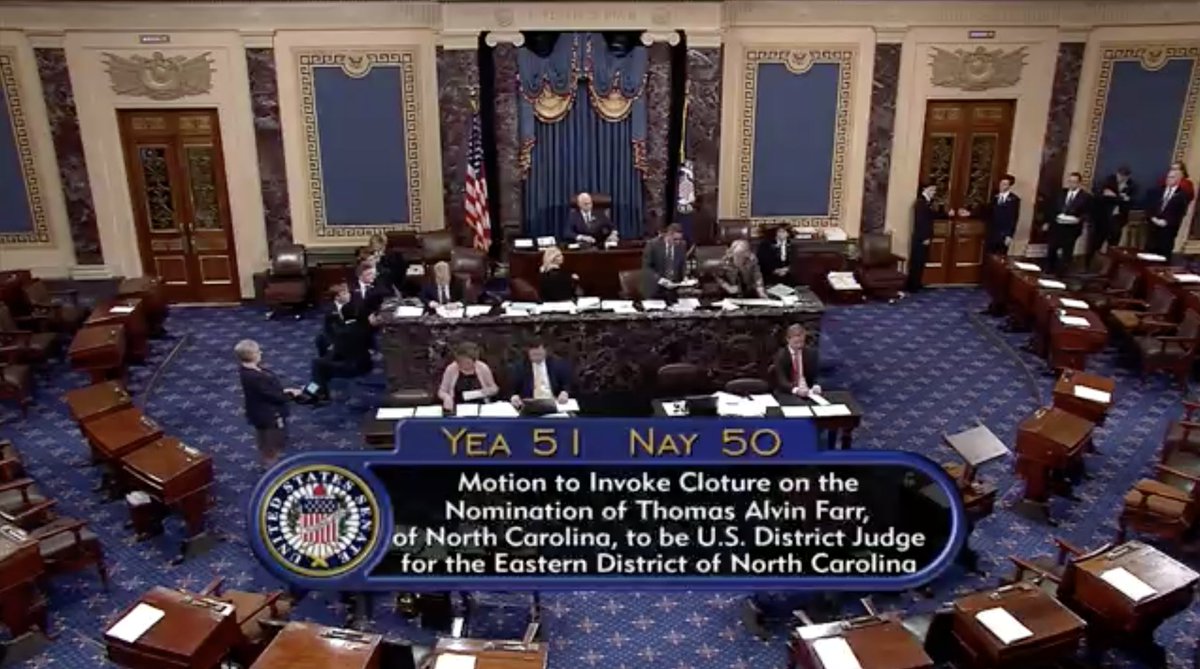 BREAKING: @VP Pence just broke a 50-50 Senate tie to advance the judicial nomination of Thomas Farr, who has ties to white supremacists and has spent his entire career working against civil rights. Call your senators NOW (202-224-3121) and tell them to #StopFarrs confirmation.
civilrightsorg Scanner
0