Hunger, disease have killed 85,000 children under 5 during Yemen war, Save the Children says
More than 85,000 children may have died of hunger since Saudi Arabia intervened in the war in Yemen three years ago, according to Save the Children, a British charity.
SANAA, Yemen — An estimated 85,000 children under age 5 may have died of hunger and disease since the outbreak of Yemen's civil war in 2015, an international aid group said Wednesday.
The war and a Saudi-led blockade have created the world's worst humanitarian crisis, with more than 8 million people at risk of starvation.
"Fighting, blockades and bureaucracy" have forced Save the Children and other aid organizations to bring vital humanitarian supplies for the north of the country through the southern port of Aden, a diversion that can slow delivery times by three weeks, the new report said.
The United States exports more arms to Saudi Arabia than any other country.
Save the Children said the "conservative" estimate is based on average mortality rates for Severe Acute Malnutrition, which the U.N. says has afflicted more than 1.3 million children since a Saudi-led coalition went to war with Yemen's Houthi rebels in March 2015.
The U.N. children's agency's Juliette Touma said they are pleading with all parties "to put an end to the war on children in Yemen."
In the United States, Trump has put Saudi investments and arms purchases first, even as members of his administration have pressured the Saudis to stop the Yemeni conflict.
The United States has remained largely silent on the war, even when Saudi Arabia enacted a blockade on its borders with Yemen last November.
"We are horrified that 85,000 children in Yemen may have died because of extreme hunger since the war began," said Tamer Kirolos, country director in Yemen for the non-profit aid organization, Save the Children.
What began as a rebellion by the country's Shiite-majority Houthi rebels during the Arab Spring has turned into a bigger confrontation between Saudi Arabia and its archrival Iran, which supports the Houthis.
"I will leave the issue of how to work out the [U.N.] resolution to the political leaders, World Food Program chief said, "I am certain a quick path to peace, coupled with major humanitarian and economic aid, would be the best thing possible for Yemen and its children."
It was not until six weeks later that the Saudi-led coalition announced ports would reopen temporarily, but key food commodities and fuels later fell by half, Under-Secretary-General for Humanitarian Affairs and Emergency Relief Coordinator, Mr. Mark Lowcock, told the U.N. Security Council in October.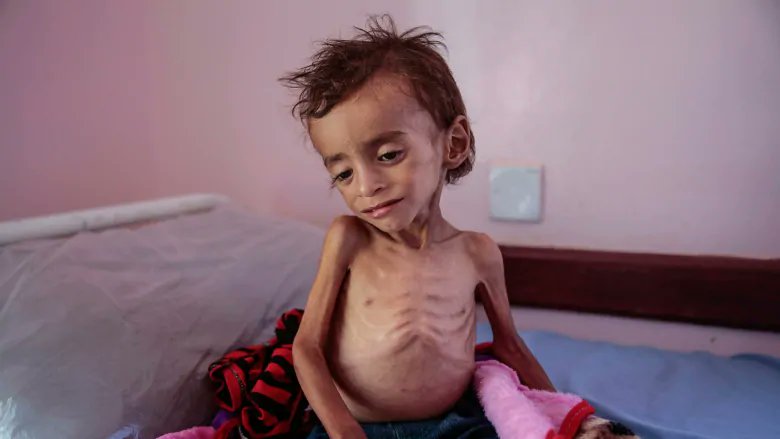 Hunger, disease has killed 85,000 young children in Yemen war, aid group estimates
cbcasithappens Scanner
0
Corporate media outlets and international organizations have been systematically downplaying the death toll in Yemen. The actual number of just violent deaths is likely between 70,000 and 80,000 — in addition to 100,000s more dead from hunger and disease
BenjaminNorton Scanner
0
Tamer Kirolos, Save the Children's Yemen director, says: "For every child killed by bombs and bullets, dozens are starving to death and it's entirely preventable," adding that "children who die in this way suffer immensely."