British PM May dances to 'Dancing Queen' at Tory party conference
British Prime Minister Theresa May took her party by surprise when she came jiving out onto the stage of her speech at the Conservative conference, as ABBA's "Dancing Queen" played over the speakers.
Another wrote: "Theresa May dancing to dancing queen is most definitely the most awkward thing I've watched yikes May seems like your dancing is as bad as your ability to successfully run a country right?"
One tweet said: "Didn't think anything could top Pierce Brosnan's dancing in Mamma Mia as the most awkward thing set to ABBA but fair play to Theresa May for topping it."
May, who has a reputation as a dull politician, and who once said the naughtiest thing she has ever done is run through a farmer's field of wheat, captured attention recently for her awkward dance moves during a tour of African countries when she took part in traditional dancing.
The prime minister is struggling to maintain her grip on the Conservative party, which is divided over her handling of Brexit negotiations to leave the European Union (E.U.).
Media playback is unsupported on your device Media captionMoves like May: The prime minister's dances What skills do you look for in a prime minister?
On Wednesday, Theresa May seemed to focus on the latter, making her entrance for her big conference speech by boogieing to Abba's Dancing Queen.
Media playback is unsupported on your device Media captionTheresa May was all smiles as she joined school children dancing in South Africa It's fair to say her moves weren't universally acclaimed - "wooden" and "cringe-worthy" being two widely-used adjectives.
She got the backing of some, like the original robot dancer and footballer Peter Crouch... Others were happier to criticise her moves... But we had not seen the last of the dancing prime minister... As Mrs May headed on stage on Wednesday to give her crunch speech to party conference - to show she could lead both the country and her members, and try to silence her critics - she thought there was only one way to do it... Media playback is unsupported on your device Media captionTo the music of Abba's Dancing Queen, Theresa May opens her conference speech Downing Street insisted that her latest groove was "spontaneous".
May awkwardly took a spin around, robotically pumped her arms in the air Wednesday and had a brief laugh at her own expense before a key speech.
It was a nod to her much-mocked boogie during a trip to Africa earlier this year.
The Conservative Party crowd in Birmingham roared and cheered.
May also joked about her disastrous speech to the conference last year, in which she couldn't stop coughing and a sign fell behind her.
Journalists gasped. Politicians burst into applause and laughter. ABBAs Dancing Queen played loud, and Theresa May shimmied her way to the podium
🎶 Ooh You can dance You can jive Having the time of your life Ooh, see that girl Watch that scene Dig in the dancing queen 🎶
Dancing Queen Theresa May makes a dramatic entrance to her conference speech.
Theresa 'Dancing Queen' May moves it to #Abba tunes ahead of #CPC18 (VIDEO)
Prime Minister Theresa May dances on stage to ABBAs Dancing Queen as she prepares to give her speech to the Conservative Party conference Watch live: #CPC18
ITS TIME TO MEET THE PLAYERS... 👀 Theresa May has absolutely nailed her Darts walk-on! 🎯 Will we see the Dancing Queen at Ally Pally?
Theresa May's conference speech was less Dancing Queen and more calling out for an S.O.S.‼️ to watch my full response to the chaotic Tory Conference go to But for now, enjoy this taster...
Watching Theresa May coming out to Dancing Queen.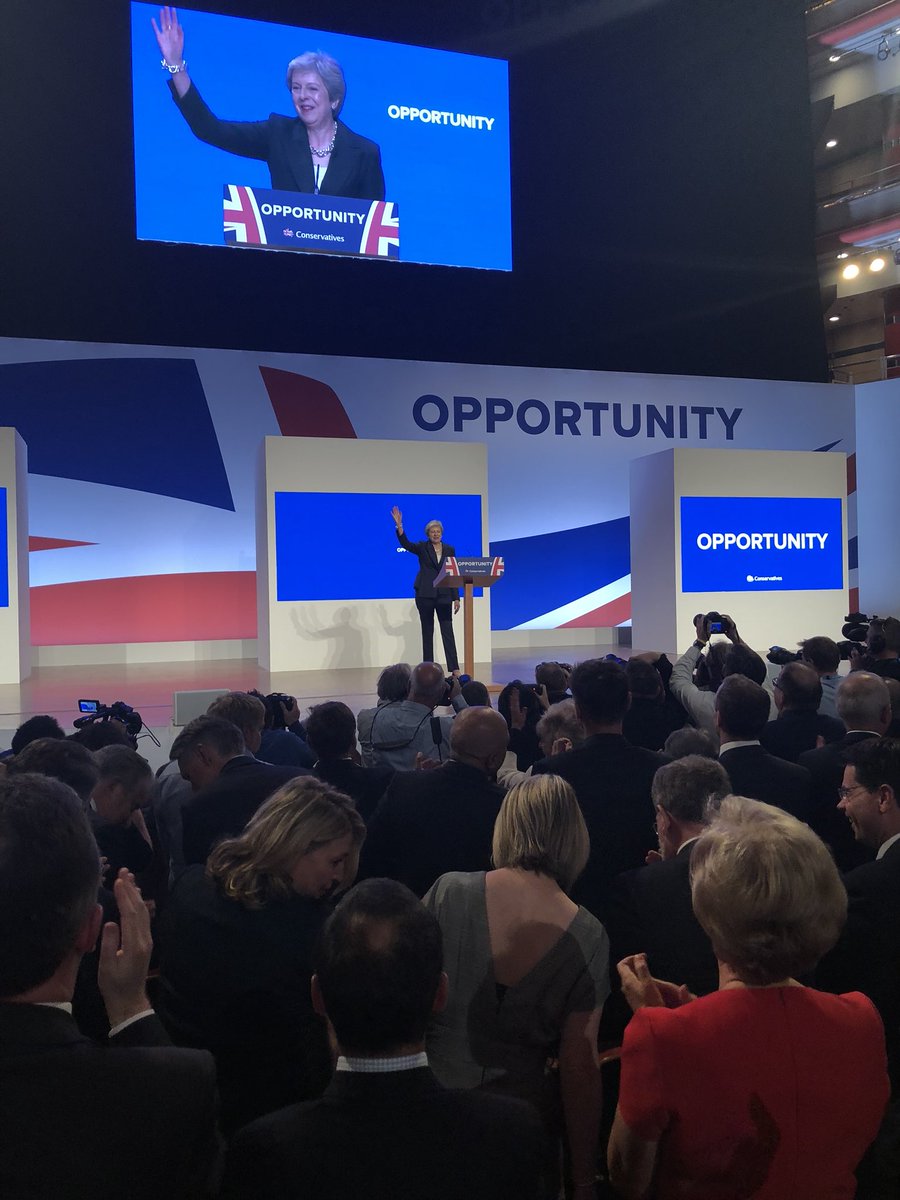 Great to see @theresa_may dance onto the stage to Dancing Queen by ABBA. Classy. #CPC18
As Swedish Ambassador I can only say Bravo to @theresa_may for starting her conference speech with ABBA's Dancing Queen. #CPC18
Theresa May comes out to Dancing Queen. Perhaps SOS would have been more apt...
Britain's Prime Minister Theresa May dances to ABBA's 'Dancing Queen' as she begins her #CPC18 speech. Watch live: