Pence accuses Beijing of meddling in US elections: 'China wants a different American president'
Mike Pence has claimed that Russian interference in US elections "pales in comparison" with Chinese meddling, which he said was aimed at ousting Donald Trump.
Pence's remarks – and Trump's original claim at the UN security council that the Chinese "don't want me or us to win because I am the first president to ever challenge China on trade " – come at a time when the Trump campaign is under investigation for possible collusion with Russia to sway the 2016 presidential election in Trump's favour.
On the same day Pence made his speech, the Dutch authorities revealed evidence that Russian military intelligence had tried to hack into the computer systems of the Organisation for Prevention of Chemical Warfare and the US justice department indicted seven Russian intelligence officers for a "lengthy and wide-ranging conspiracy" to hack into private computers and networks around the world.
James Mulvenon, an expert on Chinese military and influence operations and the vice-president of the intelligence division at Defense Group Inc, said: "There is some discussion … about Chinese campaign finance issues at the local and state and senate level, and I think we're going to need to dig deeper on that, because I personally have not seen any concrete evidence of the same level of meddling, particularly directed towards the midterms."
"China has initiated an unprecedented effort to influence American public opinion, the 2018 elections, and the environment leading into the 2020 presidential elections," Pence said in a highly anticipated speech to the Hudson Institute, a conservative Washington think tank.
The president said China was trying to undermine him because of his aggressive stance on trade, including his decision to slap tariffs on $250 billion worth of Chinese goods shipped into the U.S. Pence also highlighted those advertisements in his speech Thursday.
"By one estimate, more than 80% of U.S. counties targeted by China voted for President Trump and I in 2016," Pence said.
"As we speak, Beijing is employing a whole-of-government approach, using political, economic and military tools, as well as propaganda, to advance its influence and benefit its interests in the United States," he said at the Hudson Institute in Washington, D.C., adding that China was doing so in "more proactive ways than ever before."
In particular, he went after China's growing military and militarization of islands in the South China Sea, its trade practices and intellectual property theft, its increasing control of the Chinese public and crackdown on religious groups at home, its pressure campaign against political opposition or criticism in academia and entertainment and its political interference in the U.S. and around the world.
Pence followed that up, saying that intelligence assessments found that China is targeting U.S. state and local governments to exploit divisions between federal and local levels on Trump's policy.
While most of the public's attention has focused on Russian interference in the 2016 presidential election and its continued cyber and disinformation operations, Pence said for the first time that "what the Russians are doing pales in comparison to what China is doing across this country," citing a senior intelligence official.
Beyond politics, Pence rehashed many of the economic grievances both U.S. political parties have had with China, including "tariffs, quotas, currency manipulation, forced technology transfer, intellectual property theft, and industrial subsidies that are handed out like candy to foreign investment."
US Vice President Mike Pence is set to ramp up Washingtons criticism of Beijing in a speech on Thursday, accusing China of reckless harassment of US military forces in the South China Sea, and vowing to improve relations with Taiwan
Vice President Mike Pence says China wants President Trump out of the White House
U.S. Vice President Mike Pence to give China a blunt warning that the United States will not back down from what Washington sees as Chinese intimidation in the South China Sea by @robertarampton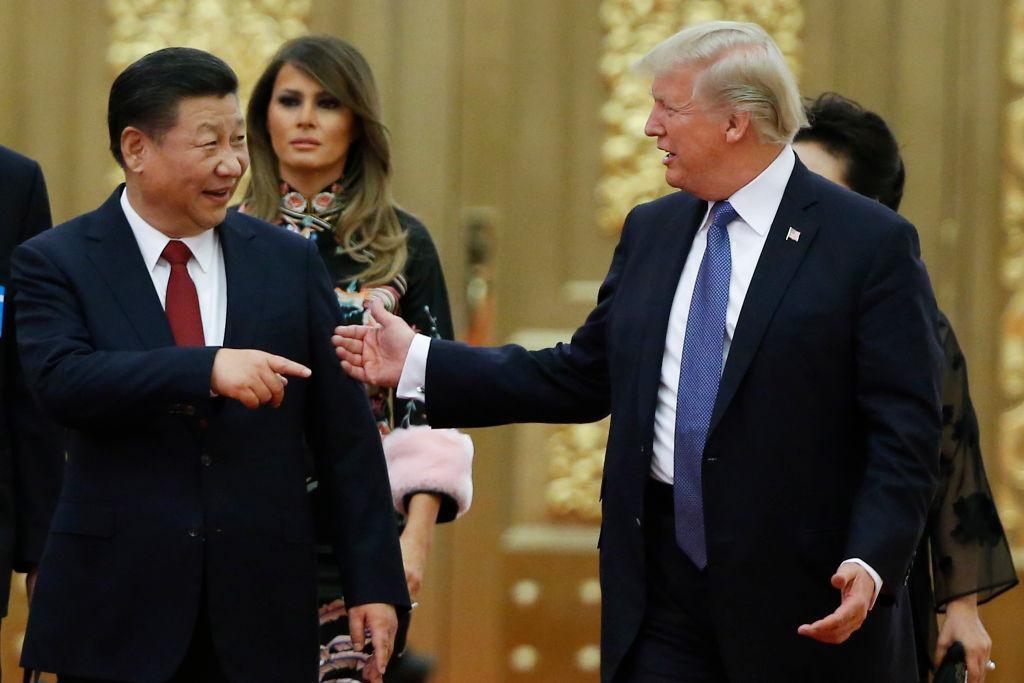 China is working to remove President Donald Trump from office, Mike Pence warns
Speaking at the @HudsonInstitute this morning about @POTUS' Administration's policy toward China. With American leadership, we've taken decisive action to address China's influence & interference. Watch live:
Dentro de nuestro Hemisferio, China le ha extendido la mano al régimen de Maduro en Venezuela, que está oprimiendo a su propio pueblo, dijo el vicepresidente de EE.UU., Mike Pence
In an hour @VP Mike Pence will deliver remarks on China at Hudson Institute. Watch his speech at 11 a.m. here:
HudsonInstitute Scanner
0
According to excerpts of prepared remarks, Vice President Mike Pence is set to accuse China of trying to undermine President Donald Trump. China wants a different American president, he will say in a speech Thursday.
Tensions with China are about to get worse: Mike Pence to deliver a blistering assault on Chinese aggression, predatory loans, and attempts to tilt US elections against Trump. Worse than Russia, he will claim.
America wants a different American President.
U.S. @VP Mike Pence from DC: CHINA EXTENDED LIFELINE TO `CORRUPT MADURO REGIME