Netanyahu rejects corruption allegations in live address
Despite the corruption allegations, Netanyahu's Likud party is expected to win the largest number of seats in parliament but would need to form a coalition government, according to polls.
Israel's Prime Minister Benjamin Netanyahu has doubled down on his complaints of unfair treatment at the hands of his opponents by demanding the right to confront the men who have turned state's witness against him in three corruption investigations.
KTVQ Scanner
0
In his address on Israeli television Monday night, Netanyahu denied he was making an attack on the rule of law, but questioned why certain individuals had not been called as witnesses in the investigations, and mocked the idea that he had received favorable media coverage in exchange for commercial favors, as two of the cases claim.
KTVQ Scanner
0
All three investigations have been handed over to the attorney general, who will make the final decision over whether to indict Netanyahu.
KTVQ Scanner
0
It would be unfair to have an indictment announcement so close to the elections, depriving Netanyahu of the chance to present his full case before the vote, the prime minister said again Monday night.
Netanyahu has repeatedly denied any wrongdoing, but the investigations have still cast a shadow over the last two years of his premiership, as well as being a central issue in the unfolding general election campaign.
KTVQ Scanner
0
Read more Israeli attorney general's Comey-like bind: Whether to go public in Netanyahu probe before the election Dramatic split in Israel's opposition as Livni is dumped on TV Israel headed to elections as Netanyahu's coalition dissolves parliament Today's coverage from Post correspondents around the world Like Washington Post World on Facebook and stay updated on foreign news
Ruth Eglash Reporter covering Israel and the Palestinian territories January 7 at 4:39 PM JERUSALEM — Israeli Prime Minister Benjamin Netanyahu kept Israelis hanging for three hours Monday night after his party said he had a dramatic announcement to make.
The Likud announced PM Benjamin @Netanyahu will make a dramatic announcement at 8pm tonight. Three hours for people to speculate on what that could be. They do know how to put on a show.
JudahAriGross Scanner
0
LIVE: Israeli Prime Minister Benjamin Netanyahu delivers what he billed as a dramatic announcement
The address set the scene for Netanyahu's main fight in the elections — the legal battle, rather than any opponent, said Ellie Hochenberg, diplomatic correspondent for i24 News.
Benjamin Netanyahu rejects corruption allegations in live address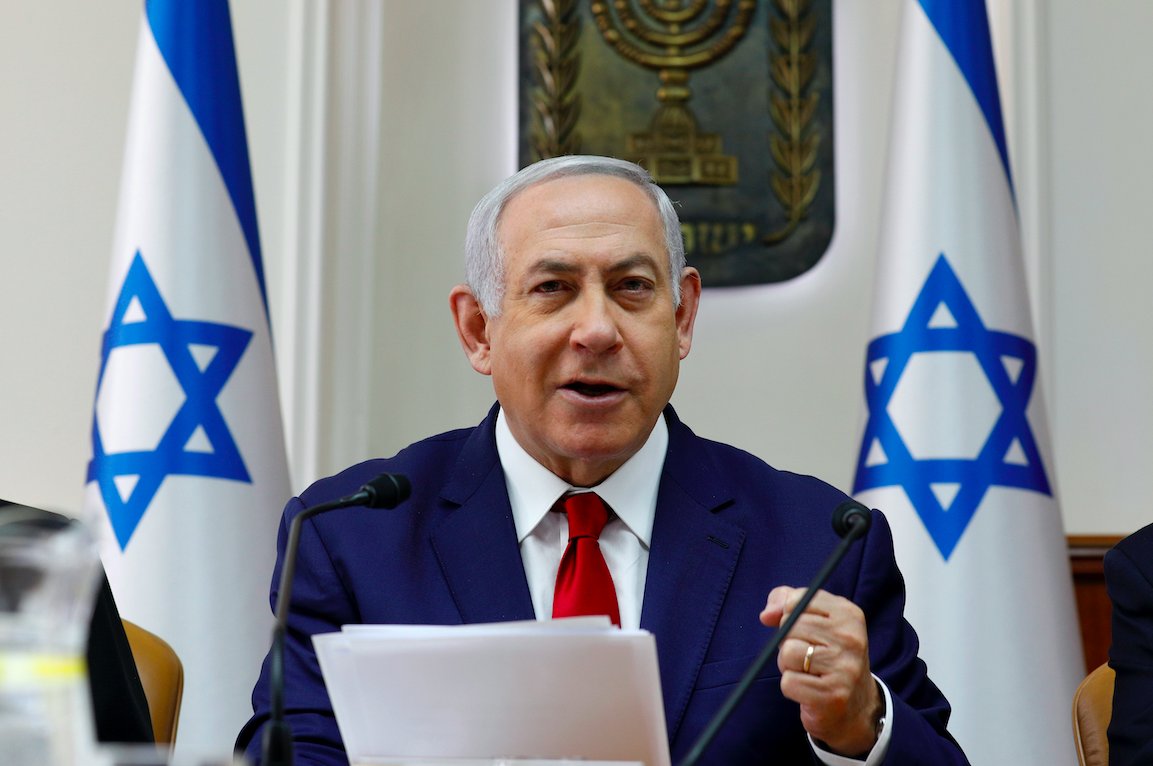 Israeli Prime Minister Benjamin Netanyahu says he will deliver a dramatic announcement set to coincide with the evening news broadcast
YahooNews Scanner
0
That election will take place on April 9, and there has been fevered speculation in recent weeks that the attorney general and his team are progressing with their deliberations at such a pace that Netanyahu will be asked to a pre-indictment hearing before election day.
KTVQ Scanner
0